I am lucky enough to be in possession of my grandmother Lillian's old tin recipe box — filled with cards in her handwriting that describe her favorite meals, and canning recipes. Last year I pulled out her strawberry pie, a recipe that is probably 80 years old. As I prepared the pie, I could see Grandma Lil in her kitchen, with her apron, slicing up the berries she had picked at her own house. I felt close to her, and my roots, and it was a pie unlike any pie I had ever had. Within that box, I found additional berry inspiration, and this month, as you read this, I am grabbing berries on a daily basis.
It is hard to beat the taste of a warm, fresh summer berry, bursting with sweet and tart juice. It's just not the same in the off-season. It's almost as if summer berries are a different fruit altogether, so unlike the ones found at the grocery store year round. And if you are lucky enough to be picking them yourself, standing in the sunshine and wiping the dirt off on your clothes before you pop them in your mouth, well, then, I would say you are in heaven. 
We are very fortunate to have locally grown berries of all types throughout the summer out here on the East End of Long Island. Berry season begins in early June, when the spectacular strawberries are ready. Deeply red throughout the berry and insanely delicious, the June strawberry is a thing of beauty. Every year I vow to eat them daily while they are here, and I find new ways to enjoy them (although right out of the paper quart container is the best way). The season for strawberries is short. You have to be intentional about it. Pick them yourself or go to a farm stand, but buy more than you think you will need — they will not go to waste.
It is a lovely thing to be able to provide fresh fruit, grown within a 20-mile radius, for your family and friends. Simply being present in the summer in this way is a great pleasure in life. Supporting local farmers is a pleasure, too: The effort and energy that go into growing those berries is monumental.
Strawberries are a type of aggregate fruit — a fruit made up of multiple fruits, each mouthful containing many seeds. The seeds on the outside of a strawberry can be dried and grown. Raspberries and blackberries are also aggregate fruits; there are individual seeds inside each little bump you see. Blueberries are real botanical berries, picked from a bush, and each berry is only one fruit.
You regularly hear berries touted as "super foods," and it's true that they provide us with so many health benefits it's almost ridiculous. They contain potassium, magnesium, vitamins C and K, and a good dose of antioxidants; they are fiber dense, and contain flavonoids. Studies consistently show they help fight diabetes and boost your mood — we didn't need a scientific lab for that one! — and can help reduce cognitive decline and protect us from cancer. But the truth is, no one needs to talk us into eating summer berries. They are a treat from nature to be gobbled up for an all-too-brief window of time, while the sun is shining.
I do like to keep the berry goodness throughout the year, so I freeze some of each summer's harvest, and sometimes make jam. Although they lose their shape when frozen, as the delicate skins change, they do not lose their flavor. Frozen berries can be added to cocktails and smoothies, muffins and pancakes. A summer berry compote can be made with the precious fruit you freeze and use in so many ways. >
From early June until September, we can find a berry to add to our shopping baskets. Farms on the East End grow blueberries, blackberries, and many types of raspberries. You can also see red currants and gooseberries at farm stands, and, of course, strawberries. (And, in the autumn, there are cranberries ripening in the bogs.) But you can also pack up the family and go pick them yourselves.
When I think of a berry-picking excursion, my mind always goes to the old children's book Blueberries For Sal, and I can instantly see that sweet little girl picking blueberries: "Ku-plink, Ku-plank, Ku-plunk" the berries go, into her tin pail. Although Sal is picking so she and her mom can can them for the winter, she eats them all as she goes. That is what it is like when you pick your own berries. Most people snitch a good amount out in the field! 
There are several "you pick" farms on both the South and North Forks. When heading out on a berry-picking excursion, make sure you wear sun block and a hat, and take precautions for ticks and other little bugs that are on the farm. Take a low, flat container that will hold your pickings: You don't want a tall, heavy pile that will bruise the fruit. Look for vibrant colors, and do not pick fruit that has fallen off onto the ground. Once you get home, do not wash them, but do put them right into the refrigerator. Local summer berries are delicate — typically varieties selected for sweetness and flavor, not those engineered to withstand long-distance transport — it's best not to leave them on the counter overnight, as they may rot. When you are ready to eat or cook them, then they can have a gentle shower. Drain in a colander or on paper towels.
Summer berries can be a star of any meal, any time of day. For breakfast, the ideas are fairly obvious, but for the more savory meals of the day, you can get creative. Toss berries in a salad, or alongside grilled chicken. Throw a handful in homemade barbecue sauce, or drizzle over your grilled steak. Make killer summer berry margaritas, or blackberry cosmos at cocktail hour, and pile the berries up on a cheese platter. There are endless dessert ideas, pies and tarts, fresh berries and cream, and even dessert empanadas. All berries pair well with stone fruits, so do not be afraid to mix with plums, peaches, or apricots!
Berries are a nifty housewarming gift, or hostess gift when you go to a friend's place for drinks. But promise me you will take even just one minute to marvel at the bounty that nature has provided. Snap a few pictures of those precious jewels, and admire their color and structure. What a tremendous gift they are.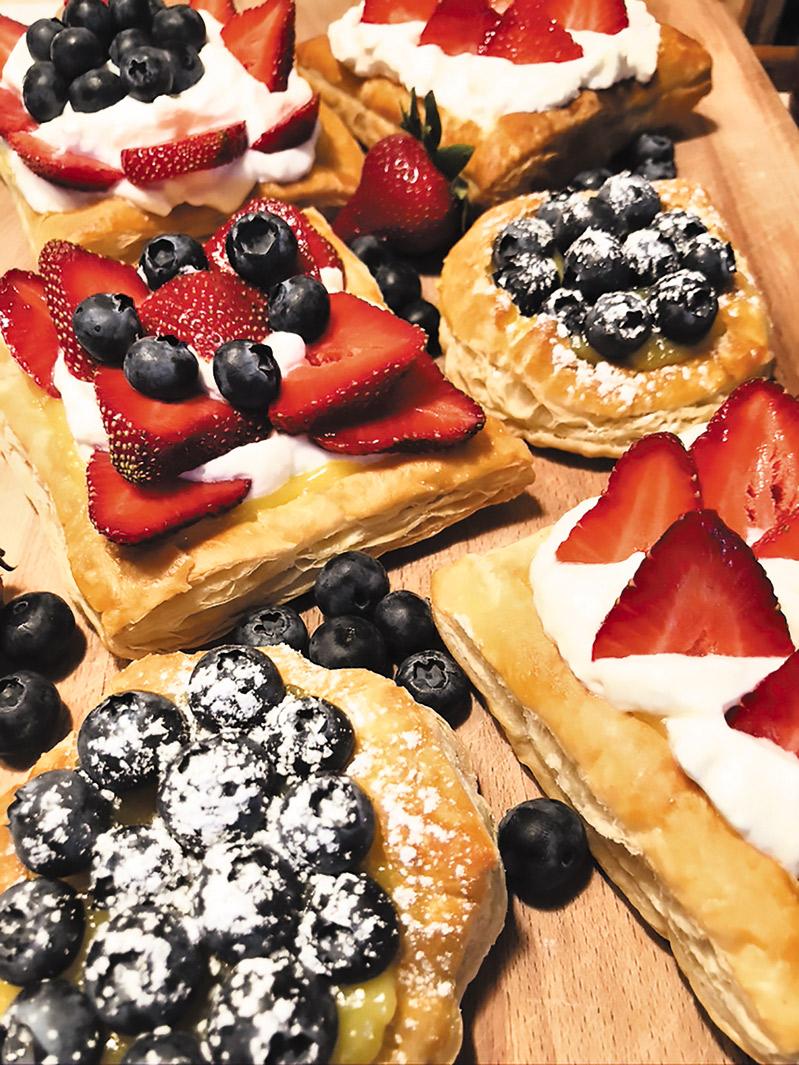 Wainscott Berry Puffs
With Lemon Curd
Delicious for afternoon tea or an elegant dessert, these can be made in any size and with any ripe fruit you desire! The curd will keep for a week in the fridge, and is wonderful spread on pancakes, waffles, or toast.
Ingredients:
1 box puff pastry, thawed
1 egg
1 to 2 Tbsp. sugar
Berries and fruit of choice
For Lemon Curd:
6 egg yolks
1/2 C. lemon juice
1 C. sugar
10 Tbsp. butter, ice-cold
For Whipped Cream:
1 pint heavy cream
2 tsp. sugar
1 tsp. vanilla
Preheat oven to 400 degrees. Unfold pastry and cut into size you prefer — small squares or circles, or one big tart. Score with sharp knife around outer edge (to allow you to depress center of pastry after it bakes). Arrange on parchment-lined baking sheet so they do not touch. Beat egg and brush egg wash over pastry. Sprinkle lightly with sugar. Bake for 15 to 20 minutes until golden brown and puffed. Allow to cool.
Meanwhile, beat egg yolks well, and strain to remove any solids. In nonreactive pot, combine lemon juice, yolks, and sugar. Cook on medium heat, stirring continuously until thick, about 10 to 12 minutes. Remove from heat. Stir in cold butter one tablespoon at a time. When all butter is mixed in, chill lemon curd in the fridge.
Beat whipped-cream ingredients in cold metal bowl with electric mixer until stiff peaks form. Then, assemble: Depress center of pastry. Spread on layer of cold lemon curd. Top with whipped cream, and arrange fruit. Aren't they just beautiful?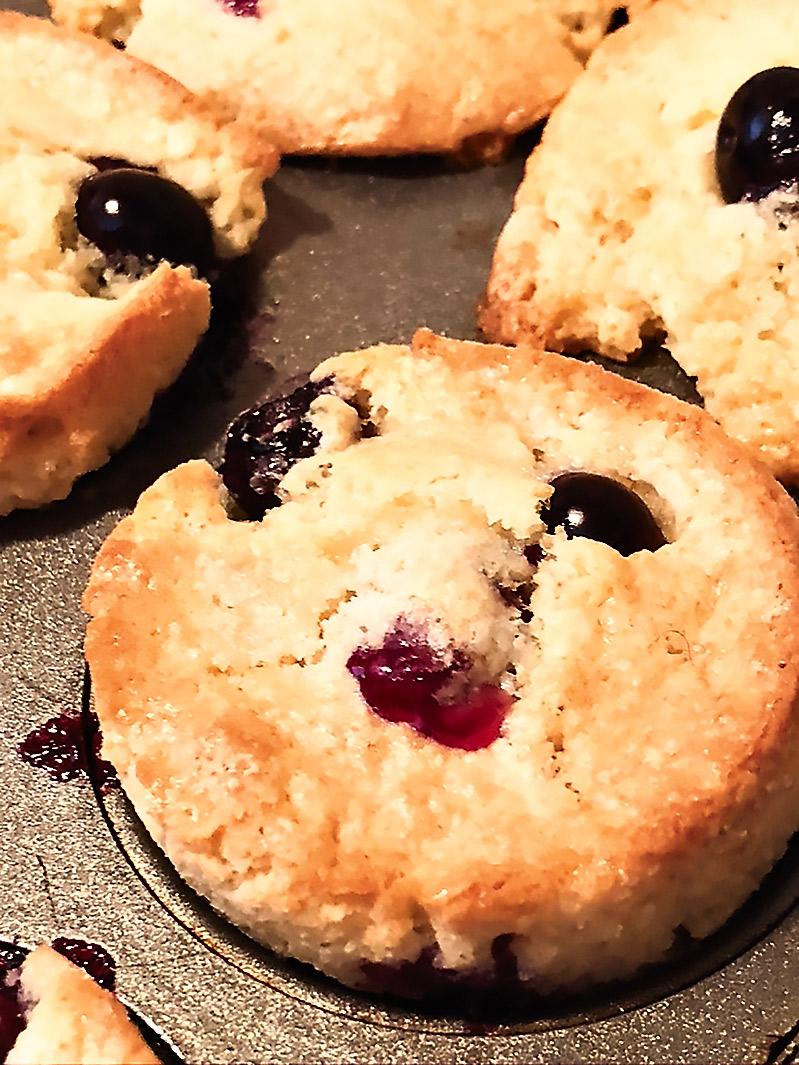 Georgica Road
Berry Muffins
This recipe was passed to me from my mother, and was a favorite treat for weekend breakfasts. I have experimented and find many summer fruits to be amazing in this recipe. I freeze summer's ripe berries and sliced peaches so that I will have warm fruit muffins in the cold days of winter.
Makes 1 dozen regular-size muffins, or 6 large muffins.
Ingredients:
1 C. sugar
 5 Tbsp. butter, room temp
1 extra-large egg
3⁄4 C. whole milk
1 tsp. vanilla
2 C. all-purpose flour
2 tsp baking powder
Pinch salt
1 C. fruit*
*Blueberries, raspberries, blackberries, sliced strawberries — or a mix of all. Sliced peaches, apricots, or plums are also wonderful.
Preheat oven to 400. Butter and flour muffin tins. Cream butter and sugar together in bowl with electric mixer. Drop egg into liquid measuring cup, then fill with milk until you reach the one-cup line. Add milk and egg to butter-sugar and mix well. Add vanilla.
In separate bowl, whisk flour, baking powder, and salt together. Add dry ingredients to wet ingredients and mix at medium speed until just combined.
Dust berries with scant amount of flour to prevent sinking in batter, then carefully fold berries into batter by hand. Be careful not to overmix. Fill muffin tins 2/3 full with batter.
Bake for 15 to 20 minutes, until golden brown and a toothpick comes out clean. Serve warm.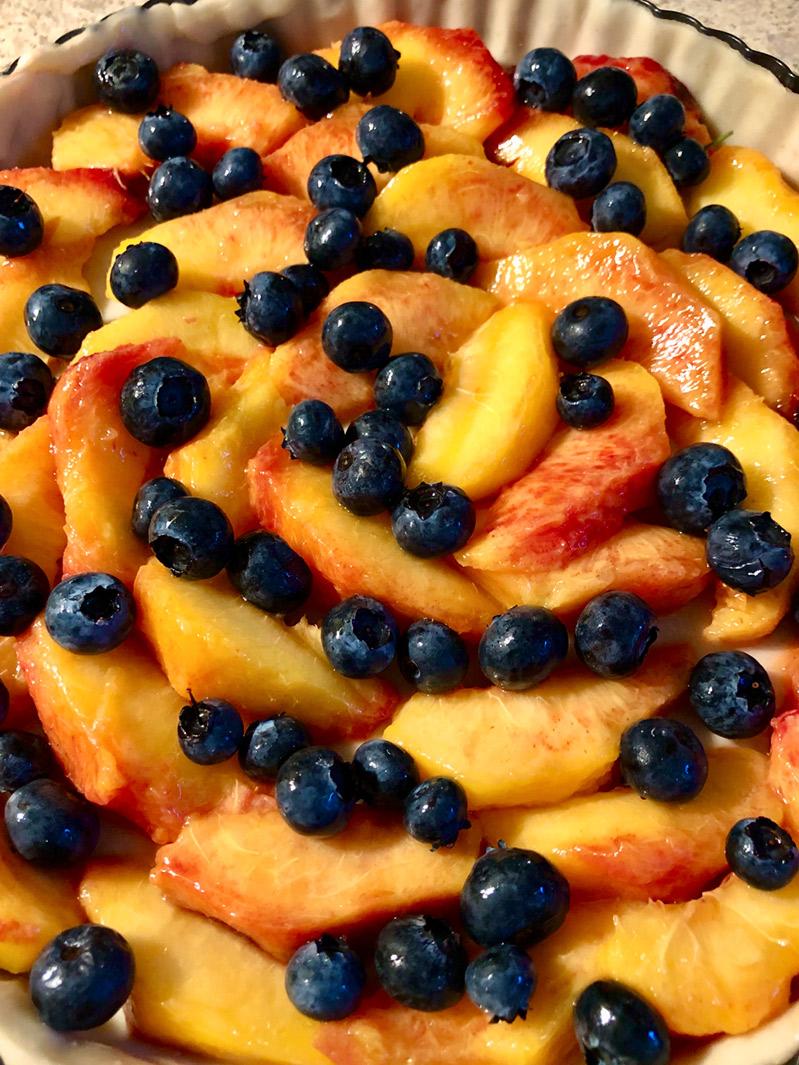 Shelter Island
Peach Tart
When peaches are in season, we include them at breakfast, lunch, and dinner. This tart combines ripe sliced peaches — bought on an annual Shelter Island ferry pilgrimage to a you-pick on the North Fork — with fresh blueberries, and it is not only gorgeous to look at, but wonderful to eat. And let's not even talk about a slice the next morning with coffee or tea!
Ingredients:
4 peaches
1 C. blueberries
4 Tbsp. butter, room temp
Half a lemon
3 Tbsp. sugar
Dash cinnamon
2 Tbsp. honey
1 sheet puff pastry, or store-bought pie crust
Preheat oven to 375. If using puff pastry, thaw according to directions on box. If using prepared pie crust, remove from packaging and allow to warm up.
Carefully peel skin off peaches. Slice, and squeeze lemon over them. Toss. Wash blueberries, drain, and pat dry with paper towel.
Mix sugar and cinnamon in small bowl.
Spread the pastry or dough in tart pan with a removable bottom. Spread 2 tablespoons butter over crust, then sprinkle with 2 tablespoons of cinnamon sugar. Arrange the fruit, overlapping peaches so crust is completely covered. Sprinkle blueberries on top. Sprinkle remaining cinnamon sugar over fruit. Dot with small pieces of remaining butter.
Bake until crust is brown and fruit is bubbling, about 25 minutes. Cool on cake rack. Before serving, drizzle with honey. A scoop of vanilla ice cream may be in order, as well.
You-Pick Farms
All of these family-run operations offer a selection of berries, and many follow with apples and pumpkins in the fall. Visit the websites for hours and details regarding a berry picking excursion.
Seven Ponds Orchard, Water mill
They sell pies and pastries, as well
Patty's Berries and Bunches, Mattituck
They make homemade ice cream with their berries
Lewin Farms, Riverhead
Pies, fruit ice cream, and baked goods
Wickham's Fruit Farm, Cutchogue
Pies and preserves, doughnuts and tea breads
Hank's Farm Stand, Southampton
Berry doughnuts and treats await at their store