If there's a way to be here and not here at the same time — like a ghost you can hear laughing, or a well-dressed omniscient narrator — Mike Lavin has figured it out.
A photographer and filmmaker, podcast engineer and videographer, Lavin has been building a name for himself as the talent behind the camera that has captured some of today's hottest comedy and rap stars.
Having spent his childhood studying comedians and funny TV shows, Lavin, 30, knew he wanted to be part of it. "But I didn't want to be the person on the screen. I wanted to be the secret power behind my favorite comedians."
Which is exactly what he's doing. About to go on tour with the comedian Nate Bargatze, he also co-produced Chris DiStefano's recent stand-up show on Netflix, Speshy Weshy. He runs podcasts for DiStefano and Sal Vulcano. He and his crew are set to film a special project with the actor Chazz Palminteri (A Bronx Tale, Bullets Over Broadway) later this year. He's just started producing a new podcast for the duo of Vinny Guadagnino (Jersey Shore) and Carly Aquilino (Girl Code). 
If you saw that viral Hey Babe podcast clip about Tupperware, which got a combined 60 million views, or that TikTok video of a little boy watching a woman on a parade float twerk, at this year's New York City Pride celebration, with 715,000 views so far, then you're already familiar with his work.
You might not necessarily recognize the name Mike Lavin but you might recognize "the Homeless Pimp," a teenage nickname that has turned into his adult alter ego. One glance at his Instagram or TikTok (or maybe the collective glances of his more than 50,000 followers) and you'll fall in love — or at least fascination — with this weird icon of male Gen Y fashion with a wild laugh and even wilder stories to tell, like the time he literally saved Palminteri's life.
He and the actor were taking a lunch break during a shoot. "He started choking on a chicken cutlet and I had to give him the Heimlich [maneuver]," Lavin said. "I have no Heimlich experience, so I was just flailing and dry-humping this Hollywood legend. When we finally got it out and he was okay, I'll never forget him turning and going, 'That was the worst form I have ever seen! Pimp, if you are going to work for me, I gotta get you Heimlich lessons.' Chazz is hilarious. I love him and I'm glad he didn't die on my watch."
It's gotten to the point where people are recognizing him in public places. They give him clothes, he explained while wearing tie-dyed carpenter pants and a button-up shirt with red and white swirls all over it. "The pants are from England. I go to these stores online and these cool-ass pants show up in six weeks. I also love a good boot."
He also wears a lot of Supreme and Tyler the Creator. "I like to look like a cartoon character from the future," said Lavin,  who splits his time between New York City and the family house in Springs.
People regularly ask Lavin when he's going to put out his own podcast. "At this point, I inject myself into all those podcasts, so I don't know what else I'd have left to say," he said. "For me, what I want to do more is narrative work, short films, and photography in my free time, rather than talking about the same shit. Dating? Politics? I stink at both."
Lavin is also a photographer, shooting landscapes — from New York City streets to the mountains of the Midwest  — and snapping portraits of rap artists including Kanye West, Drake, and 2 Chainz. He's the house photographer at the Comedy Cellar, too. On his days off, a term used very loosely here, he's doing street photography.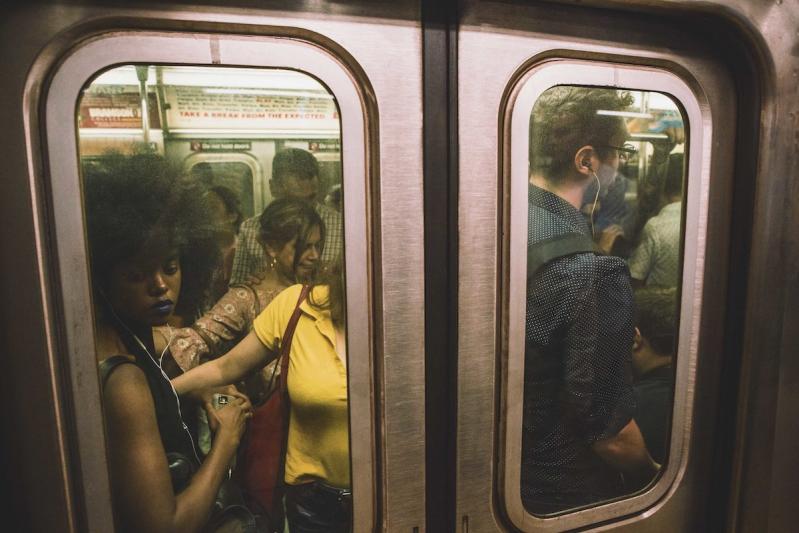 "My role in this universe is just to observe. If you're on my Instagram page, you're observing how reality is functioning. I'm kind of watching people move around like schools of fish. . . . It's almost journalism but, like if the journalist had head trauma."
Right before Election Day in 2020, Lavin was on a Netflix shoot and staying at a Beverly Hills hotel where the employees were boarding up the first-floor windows in advance of a riot that they thought was definitely going to happen but never did.
"I'll never forget having a cup of coffee and watching them put boards on the windows of this stupid expensive hotel, and just hoping to live in a future where social media is banned or deemed as dangerous as cigarettes," Lavin said.
Among his creative influences are the photographers Bill Cunningham, Cheryl Dunn, and Martha Cooper. He appreciates Stanley Kubrick and thinks Little Miss Sunshine is the best movie ever. He's also inspired by Colin Quinn and George Carlin, the latter being the "godfather of critical thought." 
Lavin got his start in the industry right here on the South Fork. While studying at Queens College and being a "servant" (his word) in the hospitality industry, he started working at LTV Studios in Wainscott, which he called "the gateway into everything."
"They let you do what you want and experiment," which was in stark contrast to a concurrent internship at a major ad agency in Manhattan. "They would only let me drive the box truck around Manhattan. I didn't even have a commercial license. I'd be shooting an LTV documentary about' [the Ladies Village Improvement Society] and then I'd run to the city and drive a truck for a Gucci commercial and photograph a rapper."
Lavin passed the tests for entrance to both the city's police and fire departments but turned them both down. He also declined an offer to buy a liquor store here in East Hampton. In retrospect, he says, it's probably good that he did not do those things.
"I had a lot of options and I really stubbornly chose this," he said. "There were a lot of years with clients refusing to pay. . . . You have to deal with a lot of bullshit. I've had clients not give me money and say, 'Talk to my gunman.' When you start, the pay is zero percent worth it — anything else would have been comfortable. But it goes back to what my mentor at the ad agency said: 'If you're comfortable, you're never going to be legendary.' "
He's a way-too-busy guy who doesn't get to spend too much time out here anymore, but "I legit shot so much for LTV about the history of the East End that I fell in love with it," Lavin said. "It's this weird, magical oasis of energy. The water and beaches have been luring humans out there for forever. From the whalers to the cidiots, the East End speaks to something deep inside all of us. It's like the town in Stranger Things . . . but good stuff happens."