I grew up out here on the East End of Long Island in a house designed and built by my father and mother. My parents, Peter and Marlys Dohanos, first discovered East Hampton when my father came to work at Guild Hall in the 1950's to design sets for summer-stock productions. They fell in love with this place, as so many do, and built a house shortly thereafter on a piece of land they purchased on Georgica Road. The house and the land became home for a grand total of what a Subaru would cost today, and my father commuted to work in Manhattan during the week to design sets for movies and various television shows. 
Eventually my sister and I came along in the 1960's, and by that time my parents found themselves deeply entrenched in what was then a vibrant community of artists, writers, performers, and chefs that lived here. Before "the Hamptons'' became what it is today, it was quite a different place. Visual artists were drawn to the area for the beauty of the place and the light — and they were left alone to work. Farm fields were filled with corn and potatoes, not McMansions and sprawling estates.
The summer season had a start and finish. Stores were closed on Sundays, and never open past 5 p.m. These were invisible boundaries that were set up, and they provided more down time and family time. And our parents' generation truly did have old-fashioned fun. In fact, my father was on the original Artists team for the Artists and Writers Softball Game, and my mom was a cheerleader. My parents and their circle took their downtime seriously and entertained each other weekly. They did not go in groups to restaurants; they opened their homes and, in turn, their lives.
Peter and Marlys kept a book in which they chronicled their many dinner parties down to the last detail — who attended, what gorgeous food was on the table, and how many bottles of wine were served. I suppose they did this so meticulously because they wanted to not repeat dishes, and to mix and match different guests. There are over 100 entries, stretching into the early 1980's. That's 100 dinners, holiday meals, festive lunches. They sat over coffee on the porch and wrote down everything the morning after, simultaneously beginning the planning of the next gathering. I knew of this notebook as a child, but recently found it again, and it is now one of my treasures. It provides me much inspiration and guidance, and encourages  me to gather at the table with family and friends as often as I can. 
And so this spring, as it became safer again to gather, I decided to replicate one of their 1970's dinner parties down to the very last detail, now some 50 years later. So much has changed in the world, but this party was going to be the same, beginning with the blue-and-white checked tablecloths I have kept from their linen closet. But which menu should I pick? 
RELATED: See some of the recipes Nina chose
I leafed through the book and selected a menu that was served on a summer evening in August, 1973. It seems funny to me now that Peter and Marlys did not have an outdoor dining table, so they held this party inside. That was the one change I made, along with some outdoor lighting. Another difference was that it was going to be much easier for me to shop for the party, as gourmet groceries are so readily available now. I remember multiple stops in the silver station wagon as we shopped for their parties, sitting in the back as Dad popped into Stuart's Fish Market in Amagansett, Gristede's, the Cheese Cupboard, and the Bistrian farm-stand table on Cedar Street.
Mom and Dad worked side by side in the kitchen, prepping foods and simmering broths, whisking sauces, and folding chocolate into whipped-cream desserts. They couldn't ask Alexa, so they asked us to flip the Simon and Garfunkel album on the stereo, humming along as they cooked. We got just as excited about the party as they did, even though we did not attend!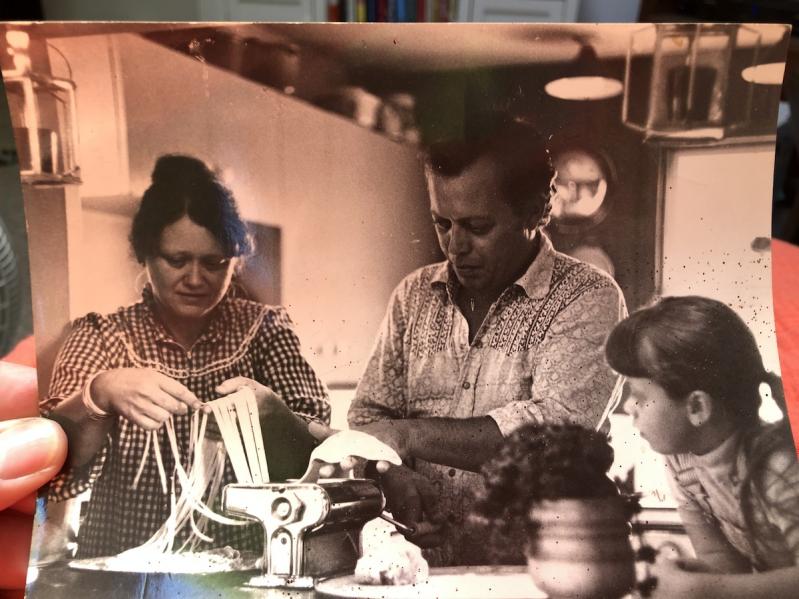 My parents were excellent chefs, and had friends who could inspire. Craig Claiborne (the restaurant critic and author of The New York Times Cookbook) and John Shinn (a friend from Greenwich Village days who had shown them the Georgica land) taught them so much. My parents viewed cooking as an art and a gift that could be shared. They enjoyed preparing the meal; it was not a chore to be accomplished. Taking time in that process was all part of the pleasure of the event.
There was an arc to their parties, beginning with a starter so that people could mingle. Then there was the main event, always followed by a scrumptious dessert. The menu from 1973 I re-created has Dad's shrimp remoulade and clams cooked in garlic and wine as a first course. Big crusty shards of toast accompany the clams to soak up the broth. For the main course, we dined on cold sliced filet of beef, a green bean and shallot salad, a platter of tomatoes with dill, and a butter lettuce salad with watercress. Before dessert, a big wheel of Exporator cheese and French bread was passed around the table. And, as my mother did before me, I made a frozen chocolate mousse, served with Madeleines and fresh summer berries.
My guests arrived on the back patio and selected a cold beverage from the tin bucket filled with ice and wine and beer. As the clams were prepared in a big pot on the grill, and the cold shrimp was passed around, my friends reconnected after so many long months of being kept apart by Covid-19. Stories were told, and laughter was shared, and more than a few hugs were given. 
After we sat, we took a minute to show our gratitude for this lovely moment, the glory of this place, and the freedom to share a meal together. Down the center of the table, the platters of food were served family-style. The simple beauty of the ingredients made each plate a work of art. And not a single person took out their phone — we were emulating the 1970's, after all. We toasted to occasions that we had missed during lockdown: graduations, engagements, and even my daughter's wedding.
Time flew too quickly for me, even though I sat at that table and made an effort to be present. Soon dessert was served, and each plate got a slice of mom's frozen chocolate mousse, with the chocolate cookie crust and a spoonful of plump berries. A platter of freshly baked Madeleines, dusted with powdered sugar, made its way around the table. (I still use mom's Madeleine pans to this day.) Although people exclaimed they had no room, the dessert platters came back empty.
Bellies and hearts full, we sat in the dark, our happy faces lit only by the candles on the table and the string of white lights hanging in the yard. Promises were made to do it again, and I assured the guests that there were plenty more party menus written down in the book. 
We all left that night with hope that not everything has to change. We can still connect. We can still be there for each other. And in the end, isn't that why life is worth living?
I always knew I grew up in a special house, and as I grow older, I am more keenly aware of the gifts that my parents left us. I wonder what they would think of the pace of the weekends out here now, and how they would have adapted. What I do know, with absolute certainty, is that they would be having a dinner party on the weekend, and it would be amazing. What I wouldn't give to go back to 1973 and be a guest at their table.