If there's one thing our five sidewalk-style standouts have in common, it's a belief that even in our ritzy zip codes, you can rely on finds from secondhand stores, mixed with a high-end signature piece or two, to look like a million bucks. And that is an indisputable win-win: It allows for aesthetic creativity while also being better for our environment.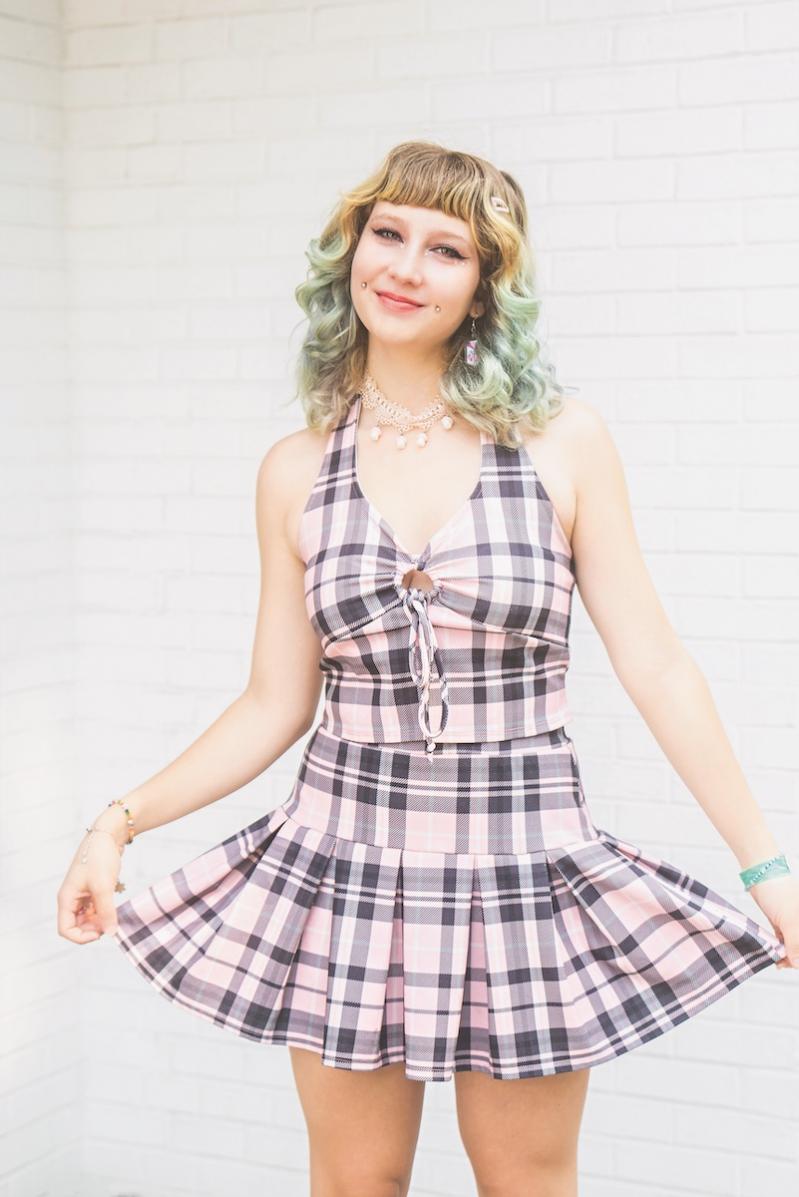 GiGi Lama 
Sag Harbor
Artist and student at Parsons School of Design
What she wore: A pink-plaid two-piece set from Cherry Mellow that she bought secondhand on the website depop.com. Her Demonia shoes were a gift from a friend. Lama, a recent Ross School graduate, might be seen wearing this to a summertime carnival or afternoon of exploring the further reaches of New York City. Her youthful style fluctuates from fairy-like pastels to a more androgynous, punk-inspired aesthetic, depending on her mood. No look is complete without makeup, and her facial piercings speak to her independent spirit. She frequents thrift stores, both online and brick-and-mortar, and enjoys incorporating and upcycling hand-me-downs.
"There isn't one specific style that defines me," says Lama, a determined critic of the "fast fashion" marketplace that produces mountains of cheaply made, disposable clothing — and incredible amounts of waste. Lama's wardrobe makes not just a sartorial but a political statement: "The issue with fast-fashion companies is they produce so much clothing that it never gets sold or it's sold and worn once," she says. "The people who make it are often paid less than minimum wage, or they're working in horrible places, or it's child labor. It also affects the planet so heavily because the clothes have plastics in them. . . . I want to teach people that there are alternatives."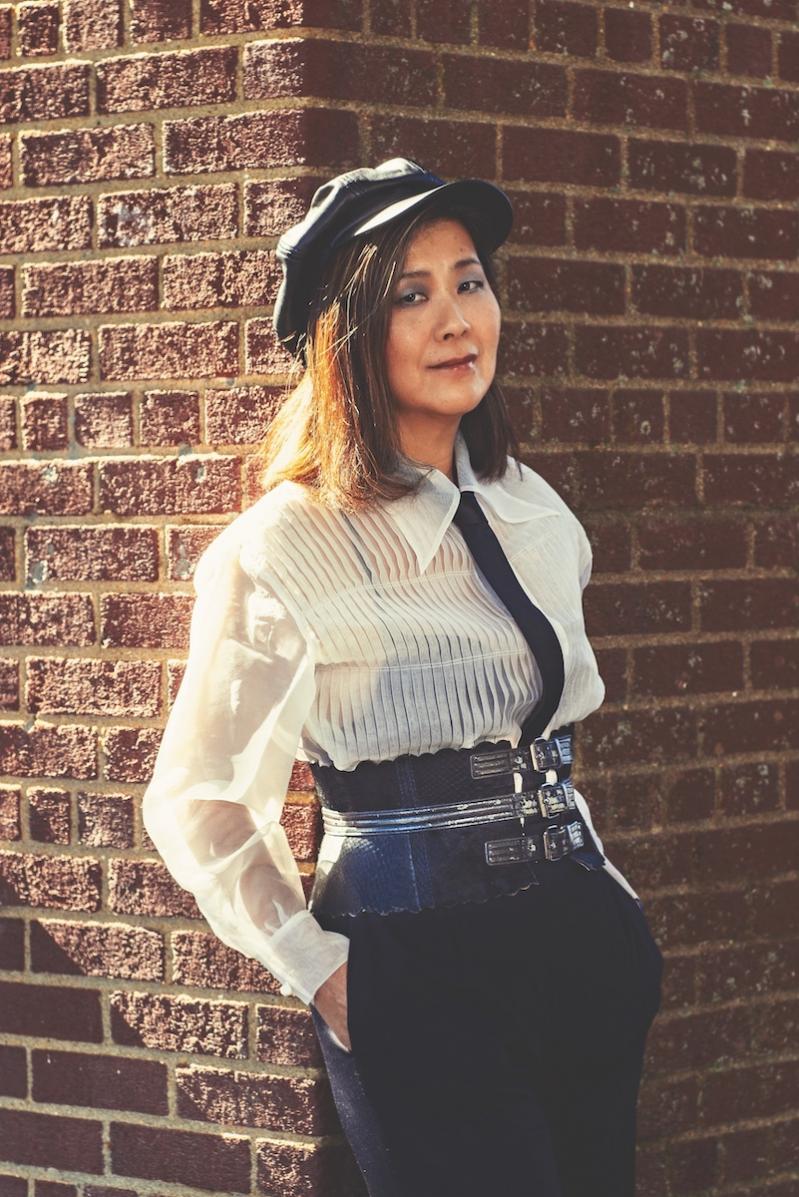 Yuka Silvera
East Hampton
Theatrical costumer, fashion retailer, musician
What she wore: A white, pleated organza shirt that she herself created the pattern for back in the 1980s, when she worked at one of the largest apparel companies in Tokyo, plus a black 1960s-style skinny tie, vegan-leather cap, cummerbund belt, and black wide-leg trousers. You may have seen Silvera wearing this combination on stage at the Stephen Talkhouse playing in a 1980s cover band called the Cherry Bombs. She also dressed actors on stage in this outfit for a Neo-Political Cowgirls adaptation of A Midsummer Night's Dream and for a musical, Surviving the Rosenthals, that she worked on in New York City.
As a designer and proprietor of an online shop and fashion rental service called Girls on Film Collection, Silvera practices what she preaches. "Clothing has an effect on your energy and moods, so it's important to dress according to how you want to spend the day. Even if you have no plans for the day, you don't want to be dressed sloppy. You'll do it for yourself, but also you never know who you'll bump into, especially here in the Hamptons!" Her aesthetic is influenced by 1980s New Wave musical acts like the Go-Gos, Duran Duran, B-52s, and the punk pioneers Blondie, and she feels at home in looks by Japanese designers as well as classic French fashion houses like Dior and Chanel, plus sometimes-punkier designers like Jean Paul Gaultier, Alexander McQueen, and John Galliano. 
Durell Godfrey
East Hampton
Photographer and Illustrator
What she wore: A distinctive, tartan cutaway military jacket made by Denim and Supply, a Ralph Lauren offshoot, custom-ordered by the nice folks at the East Hampton Village shop. Godfrey loves to wear this special piece with a black turtleneck, black pants, and either red shoes or a pair of black velvet slippers monogrammed with her initials. You might see her in this look at a gallery opening, museum event, or dinner with friends at the American Hotel. Some say Godfrey dresses like Diane Keaton — circa Annie Hall — but could it also be said that Keaton dresses like Godfrey? 
"If I wanted to buy this jacket now, I would have to stalk it on eBay," Godfrey says. "It also came in white canvas and navy-blue canvas with all the gold braid. Naturally, I have those, too, but I got them on eBay. What I love about eBay is you can shop in the middle of the night," Godfrey adds. "I would love to ask Mr. Lauren where the inspiration for this jacket came from, but first would want to thank [him] for most of the stuff in my closet: It is all classic, tailored, and a little bit zany when I get busy accessorizing."
Karen Clement
East Hampton
Model, merchandiser, entrepreneur
What she wore: A unisex distressed stone-washed denim jacket worn over her favorite "no-bra" bra top by Nuudii, plus drop-crotch, Italian-made, ankle-length trouser pants in pinstripes, chunky platform ankle boots, an armful of turquoise and leather cuffs, a giant turquoise ring, and three layers of astrological-sign necklaces by the enchanting local designer Amy Zerner. All of these can be found at Clement's Sag Harbor boutique, Pause for the Little Thingz. Where might you find her in such an outfit? Anywhere from school dropoff to a museum event.
"Style is about walking in your own fashion lane," Clement says, "honoring your uniqueness and expressing yourself confidently and courageously." Her own style icon is Grace Jones, the pioneering model (Yves Saint Laurent, Kenzo), singer (Pull up to the Bumper, Slave to the Rhythm), and actor (View to a Kill): "It's less about her fashion and all about the way she stands tall in her style. The way her style says, 'You can look at me if you like, but this is about me!' No permission or acceptance needed." Clement says her favorite accessory is her hair, which she changes frequently to complement her outfits and express herself, and says a "little black skirt" is a fashion necessity at every stage of life.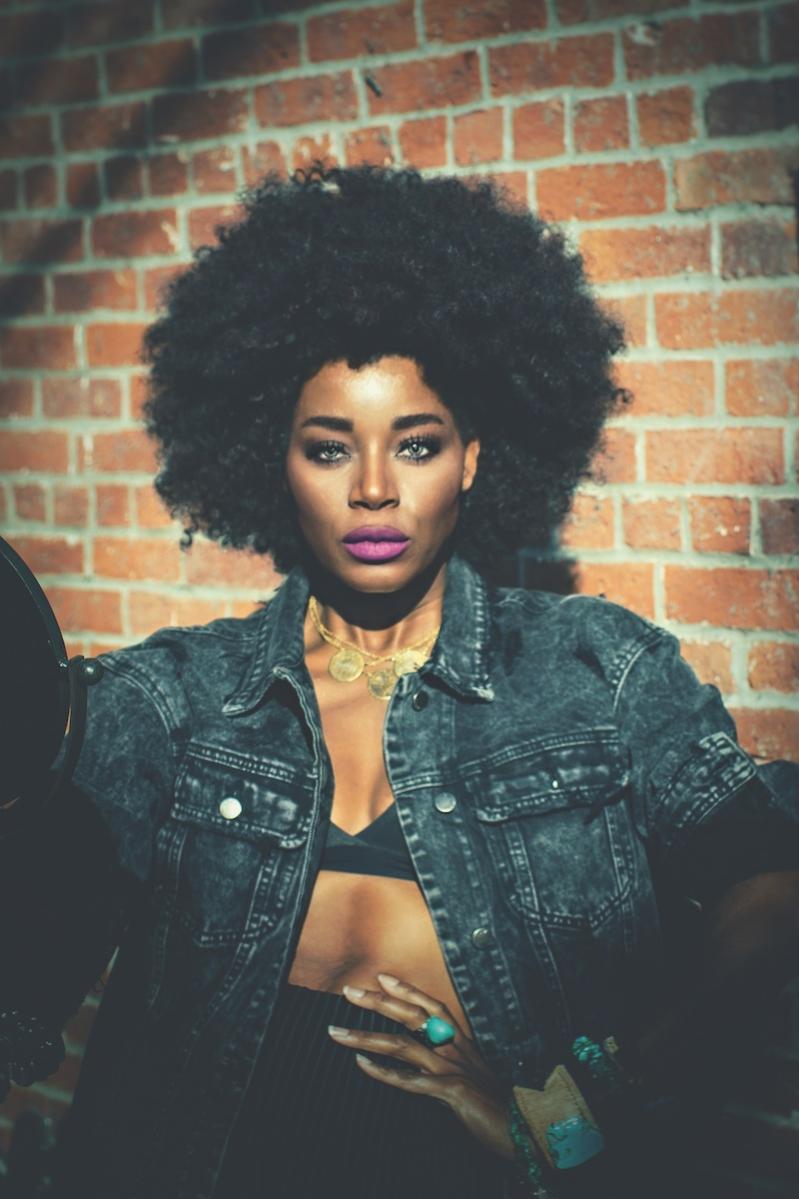 Paul Vogel
East Hampton
Bookbinder
What he wore: Believe it or not, the light-blue T-shirt is from Costco, which sells some surprisingly good stuff, Vogel says. The button-down is Ralph Lauren and the pants were on sale at J.Crew — all simple and functional, yet classy, everyday pieces. When he wants to kick it up a notch for a special occasion, he might wear a Scottish kilt or German trachten. Every look is completed, of course, by his marvelous beard and mustachios, very deliberate elements of his personal style, signaling his flair and perhaps mischievous nature. When it comes to clothes, Vogel does not automatically equate "expensive" with "good looking" or "well made." That's why he prefers shopping at secondhand stores, including the Ladies Village Improvement Society Bargain Box, where, he says, it's possible to find a $7,000 designer sport coat for $100. He also appreciates "lower-end nicer stores" like Polo and J.Crew. 
"I lived in London for three years back in the early 1970s and worked in a gentleman's bespoke clothing store on Savile Row," Vogel says. "The English had a very flamboyant style back then and I was an impressionable youth." But while his early influences may have been British, it is an Italian word that perhaps best sums up his approach to fashion: sprezzatura, with definitions ranging from "a certain nonchalance" (from Baldassare Castiglione's The Book of the Courtier) to "a studied carelessness" (Oxford English Dictionary). "Style is like a game," he says. "You do it in the morning, like a crossword. It's fun, but it's not important."