"What a hell of a man a man could become," John Steinbeck wrote in The Winter of Our Discontent, the novel that cemented the Nobel Prize committee's decision to award him the 1962 Nobel Prize in Literature. Read between the lines and New Baytown, the book's fictitious setting, starts to look a lot like Sag Harbor, where he lived while writing it.
The Winter of Our Discontent has "all of the components of what is happening in Sag Harbor right now," says Kathryn Szoka, a co-owner of Canio's Books on Main Street. "The locals versus the outsiders, real estate versus the people who live in the community . . . the sacred to the secular."
"Everything that is happening today in our world, he wrote about."
One can only wonder what Steinbeck, who has been called the "master writer of the American working class," would think of the $17.9 million asking price that was assigned in February to his 1,220-square-foot house, with a tiny outbuilding where he worked. Steinbeck often referred to the 1.8-acre property, on Bluff Point Lane at the edge of Morris Cove and Upper Sag Harbor Cove, as "my little fishing place." He also called it "Eden" (his heirs now call it "The Point"), and he named the writing studio "Joyous Garde," a reference to Lancelot's castle.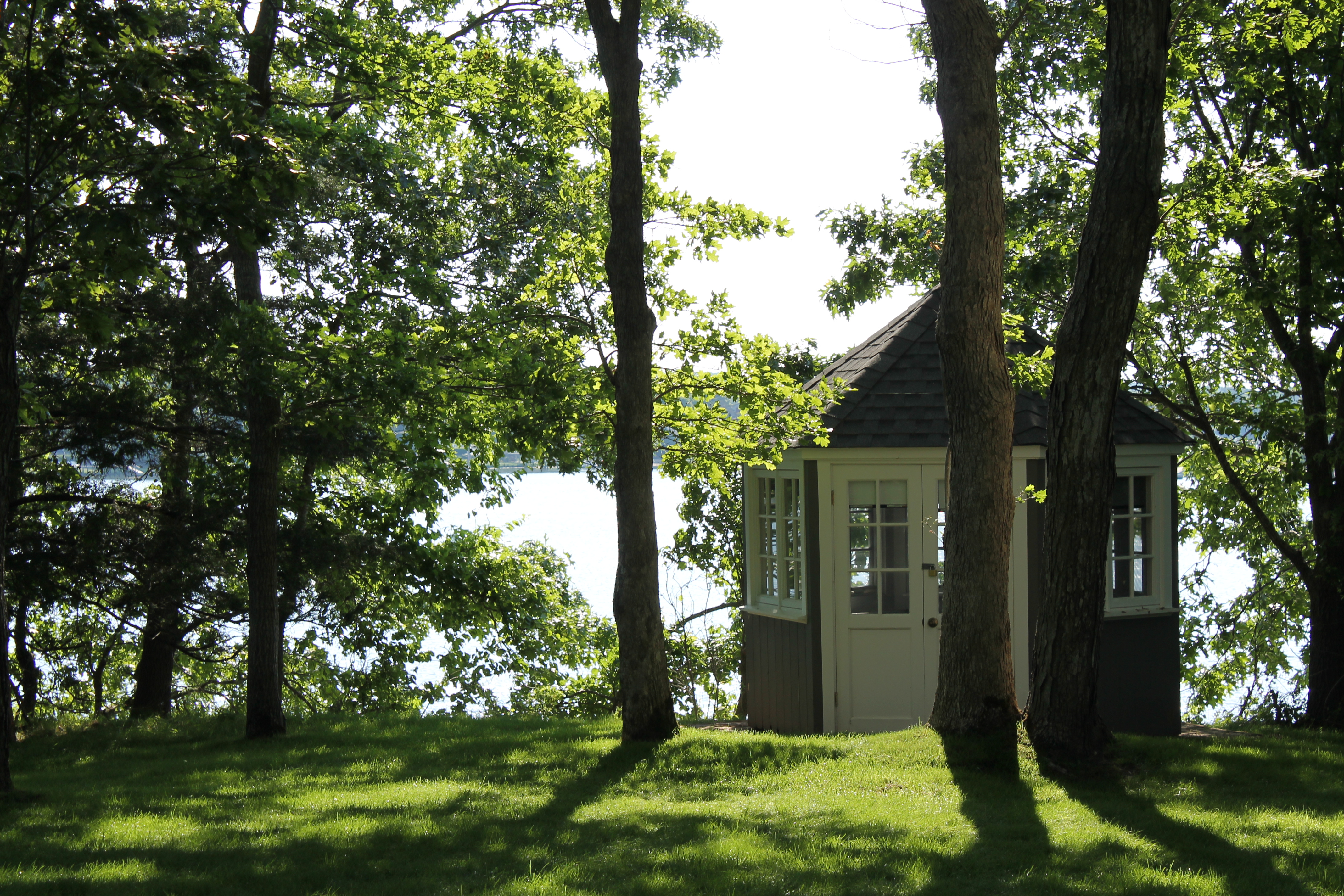 In describing the property — and acknowledging its historic significance — Doreen Atkins, the associate broker and senior global real estate adviser to Sotheby's International Realty who is in charge of the listing, quotes Steinbeck himself: "I look forward to Sag Harbor . . . it gives me the crazy desire to go out to my little house on the point, to sharpen 50 pencils, and put out a yellow pad. Early in the morning to hear what the birds are saying and to pass the time of day . . . then hitch up my chair to my writing board and to set down the words 'once upon a time.'"
Since its listing there have been two visits to the house by journalists, multiple views by prospective buyers, and numerous trespassers. The reason Steinbeck's heirs are sellingis that they have neither the time nor the resources to keep up the property as it deserves
Elsewhere on the property are a garage and a small guest house that were rescued from demolition as one of a Wainscott motel's original "Cozy Cabins." Grass slopes down to a private beach and the 60-foot dock from which Steinbeck would launch his boat. The current residents are feathered, darting around the grass and bean-shaped pool. Moss gives the brick patio a come-hither look, and the sunsets beg for a paintbrush. The lights and bustle of downtown Sag Harbor are out of sight, out of mind.
A tree grows within inches of the house's front door, an entry into history. In the living room, a portrait of a poodle, Steinbeck's canine companion while he wrote Travels With Charley, sits on the mantel of a stone fireplace. A mobile featuring wooden birds, carved by the same hands that wrote the Pulitzer-winning The Grapes of Wrath in 1939, hangs from the ceiling.
Since its listing, Ms. Atkins said, there have been two visits to the house by journalists, multiple views by prospective buyers, and numerous trespassers. The reason Steinbeck's heirs are selling, she said, is that they have neither the time nor the resources to keep up the property as it deserves. They are "everyday people," she said, who live in Texas.
Soon after it hit the market, Ms. Szoka started an online petition headlined "Save John Steinbeck's Home." That it gained momentum in the form of more than 32,000 signatures is old news at this point, but now a group of Steinbeck scholars, local officials, and historic-preservation advocates has come together in a concerted effort to do just that — save the house and establish as its purpose, Ms. Szoka said, "educational public access."
"We're sensitive to the fact that the property is in a residential area, and we want to be respectful of those in that neighborhood," she said. Limited "low-impact" visits by students and a quiet retreat for writers to work are envisioned. "What better way," said the bookseller, to foster "new young writers crafting a novel of contemporary times?"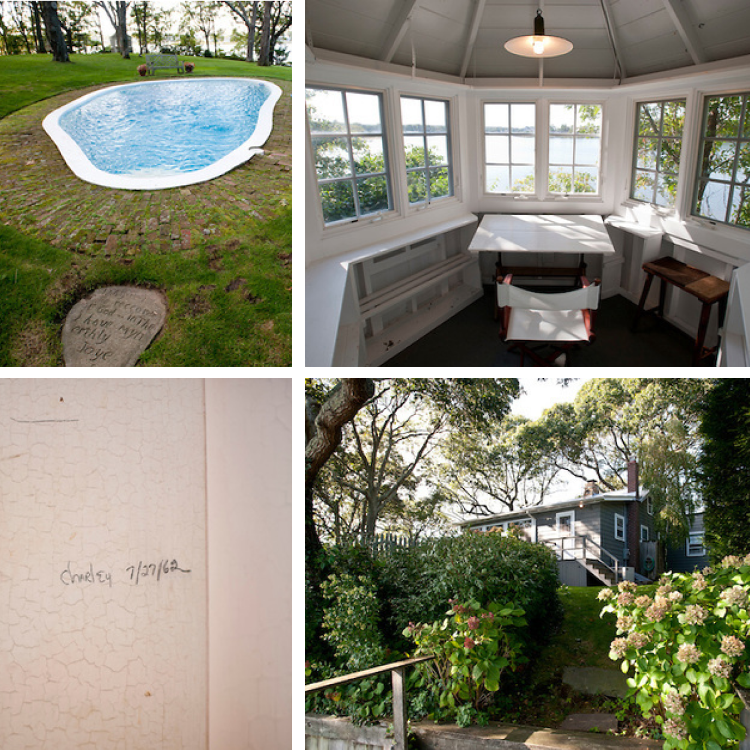 A Map of Precedents
This sort of thing is not unheard of in literary circles. Edith Wharton's estate, The Mount, sprawling across 113 acres in Lenox, Mass., is a venue for historic interests and exhibits, a bookstore and cafe, a center for writing and art residencies — and, for good measure, a popular place for weddings. Ernest Hemingway's house in Key West, Fla., is a museum and, curiously, a sanctuary for polydactyl (six-toed) cats. Where Emily Dickinson, F. Scott Fitzgerald, and William Faulkner lived, their houses are now historic sites; respectively in Amherst, Mass., St. Paul, Minn., and Oxford, Miss.
And in Berkshire County, Mass., the local historical society created a learning center at Arrowhead, the estate of Herman Melville, whose classic whaling tale, Moby-Dick, is celebrated annually in Sag Harbor with marathon readings at places like Canio's, the Old Whalers Church, and the John Jermain Memorial Library.
"Melville's family and descendants lived in the house until 1927, and then it was sold to four private owners between 1927 and 1975," said Lesley Herzberg, the executive director of the Berkshire County Historical Society, which now calls Arrowhead its headquarters. "We purchased this property in 1975 in an effort to preserve it and make it into a museum. The society itself had been around since 1962 and owned three other houses prior to purchasing Arrowhead. They sold those houses in order to purchase Arrowhead because they knew how important it was. We have owned it and stewarded it ever since."
During the pandemic, in mostly rural Berkshire County, Pittsfield, a community of about 50,000, ended up on a New York Times short-list of popular places for city dwellers to seek refuge from the virus. A real estate boom ensued. Sound familiar?
Ms. Herzberg suggested that a moneyed demographic may ultimately be beneficial to the Steinbeck property.
"It's always good to have a group that wants to preserve it," she said. "You say, this is a piece of history we want to preserve, and rally people around that idea. Get people excited, start trying to raise some money . . . If you get a wealthy person who's really preservation-minded, maybe they'll lead the charge and fund some of it."
A key turning point in saving Arrowhead was its addition to the National Register of Historic Places, Ms. Herzberg noted.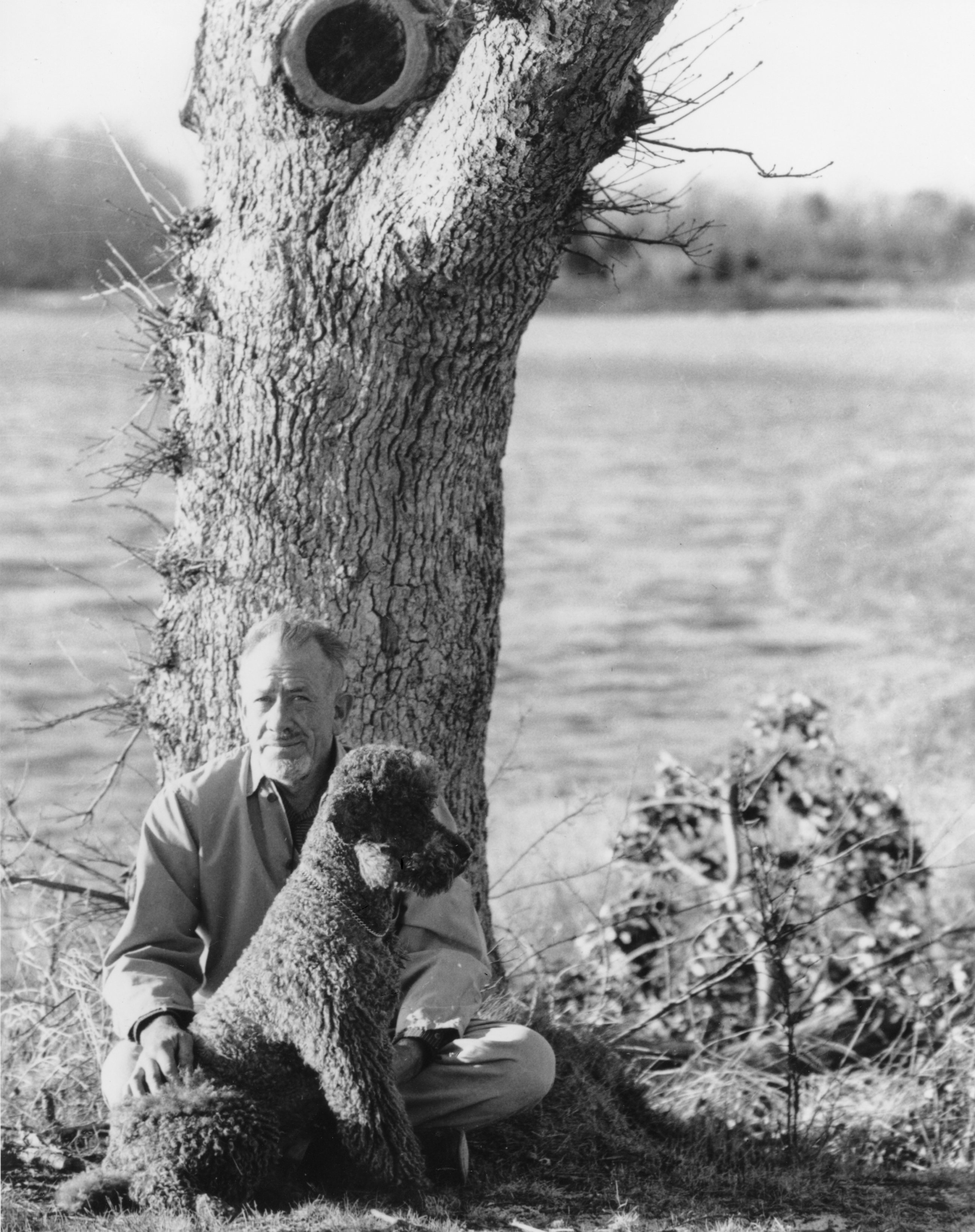 A Place to Start
The Steinbeck house preservationists are keenly aware of that point. Richard Hart, a retired university professor who has studied Steinbeck's works, recently wrote a spirited essay detailing the significance of the property. Collecting all the right arguments for a spot on the National Register, it has been included in the preliminary appeal to New York State.
". . . [V]irtually all readers and scholars of Steinbeck readily acknowledge in his books the interwoven, inextricably connected linkage between the writer and the natural and social environment in which he lived and worked," wrote  Hart, who for 30 years taught philosophy courses, among them Philosophy in Literature.
"Steinbeck sometimes spoke of a 'wall of background' that gave shape and texture to his writing. A large part of that 'wall' in his later years was Sag Harbor's long history as a fishing and whaling village. . . . Whaling was the biggest industry in Sag Harbor in [the] mid-19th century with some 130 whaling ships operating out of its harbor. Such industry brought riches — cultural, architectural, and economic — to the town, and the whaling legacy, if not actual practice, endured well into the 20th century. Steinbeck was keenly taken by this legacy."
Should the state's Office of Parks, Recreation, and Historic Preservation agree, a pathway would be opened to the National Register. This is a familiar endeavor in Sag Harbor, where a historic district protects the architectural integrity of many of its oldest buildings. An appeal for recognition from the historically Black neighborhoods of Sag Harbor Hills, Azurest, and Ninevah was accepted not long ago by the state, and is going through the national process right now — though time is running out there, as unique properties get scooped up by real estate developers who knock down houses not yet formally protected by historic status. On June 1, the nonprofit organization Preservation Long Island identified those three neighborhoods as an "endangered historic place."
Rebecca Chapman, a professional fund-raiser who is a former vice president of the nonprofit Peconic Land Trust – perhaps the most formidable advocate for land preservation on the East End — is working with the group hoping to buy the Steinbeck house.
"Working with landowners to acquire property, that's the first thing that this organization needs to do. See if there is a willing seller there," Ms. Chapman said. "We're in the exploration stages of that right now. I think we certainly know that there is community interest . . . but that doesn't translate to money."
Acquisition via the Peconic Bay Community Preservation Fund, a pot of public money coming from a 2 percent real estate transfer tax paid by buyers to the five East End townships, is possible. Most often used to buy large tracts of open land to forestall development, the program can also support water quality improvement projects and the protection of historic structures. An example of the latter can be found again in Sag Harbor, where the Sag Harbor Partnership received $4 million to restore and sustain the village cinema, which sustained heavy damage in a December 2016 fire.
During the pandemic, the community preservation fund amassed record dollar amounts, thanks to those real estate transfers — so, perhaps ironically, there's money out there.
"Preserving these wonderful treasures is really a next step from preserving farmland and waterways and all that we love about the East End of Long Island," Ms. Chapman said.
Ms. Atkins, the real estate broker, said Steinbeck's heirs "would love to keep it in a state of preservation. They're open to anyone buying it. They love the history."
Steinbeck sometimes spoke of a 'wall of background' that gave shape and texture to his writing. A large part of that 'wall' in his later years was Sag Harbor's long history as a fishing and whaling village."
Coming Full Circle
In 2010, The New York Times described a dispute between Steinbeck's descendants, including his elder son, Thomas, and the family of Elaine Steinbeck, the author's third wife, over control of the estate.
Though that clash focused less on the property than on the rights to the author's royalties, "the house belongs to Steinbeck's blood heirs," Thomas Steinbeck told The Times. Jean Boone, a sister of Elaine's who lived there for some time, disagreed. "The house belongs to me. Elaine left it to me, and I'm leaving it to my family." Thomas Steinbeck died in 2016, Ms. Boone not long after. Not much has been said publicly about the conflict since, and the author's heirs were not available for comment. On the 2020 Sag Harbor Village tax rolls, the most recent year for which data is available, the Steinbeck house is assigned a net taxable value of $4,003,100, less than a quarter of its listing price with Sotheby's. For Southampton Town to step in with community preservation fund resources, there would have to be a new appraisal.
There were fears that the house would sell quickly, as has often been the case with East End properties from the start of the pandemic.
"That hasn't come to pass, thankfully," said Nicholas P. Taylor, the director of the Martha Heasley Cox Center for Steinbeck Studies at San Jose State University in California.
In Sag Harbor, "everyone knows everyone, it seems a lot like the community in The Winter of Our Discontent, as a matter of fact,"  Taylor said. Not long after the Steinbeck house hit the market, he found himself in a conference call with Sag Harbor Village Mayor Kathleen Mulcahy and others who have been pushing for preservation.
"As a state-funded university 3,000 miles away, there's not a lot financially that we can do, but we're here to provide expertise and support should the property turn into something like a retreat,"  Taylor said. The Steinbeck fans and scholarly community "does not have $18 million. We can't buy the property and turn that into a center all on our own, but if the property were to be kind of encumbered with a historical designation, then I think it would narrow the pool of prospective buyers to people who would want to continue Steinbeck's legacy there."
That very nearly happened in 2008. That August, Sag Harbor's Board of Historic Preservation and Architectural Review recommended protecting the house and its accessory buildings by a historic easement, meaning that any changes to the property would have to go before them for approval. However, a month later, the board rescinded the recommendation. Its chairman, Cee Scott Brown, said at the time that "this is something that needs to be looked at a little more in depth before we start reaching outside the historic district," as reported by The Sag Harbor Express.
John Steinbeck died in 1968, Elaine Steinbeck in 2003.
He wrote before the dawning of the internet age, of course, but his Sag Harbor house and the waters it overlooks certainly allowed him to unplug.
"He used to get in his boat and go out into the bay with paper and pencils and he would go out there and write,"  Taylor said. "He'd just anchor the boat and write, reminding humans of their own humanity — he liked to say that was his occupation."