A good doughnut is hard to find. It is also hard to make. I suspect that has always been the story with them. The morsels of dough dropped into hot fat are said to be of Dutch origin: olykoeks ("oily cakes"). Oily indeed.
When it comes to frying doughnuts, cookbooks are likely to resort to scare tactics. The fat must be properly hot or you'll risk grease-laden specimens (if the fat is too cool it will penetrate before the cake has cooked) or doughnuts which are still medium-rare in the middle (if the outside has browned before the inside has cooked).
Imagine trying to fry doughnuts in the days before electric thermostats and special thermometers. The fat was tested by dropping in a piece of bread and seeing how brown it got in a minute. The source of heat was regulated by adding fuel or closing dampers. 
Yet despite these inconveniences, word has it that doughnuts were fried by the earliest settlers on these shores and have been consistently popular ever since — though no longer frequently fried at home. It is said that either the Dutch in Nieuw Amsterdam or the Plymouth colonists who learned of them during their stopover in Holland introduced them here. The first olykoeks were round and had raisins.
The Sufganiyot devoured around the world at Hanukkah likely trace their strawberry-jelly-stuffed origins to the jelly doughnuts that were invented in Central Europe in the 16th century — but their role as a symbol and an essential of the Hanukkah table can be traced to a concerted effort to popularize them in Israel (then British-controlled Palestine) as recently as the 1920s: A labor organization called Histadrut wanted to drum up business for bakers, and promoted them as the perfect treat for the Festival of Lights.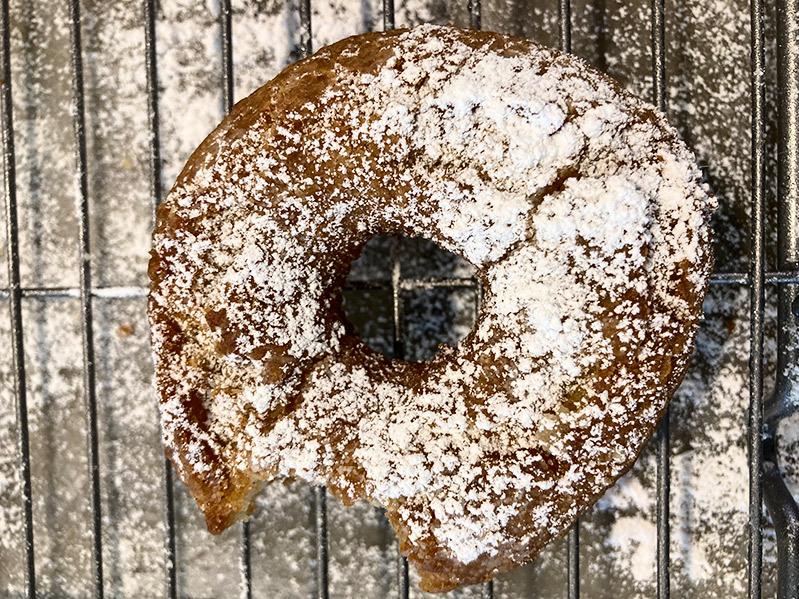 How doughnuts got the hole, however, is a mystery. There are tales that attribute this innovation to a Native American with a William Tell turn of arrow or to a down-easter who, tired of his mother's medium-rare fried cakes, suggested she eliminate the middle.
Are you ready to try your own? Remember, the fat must be 365 to 375 degrees. It's best to use an electric deep fryer, so that the temperature is controlled and you don't run the risk of oil splattering. Do not fry them in butter. Some people use lard or vegetable shortening. I prefer the least obtrusive oil I can find, like Wesson oil or Crisco. French peanut oil would be nice, but a trifle dear.
The dough must be very soft for a tender doughnut. Chill it to facilitate handling. If you do not have a donut cutter, use a 3-inch cookie or pastry cutter, plus a 1-inch metal screw-on bottle cap for the center hole.
This makes a rich, lightly spiced doughnut with  a soft-yellow inside — much more flavorsome and sugary than store-bought.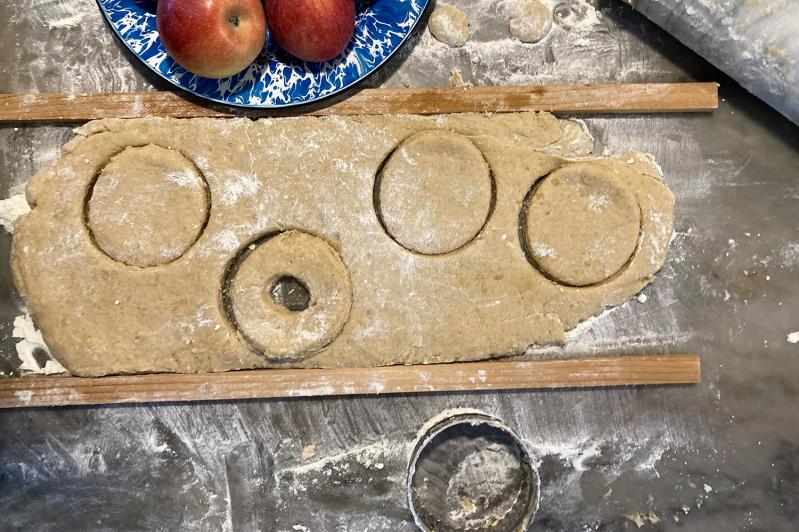 APPLE-SAUCE DOUGHNUTS, CIRCA 1975
4 eggs
4 eggs
I  ½ cup sugar
1 cup smooth mashed potatoes
4 Tbs. soft butter
1 cup applesauce
1 cup milk
6 cups sifted flour
1 tsp. salt
½ tsp. nutmeg
½ tsp. cinnamon
2 Tbs. baking powder
½ cup wheat germ or stone-ground whole wheat flour (such as Amber Waves)
Oil for deep frying (1 liter if using an electric  deep fryer)
Confectioners or granulated sugar for dusting
Beat eggs. Gradually add sugar and continue beating until thick and light.
Mix potatoes with butter and add applesauce. Stir into egg mixture. Add milk. Sift flour, salt, nutmeg, cinnamon, and baking powder together and add to egg mixture along with wheat germ/flour. Mix very lightly, just until ingredients are blended and a very soft dough is formed.
Set your electric deep fryer to 370.
If mixture is too soft to be gathered together and handled, chill it for at least an hour. Turn it out onto a floured board, dust lightly with flour and knead it briefly to form a ball. Pat or roll the dough to one-half-inch thickness. Cut doughnuts with a floured  >