As we look forward to being spirited away for the holidays, we might opt to skip the alcohol in our cocktails while we celebrate. Shaken or stirred, an aromatic mocktail will stimulate the senses with seasonal ingredients.
Times have changed, as has terminology. What was once called a spritzer or a mocktail is sometimes now called a "soft cocktail" by the internet blogeratti. Call it whatever makes you and your guests happy. What really matters is that there's something for everyone.
The recipes below stand on their own, but they could be fortified with alcohol. For those not quite ready to leave the party but looking to refill their glass while enjoying another conversation, an alcohol-free mocktail makes for the perfect nightcap.
Serving a pitcher of an inventive mocktail adds a festive vibe to any gathering. It's welcoming to offer guests a nonalcoholic option on the bar cart, something that is easy and inspired. A relaxed pour to greet guests and eliminate the need for individually mixed drinks can streamline the tasks of a host, too. If the sound of a cocktail shaker with non-alcoholic mixers feels merry, then toss in some ice and shake it up.
Cranberry Sleigh Ride
This drink was inspired by one served at a holiday party at the James Beard House years ago. The original variation had bourbon and no rosemary, but the earthiness of the herb simple syrup works well in its place here.
2 ounces cranberry juice
Dash of rosemary simple syrup
Dash of maple syrup
Light squeeze of lemon
Seltzer water
Combine ingredients over ice, stir, and enjoy.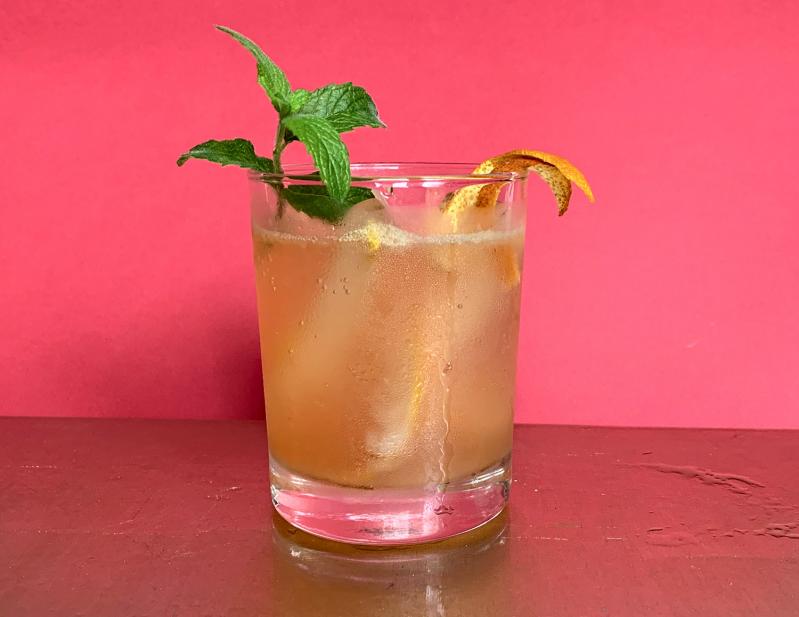 Blood Orange Mock Smash
Bright and sunny, with honey for nuance, this drink offers a refreshing take on a traditional smash
Juice of one blood orange
Sprig of mint
Dash of honey
Seltzer
Muddle orange to extract the juices. Add a few mint leaves — to lightly bruise the leaves — and strain. Add honey. Pour over ice and fill glass with seltzer.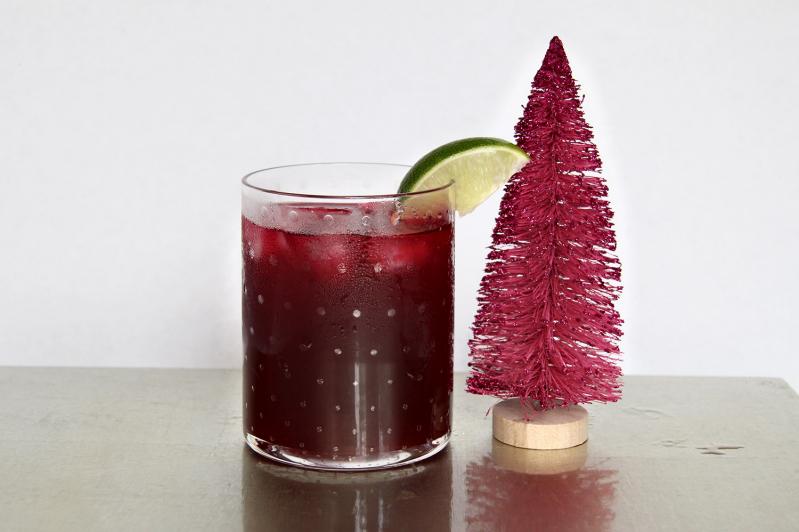 Ginger Beet Spritzer
While it may appear to be a dressed-up version of a juice-bar offering, the effervescence of ginger beer and seltzer elevates this drink (left) for a gathering with health-minded friends.
2 parts beet juice
1 part ginger kombucha or ginger beer
1 part seltzer
Generous squeeze of lemon or lime
Combine ingredients over ice, stir, and make a toast. God bless us, every one.