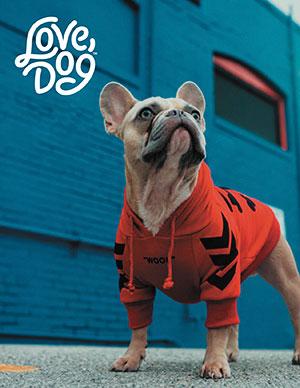 Mark Drucker, a Springs resident, has launched Love, Dog, a new digital magazine that focuses on dogs and human-canine relationships and seeks to be a breed apart from other pet publications.   
"I want this to be the Vogue of dog magazines," said Mr. Drucker, a media consultant and former publisher at Hamptons Cottages and Gardens. "That means it has to be beautiful and smart. The magazine is all about rethinking the way we interact with dogs and how we think about them. We're going to do stories about how to give dogs a great life, and how to have a much better friendship with them." A subscription costs $58 per year, or $7 per month.
Each issue, available at lovedog.com, will contain a feature story that delves into the canine brain, information about rescues available for adoption, dog-centric literature, health and wellness tips, a selection of clothing and gear for sale, and canine-on-the-street shots from across the globe. New York City pooches are featured in the debut issue, and future portfolios will include dogs in Los Angeles and India.
"It's dogs of the world, but you'll also get to see the places, and see the world through the eyes of dogs," Mr. Drucker said.
The inspiration for the publication can ultimately be traced back to a chance encounter Mr. Drucker had with Mary Tyler Moore, the actress, in 1991, when he was living in New York City. "I ran into her on the Upper West Side with her golden retriever, and it was always my dream to have one, so I asked her where she got it." He bought Baxter shortly thereafter, and after his death he got another golden named Tucker.
Although he's now without a dog, he has been giving various ARF residents a break from kennel life by hosting them at his home, and dogs are always on his mind. "Last November, I was sitting on my sofa, and I started thinking about getting a dog again, so I joined a golden retriever group on Facebook," he said. Others in the group kept peppering him with dog care questions, and "I found myself enjoying answering the questions and getting nice responses."
Those interactions motivated him to come up with a business plan for Love, Dog, and less than a year later the magazine has become a reality. "I've always had a very empathic relationship with dogs, and I want this to give them a voice," he said. "This is a magazine about everything dogs would want us thinking and talking about."