"The Fight of His Life"
Chris Whipple
Scribner, $30
In his latest exploration of how Washington works, the former TV documentarian Chris Whipple forsakes his comfort zone of former officials and retired associates looking back at past crises, hard decisions, and major personalities involved. It worked for "The Gatekeepers," about White House chiefs of staff, and for "The Spymasters," about directors of the C.I.A. 
With "The Fight of His Life: Inside Joe Biden's White House," the subject and sources were still (or until quite recently) "in the thick of political combat, loath to reveal secrets or stray off message," Mr. Whipple concedes. And many of his quotations are from the public record, or not much different from it, whether said to him in person or via email (by Mr. Biden, most importantly, and Veep Kamala Harris, though refusing to discuss her history of staff morale woes).
And yet there are some surprising revelations and sometimes revealing recollections that may bear on thinking about Election 2024. 
The bottom line: Mr. Biden's record of accomplishments in his first two years as president — a pandemic tamed, an economy re-energized (despite persistent inflation), overseas alliances solidified to counter Russian aggression in Ukraine — compares well even with those of the White House giants F.D.R. and L.B.J., Mr. Whipple maintains. But a lower level of charisma, sometimes loose lips, and unmistakable advancing age — in a vicious new polarized politics — seem to have brought this president far less credit and lower poll numbers than he probably deserves. 
Mr. Whipple's first disclosure is the Biden transition team's secret aid from a senior aide in the Trump White House.
Christopher Liddell, deputy chief of staff for policy coordination, was a Trump voter but no MAGA cultist. Born in New Zealand, he came to the U.S. in 2001, became chief financial officer at Microsoft, then vice chairman at General Motors, and was still driving his vintage red Corvette as point man for a transition Trump would not acknowledge.
Indeed, Donald Trump's preoccupation with proclaiming victory was useful to Mr. Liddell "because then I could just get on with doing my job," he said — working quietly with lower-ranking officials to set the stage for transfer. Team Biden, meanwhile, set up a "shadow agency" process, tapping the expertise of former officials from crucial departments. And Mr. Biden himself was kept up on national security matters by Joint Chiefs Chairman Gen. Mark Milley through House Speaker Nancy Pelosi. 
On Jan. 6, as violence surged into the Capitol, General Milley by phone assured Ms. Pelosi he would obey only lawful orders and that there were safeguards against a president launching nuclear missiles in a deranged fit of pique, "but what those safeguards were was unclear." Mr. Whipple notes that Mr. Liddell was in tears as he watched the clamorous assault but was persuaded not to resign and thereby jeopardize the official handover.
Following reports of sympathy for Mr. Trump within the Secret Service — and Vice President Mike Pence's refusal to enter a vehicle whose Secret Service driver he feared might keep him from conducting the confirmation of Mr. Trump's defeat — Mr. Biden became "wary" of his own protection detail, Mr. Whipple reports. "The president no longer spoke freely in their presence."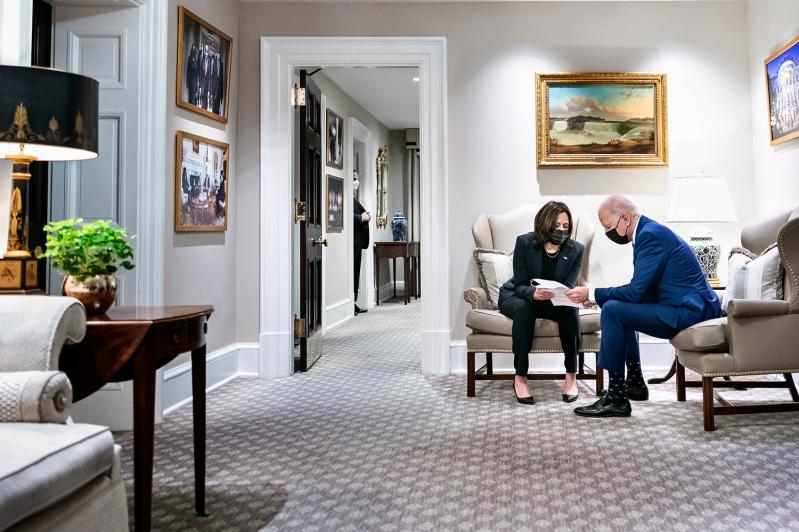 The frantic, final withdrawal of vestigial U.S. forces from Afghanistan, for which Mr. Trump had set the stage, is revisited with the same conflicting views as the outrage it first provoked. Critics argued that a modest surge of U.S. forces could have fought to buy time and stabilize the situation. On the other hand, most agreed that the Afghan government and its forces were much weaker than they had led themselves to expect or project, the Taliban more powerful, pervasive — and threatening not to hold their fire for yet another delay in departure. 
The body count for American forces from renewed combat in those circumstances might well have been far greater than the 14 soldiers who died in a tragic ISIS suicide bombing at the Kabul airport. 
Among NATO allies, French President Emmanuel Macron was most notably furious at being blindsided by the Afghan move, and also steaming over a backstage U.S.-British-Australian pact involving nuclear submarines that supplanted a $66 billion French deal to sell non-nuke subs to Canberra. He had pulled his ambassador from Washington and was not speaking with U.S. Secretary of State Antony Blinken, although a family friend, just as he sought to build European support against Moscow's expected Ukraine attack.
As it happened, V.P. Harris had a scheduled visit with Mr. Macron, with whom a mutual chemistry had developed from a prior phone call. Press reports focused on her Paris "shopping spree" (a $367 copper serving dish from a shop frequented by Julia Child). But Mr. Whipple learned that in private with Mr. Macron she pressed the U.S. case against Vladimir Putin, and underscored intelligence Washington had previously shared about the likelihood of an invasion. "In truth," he writes, "Harris's visit had gone a long way toward smoothing the feathers of the U.S.-France relationship."
More evidence of Mr. Biden's "growing confidence in his vice president" at that point, Mr. Whipple writes, was sending her to give a keynote speech at the Munich Security Conference, where she also held bilateral meetings with NATO Secretary General Jens Stoltenberg, the new German chancellor, Olaf Scholz, and other national leaders — most importantly Ukraine President Volodymyr Zelensky.
Despite his fiery warning against "appeasement" of Mr. Putin, Mr. Zelensky still had doubts about an actual Russian attack. Ms. Harris stressed U.S. intelligence about the plans for a massive land invasion and plots to assassinate Mr. Zelensky himself. They talked about his personal security and government continuity were he captured or killed — and she had the "chilling thought" she'd never see him alive again.
Ms. Harris played another key role after Poland's surprise announcement that it would supply Soviet-era MIG fighter jets to Ukraine — via the American base in Ramstein, Germany. Already en route to meet with Polish President Andrzej Duda in Warsaw, Ms. Harris was directed to have him walk back his public offer that might be seen by Mr. Putin as provocative U.S. escalation. 
Her mission was accomplished with a pledge of $53 million in humanitarian aid and possible help resettling Ukrainian refugees in his country with relatives in America. 
Mr. Biden remained "preoccupied" with the possibility of Mr. Putin going nuclear if he perceived an existential threat to his nation or his power. "He's very focused on being prepared in case Putin does it, and trying to figure out how to deter him," then-Chief of Staff Ron Klain says. 
But Mr. Whipple provides no clue to what that preparation entailed if deterrence again proved as weak as it was against Russia's invasion in the first place. And Mr. Biden himself didn't help with an emotional outburst over Mr. Putin after meeting Ukrainian refugees in Warsaw — "For God's sake, this man cannot remain in power" — which had to be walked back lest Russia's leader deem it a green light for regime change. 
As for Mr. Biden's style of leadership on domestic issues, there is contradictory evidence about what The New York Times celebrated as "one of the most expansive assertions of government in the modern age." 
When his hallmark $1.2 trillion infrastructure renewal project got bogged down in lockstep with the far more controversial and costly Build Back Better plan for social policy and environmental initiatives ($3.5 trillion at one point), "the president appeared indecisive about how to proceed," Mr. Whipple writes. And so it was left to secret negotiations between Build Back Better's major opponent, West Virginia Democrat Joe Manchin, and Senate Majority Leader Chuck Schumer that cut the price tag to $738 billion by dumping most of the safety net provisions and renaming it the Inflation Reduction Act. 
"Chuck let me write the bill," Mr. Manchin boasted. The process, as Mr. Klain explained it, was to "let him have the time and space where he didn't feel pressured." Mr. Biden warned party progressives of the programs they'd have to forgo, and in turn saw his presidency revived through the competence of compromise. A warm-up for the debt ceiling standoff? 
Finally, on the issue of age, Mr. Whipple supplies a telling anecdote that can be read two ways. In June 2021, after eight grueling days in Europe for summits with G7 countries, the European Union, NATO, and Mr. Putin, "everybody was absolutely exhausted," recalls Deputy Chief of Staff Bruce Reed. Except for Mr. Biden, who "sat down and told stories most of the way home — easily four maybe five hours of stories . . . a vivid demonstration of unbelievable stamina."
Or of a gabby old guy who doesn't know when to get a needed night's rest, and focus on the issues ahead. Voters will decide.
---
Chris Whipple spends summers on Shelter Island.
David M. Alpern was a reporter, writer, and senior editor at Newsweek magazine and host of the "Newsweek on Air" and independent "For Your Ears Only" radio broadcasts for more than 30 years. He now hosts programs with authors of books he reviews in The Star for various South Fork libraries in person or by Zoom from his home in Sag Harbor.