"Bogie & Bacall"
William J. Mann
Harper, $40
"How can a man so ugly be so handsome?" asks Marta Toren of Humphrey Bogart in the film "Sirocco." It's a perfectly reasonable question, of course, with no explicit answer (it may be that the appeal of all transcendent movie stars is ineffable). 
Sure, there was the pugnacious masculinity, and an obvious self-regard, that contributed to Bogart's charisma. Not to mention a no-nonsense intelligence. During his cinematic golden period, which manifested around World War II, Bogart's sardonic pessimism in the face of liars and fools seemed just the tonic for an era when liars and fools had nearly destroyed the world. 
Men, of course, wanted to be like him, mimicking his clipped, bitter way of speaking. He seemed supremely capable under pressure — at least on the screen — and they'd heard of his brawling, hard-drinking persona off it. He seemed like the real thing. 
Admiration turned to envy when he started a romance with his co-star Lauren Bacall, a lanky fashion model 24 years his junior, on the set of "To Have and Have Not." 
In his exhaustive, often insightful new biography, "Bogie & Bacall: The Surprising True Story of Hollywood's Greatest Love Affair," William J. Mann examines the lives of both stars, while aiming a particularly expansive eye on the couple's roughly decade and a half together. Mr. Mann packs so much detail into its 550 pages (this volume sits on my desk next to a history of the Russian Revolution with the same page count) that it's probably all the Bogie and Bacall anyone will ever need.          
Bogart, some will be surprised to learn, came from a well-to-do family on the Upper East Side of Manhattan (his father was a pulmonary surgeon) and attended private schools. His parents hoped he would go to Yale, but the structure of academia didn't suit Bogart, and he ended up in the Navy, serving briefly in World War I. 
The acting bug hit him hard, but success was elusive. Bogie struggled for years as a middling theater actor — it may be that the stage was too remote to capture Bogie's magnetism. His early Hollywood days were met with frustration as well, filled with B-movies and false starts. Arguably, his career didn't really get rolling until he was nearly 40 years old with "High Sierra." After that there was no looking back: He would spend the next decade as one of the world's premiere movie stars.  
Betty (Bacall's nickname) also came from New York — though with a more middle-class pedigree. She seemed bent on stardom from an early age, already hanging around the Broadway scene by her late teens. If truculence was Bogie's defining characteristic, with Bacall it might be moxie.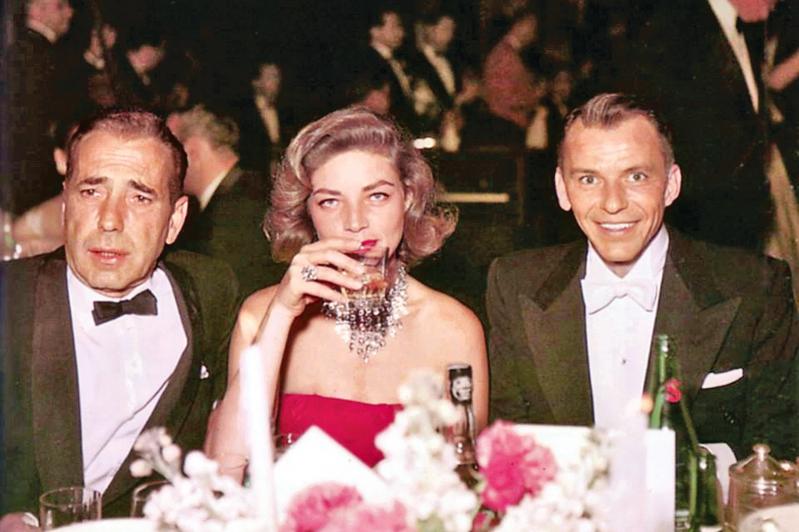 By 17 she was knocking on producers' doors without a second thought and marching up to famous actors to introduce herself. "[Vincent] Price was appearing in 'Angel Street' and Betty was ushering," Mr. Mann tells us. "After the show she rapped on his dressing room door. Price was removing his makeup, but he allowed the starry-eyed young woman to enter and listened as she poured out her ambitions." 
(Kids, don't try this at home: We can assume at least some of Price's kindness was attached to the fact that she looked like Lauren Bacall.)
Her hubris landed her some nominal stage work, but it was her modeling gigs that would take her to Hollywood (the astonishing story trumps even the legend of Lana Turner being discovered at Schwab's drugstore). The director Howard Hawks was looking for a fresh face for his new film, "To Have and Have Not." His wife, flipping through a fashion magazine, saw a photo of Bacall and brought it to his attention. Impressed, he summoned Betty to Hollywood for a screen test. They met for lunch at the Brown Derby. Hawks found her intriguing, but there was a problem. Hawks, the author explains, thought Bacall had a "squeaky" voice, which did not fit the sultry and sophisticated women in his pictures. 
Instead of being insulted, Bacall told Hawks she'd fix it, holing up in her hotel room for voice lessons until the job was done. They did a screen test and Hawks liked the change. Mr. Mann tells us that Hawks saw a quality when Bacall stood in front of the camera that beguiled him — something he termed an "insolence." 
"This was no innocent ingenue," Mr. Mann writes. "The precocious, crafty New Yorker came through on the very first take."
The romantic relationship with Bogart started slowly. "He never pressured her or took liberties," we are told, and Bacall herself, who was a notorious coquette, said, "I didn't flirt with him." Somewhere near the end of the shoot, however, the onscreen chemistry caught up with them. They started confiding in each other, palling around together. This coincided with the demise of Bogart's tempestuous second marriage to the actress Mayo Methot. 
Then there is the matter of the immortal line "Just put your lips together and blow" from "To Have and Have Not." Mr. Mann claims it "wasn't the catalyst for the romance," then hedges by adding that her sultry reading "likely does reflect the budding attraction." It leaves one speculating: If men across America nearly blew a gasket when Bacall purred the line, why not Bogart, to whom it was delivered directly? By the end of the shoot they were an item. 
It was a relationship so Freudian you can almost smell the cigar smoke. Betty had grown up without a father, craving a significant masculine presence in her life. Meanwhile, Life magazine had just declared Bogart "the most popular motion picture actor in the U.S." He was wealthy and attractive (if uniquely so), and had a rough-hewn wisdom about Hollywood after 20 years in the business, a business in which she was determined to thrive. His marriage was ending. It was, in hindsight, almost inevitable. 
There was also a mutual interest in politics. "The couple's political activism was a bond that drew them together," Mr. Mann states. Not that there wasn't a price to be paid. When Bogie objected to the scrutiny of the Hollywood Ten from the House Un-American Activities Committee, he and Bacall traveled to Washington, D.C., as a show of protest. 
It was, it turns out, a career misstep. Asked by the press to state that he wasn't a communist (he wasn't), Bogart rightly refused. Communism, however, was so toxic in the late 1940s that his denial resulted in blowback from fans and studios alike. Film offers dissipated, pressure mounted, until ultimately Bogart was forced to repent, stating publicly that he was not, and never had been, a communist. It was a bitter capitulation from a man who was not inclined to apologize.
He was also a notorious boozer. The alcohol flows so prodigiously through "Bogie & Bacall" you contemplate a retroactive intervention. It didn't help that Bogie enjoyed working with John Huston, the pair seeming to egg each other on (in the movie "Capote," Truman states that the two drank together like "famished water buffalo"). So much Scotch was drunk on the set of "The African Queen," for example, that when they ran out — for two whole days! — Bogart described the entire set as hitting a "nadir" of depression. 
There were fistfights, too, with Bogart being thrown out of — and sometimes banned from — nightclubs from Los Angeles to New York. He was a notoriously mean drunk.
Betty slowly grew tired of it. They'd had a remarkable decade together, later teaming up for "The Big Sleep," "Key Largo," and "Dark Passage." There were the days sailing to Catalina on Bogie's yacht, and the great parties at their Los Angeles home, which became a sort of clubhouse for the Hollywood elite. 
But their age difference was catching up with them. Bogart was losing his vitality just as Betty was finding her confidence. While on the campaign trail for Adlai Stevenson, Bacall and the candidate enjoyed a casual flirtation — unconsummated, Mr. Mann assures us. Nevertheless, as Bacall writes in her autobiography, while stumping for Stevenson, "My life and myself began to change." A more intense flirtation with Frank Sinatra, a friend of Bogart's, may not have been as innocent. 
There was a reason Bogie was running out of gas. He was seriously ill. A terrible cough revealed esophageal cancer, no doubt from a lifetime of heavy smoking and drinking. The marriage would probably not have lasted much longer, but Bacall was there at his side till the end. The decline was rapid.  
Culling from Bacall's memoir, Mr. Mann describes Bogart's last day. "[Katharine] Hepburn and [Spencer] Tracy came by for a short visit, and then Betty crawled into bed with Bogie to watch a movie. 'Bogie wanted me on the bed with him, next to him,' she wrote." She held his hand throughout the night, then in the morning gathered the children in the car for Sunday school. When she left, Bogie said, as if summoning a character in his movies, "Goodbye, kid," adding, "Hurry back." When she returned, "he had lapsed into one of those deep sleeps. He never woke up."
Life after Bogie had its triumphs for Bacall. There was an Academy Award nomination for "The Mirror Has Two Faces" and two Tony Awards. Her film career, however, never regained the heights of her first 10 years. She became notorious for diva-like behavior, or what the film critic David Thomson called her "hollow grandeur." 
A second marriage to another actor, Jason Robards, is fascinating as a doppelganger to Bogie/Bacall. Similarly truculent, brilliant, and alcoholic, it was as if with Robards Betty was trying to replicate her first husband. Not surprisingly, it didn't work.  
So too it is with Mr. Mann's estimable biography, which peaks with the romance of its two stars. Was it, as the author tells us, "Hollywood's greatest love affair"? Perhaps. But one thing is certain. True fans will have stumbled on a gold mine with "Bogie & Bacall," a biography so voluminously detailed as to exhaust even the fanatics.   
---
Kurt Wenzel's novels include "Lit Life" and "Gotham Tragic." He lives in Springs.
Lauren Bacall lived part time in Amagansett for many years. She died in 2014.