"Don't Ask My Name"
Erika Hecht
East End Press, $21.95
What makes this memoir of Holocaust survival different from its many companions in the genre is the dynamic between the author and her mother, and the account of the mother's ruthless determination to save her family. In many ways, the mother is the (perhaps) unintentional central character of this story. Her courage and audacity were extraordinary.
In "Don't Ask My Name," Erika Hecht relates how an extended family of Hungarian Jews fled first from the Nazi alliance of Germans and Hungarians, then the occupying Germans (after 1944), then, once the Germans were pushed back by the Russians, from Hungarian anti-Semites (the Arrow Cross), and finally the counter-invading Soviets, who took control of Hungary until 1989. All the while, the battle on the Eastern Front raged in the air and on the ground.
At one point, young Erika asks: "Who are we afraid of now? Our soldier is good to us, but he is a German. The Russian officer . . . who gave us the buggy to escape the Germans, was a good guy too. Some of the Hungarians we encountered would have killed us if they had known we were Jewish, yet they let us into their homes because we needed a place to sleep. So, who are our friends and who are our enemies? Who knows the answers?"
A critical piece of the mother's strategy to remain free is that all of them, but specifically Erika, must "become" and behave Catholic. At the same time, she insists that their hidden Jewishness must not be dishonored. She is the mastermind of salvation, the driving force of this drama of escape, and tolerates no opposition: "Questioning my mother is a mistake. Her anger, as usual, is instantaneous and explosive." This alienates Erika, who simmers in mostly silent resentment. It is a double bind.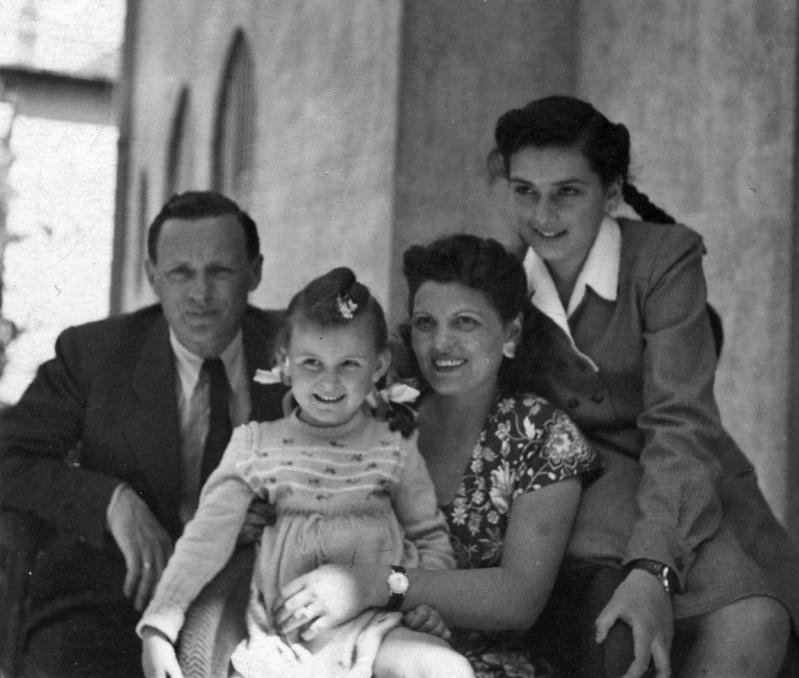 The necessity of hiding their true identities, posing as Catholics, traveling under false names with made-up documents was not unusual for the millions trying to elude capture and deportation all over Central and Eastern Europe from the mid-1930s onward. It is told here through the experience of one 10-year-old girl. Erika has to memorize a catalog of "lies" about herself and live in dread of giving them all away with a small slip of the tongue or gesture, dreading her mother's ire for doing so. 
This deception leads to a lifelong search for authentic identity. On the occasion of her second marriage in 1957 (she was born in 1934), Ms. Hecht says, "I am overcome by a familiar emotion. I am on my way to a new life, in a new country, among strangers, with a new husband whom I barely know. I am once again afraid of my future."
Within this somewhat familiar wartime narrative is a tragic family drama. Erika's parents are divorced, but her father remains devoted to his daughter and former wife (who is remarried) and goes to great lengths to save them while he, initially, remains safe. The mother has a second daughter with her new husband, but he is sent to the Russian front under the German Army. This man returns and is helped by the first husband to find his family. 
Opposition between mother and daughter intensifies with each episode of their peregrinations. Ultimately, they all end up in Vienna, where the tables are turned. Husband number one is now dependent on the good will of the mother, who is losing her mind to paranoia. He leaves for Australia. The family of survivors is broken apart.
Writing her mother's eulogy, Ms. Hecht says, "I mention her suffering and losses but also her bravery and unconditional dedication to saving our lives. Her life was witness to the importance of luck, wit, courage, and even deceit in the service of survival. She was living proof not only of the damages of the war experience on the individual but also the difficulty of survivors to live a normal life again."
---
Ana Daniel taught modern European history at Southampton College. Retired from a Wall Street career as a management consultant, she lives in Bridgehampton.
Erika Hecht lives in Sag Harbor.