"Big Apple Gangsters"
Jeffrey Sussman
Rowman & Littlefield, $35     
I enjoy reading about subjects I know nothing about. And I don't know much about crime and nothing about the Mafia. So, if you are like me, you can add this one to your pile for bedtime reading. It is especially good for that purpose because, as Jeffrey Sussman avows in his introduction, each chapter is more or less a freestanding tale that can be read out of sequence, as there is overlap but not chronological continuity among them.
The cast of characters is familiar: the Bonanno, Colombo, Gambino, Genovese, and Lucchese families, as well as notorious Jews such as Bugsy Siegel and Meyer Lansky and an occasional Irishman. No women, since in Mafia society they are to be seen and not heard. The men are occupied with such trades as bootlegging, garbage collecting ("carting"), cement mixing, and heroin dealing, but as for killing, they mainly seem to be bumping each other off.
All this dramatic material is familiar to us via the entertainment media, through novels, memoirs, TV series, and movies, rendered romantic in representations of the bigwigs by such stars of the Hollywood firmament as Marlon Brando, Cary Grant, George Raft (who really was one), and the ever-endearing James Gandolfini. Bugsy Siegel, it is said, was handsome enough himself to be a movie star and aspired to be one: "When he wasn't being a thug, he could be seen in the company of gorgeous stars such as Turner, Gardner, Betty Grable, and Marie McDonald, all of whom he seduced with his charm, good looks, and radiant power. . . . He is best remembered today as the man who envisioned the future of Las Vegas."
Mr. Sussman, a public relations man, treats us to many delicious details in the course of his telling. As a young man he was indirectly "connected" via an "uncle" Irving, who inspired his interest in this subject, which lends at least the aura of authority to his accounts.
This connection, by the way, reminds me of Michael Cohen's story (see "Disloyal," Chapter 3) of his youth in the suburbs of New York and of his uncle, Morty Levine, a bachelor who cruised around Brooklyn in a Bentley and ran a "swanky catering hall and mob hangout in Mill Basin called El Caribe. . . . To Morty, the mobsters were funny, irreverent, a little scary — maybe even a lot scary — but they had a mystique about them, and there was no question about their willingness to break the rules, or the law. . . . The roots of my character harkened back to my days at El Caribe watching wise guys from the Gambino and Lucchese crime families and how they behaved. They always had a specific kind of energy around them, a charisma that I found compelling . . . which came to be how we acted at the Trump Organization, like gangsters but in suits and ties."
I digress.
So, given his credentials, I take Mr. Sussman at his word. Here's a sampler of his revelations:
In 1936, Vito Genovese "always on the lookout for the main chance and for opportunities to increase his wealth and power . . . worried that he would soon be prosecuted for Boccia's murder . . . filled a suitcase with $750,000, booked passage on an ocean liner, and sailed for Italy. . . . For Genovese, Mussolini was another Mob boss with whom he could do business. . . . In addition to giving money to the Fascists, Genovese gave money and cocaine to Mussolini's son-in-law [and foreign minister of Italy] Galeazzo Ciano. . . . In a show of gratitude, Mussolini awarded Genovese the Order of Saints Maurice and Lazarus" -- a hopeful omen? -- "and made him a commendatore in the Fascist Party."
Abner Zwillman was "a handsome ladies' man, so well-endowed that he earned the nickname Longy." He "became the lover of Jean Harlow [and] was a close friend of Joe DiMaggio, and when the IRS was investigating Zwillman, he gave three large trunks of money to Joe DiMaggio to safeguard. Following Zwillman's death . . . DiMaggio did not return the trunks."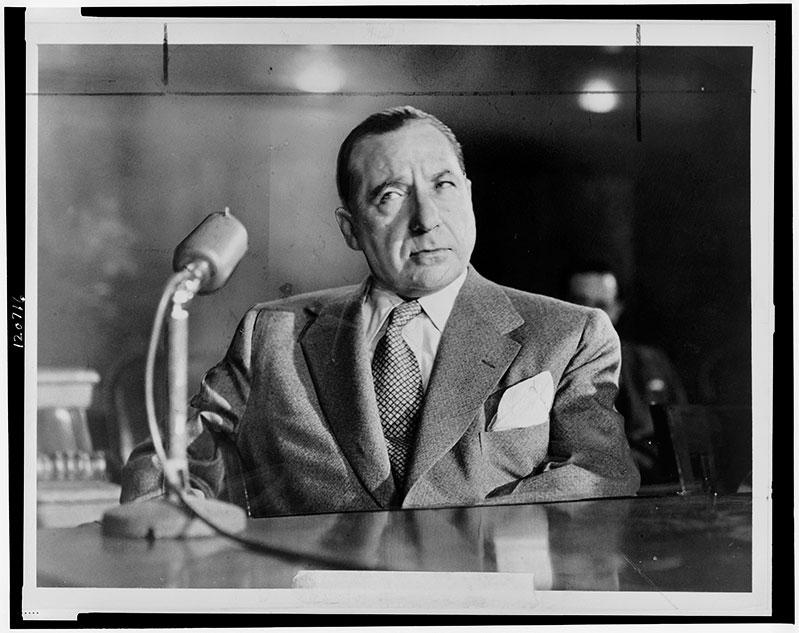 More (un)savory details: "Because the head of the FBI, J. Edgar Hoover, was an inveterate gambler, [Frank] Costello was quick to advise him on which races had hot horses running [i.e., were fixed]. . . . Hoover was not interested in the methods employed to guarantee winners; instead, he was thrilled to bet hundreds of dollars on sure things and then walk away with many more hundreds in his wallet. . . . For the Mob, Hoover was as much a sure thing as any hot horse." Thus, Costello was "able to turn the FBI to other targets for investigation." Mr. Sussman adds later that "Hoover was the man who had claimed that the Mafia did not exist."
And: "With peace in the Western Hemisphere after the war ended, [Meyer] Lansky began to fulfill a dream: to build the largest, most luxurious casinos in Cuba." He "met with Batista [the Cuban dictator] at the Waldorf Astoria. . . . Batista made millions of dollars from his deals with Lansky, [who] even gave Frank Sinatra a piece of the marina at the Riviera Hotel, thus ensuring that Sinatra would visit often and entertain the customers." All that ended in 1958, when Castro overthrew the corrupt and criminal Batista regime. You know the rest.
As for the mystery of who killed John F. Kennedy, we read that "the Mob was eager to be rid of the Kennedy brothers, and FBI tapes of bugged conversations proved the Mob's intentions." Some of these are quoted: "You know what they say in Sicily: If you want to kill the dog, you don't cut off the tail, you cut off the head." Mr. Sussman continues: "Of all the murders that benefited the Mob, certainly none was more beneficial than that of JFK."
The end came for the Five Families of the New York Mob "in the name of Rudolph Giuliani, [then] US Attorney for the Southern District of New York." The bosses Mr. Giuliani indicted "were Castellano, boss of the Gambino crime family; Anthony 'Fat Tony' Salerno, boss of the Genovese crime family; Carmino 'Junior' Persico, boss of the Colombo crime family; Anthony 'Tony Ducks' Corallo, boss of the Lucchese crime family; and Philip 'Rusty' Rastelli, boss of the Bonanno crime family. Each had been bugged discussing criminal enterprises" under the then-new RICO law, which permits prosecutors to indict the leaders of criminal organizations. In 1987 each of the bosses was sentenced to 100 years in prison.
"While the trial proved a disaster for organized crime, it created a platform for Giuliani, who would use his newfound fame as a successful Mob prosecutor to run as mayor of New York City. Prosecutor Michael Chertoff went on to become US Secretary of Homeland Security." Here again, the reader can complete the story of Mr. Giuliani's career to date.
But all this Mafia business seems to me like pretty tame stuff compared to our times, when pharma giants, publicly traded drug distribution companies, and brand-name pharmacies are engaged in promoting and selling prescription medications that have addicted and killed 50,000 Americans while grossing $78.5 billion in a single recent year. The C.E.O.s of these enterprises haven't started shooting each other yet, which is a good thing, as Rudy Giuliani is now otherwise detained.
Is the Mob gone? Have they learned to be less flamboyant? Or has organized crime been transmuted into laissez-faire capitalism?
---
Ana Daniel is retired from business and teaching. She lives in Bridgehampton.
Jeffrey Sussman's previous book was "Boxing and the Mob." He lives part time in East Hampton.