"Political Suicide"
Ted Rall
Seven Stories Press, $18.95
In Senator Robert Kennedy's 1966 Day of Affirmation address at the University of Cape Town, he referred to the misattributed "Chinese" curse "May he live in interesting times." In President Trump's rally in a largely empty arena on Saturday in Tulsa, the world saw just how interesting our times are. 
Amid a pandemic that has killed more than 122,000 Americans and is surging in many states, double-digit unemployment, nationwide protests against police brutality, and more confirmation of the administration's ethically outrageous and legally questionable actions in the uber-hawk John Bolton's new account of the Trump White House, the president delivered meandering invective against enemies real and imagined, including protesters, former Vice President Joseph Biden, and, in his words, the "kung flu." 
Into this turmoil comes "Political Suicide: The Fight for the Soul of the Democratic Party" by the political cartoonist, graphic novelist, and author Ted Rall. A graphic journal that blends the author's unique, sketchy cartoon imagery with news headlines and other media, "Political Suicide," a quick and succinct read, lays blame for our predicament at the feet of Democrats, but it is also a lament for a nation devoid of viable third parties. 
For Mr. Rall, who lives in East Hampton, it is familiar territory: He has penned graphic journals on Senator Bernie Sanders, a candidate for the Democratic Party's nomination for president in 2016 and 2020, and Edward Snowden, who in 2013 leaked classified information as a C.I.A. subcontractor. Other titles include "The Book of Obama: From Hope and Change to the Age of Revolt," "Trump: A Graphic Biography," and "Wake Up, You're Liberal: How We Can Take America Back From the Right."
To Mr. Rall, America's toxic political system is exemplified by the Democratic National Committee's successful thwarting of Mr. Sanders's candidacy in 2016. "Throughout the 2016 Democratic primaries tracking polls show that Sanders would handily defeat Trump in a head-to-head matchup, whereas Clinton would have more difficulty," he writes. "Donald Trump becomes president because the DNC has its thumb on the scale for Hillary." 
That year was no outlier, he adds. "There is a Groundhog Day-like repeating of history: Progressive candidates fighting for the issues that matter to people and the Democratic establishment undermining the issues and the candidates."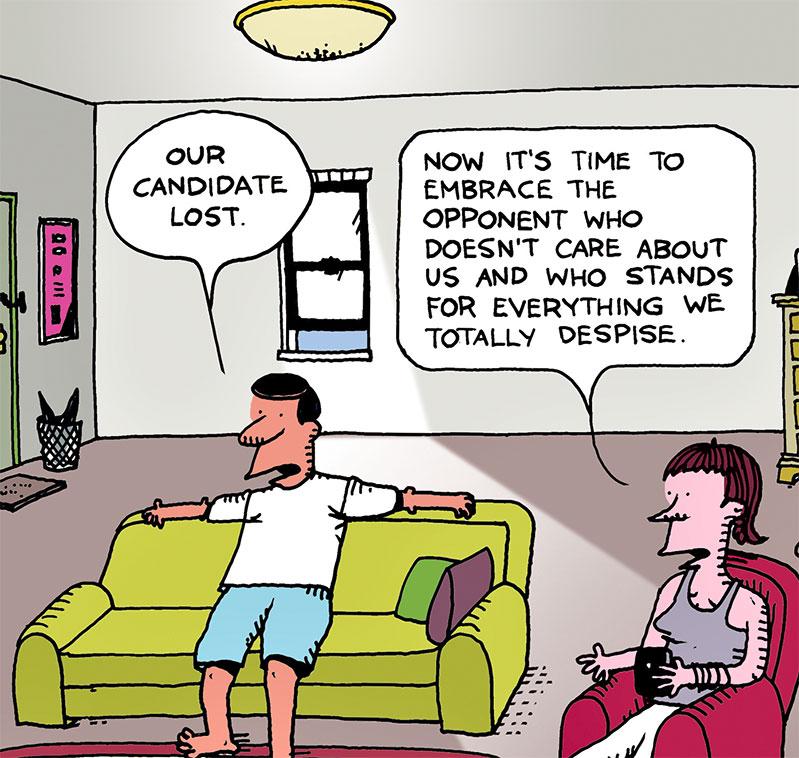 Mr. Rall seethes at Democrats' unwillingness to nominate progressive candidates, which he considers cowardice, portraying gutless party officials ever fearful of being labeled radical by Republicans eager to stir terror in voters. The "Grand Old Party," he reasons, is not only too far gone to merit support, but "as the GOP moved ever further to the right, the Democratic Party drifted right in emulation of Republicans, and to court lobbyist dollars for their campaign coffers."
Be that as it may, the author devotes far less attention to another aspect of the historical record: After Lyndon Johnson's landslide win in 1964, Democrats lost five of the next six presidential elections, including the progressive George McGovern's 49-states-to-1 shellacking in 1972. Is it any wonder, then, that in Bill Clinton Democratic brass and voters alike saw a path back to the White House? And that history would repeat itself after another round of consecutive losses (with an assist from the Supreme Court) in the new century, when another telegenic, charismatic centrist appeared? And was it not obvious that one would be smeared as a pot-smoking, draft-dodging hippie and the other an angry, foreign Muslim? How would the Republican Party take on a self-described democratic socialist, a designation few Americans could likely define accurately? The point is simply that pragmatism matters, too. 
Mr. Rall rails at the distorting, corrosive influence of money in politics, and an entrenched duopoly that every four years offers a choice between Republican and Republican Lite. "If Democrats are to defeat Republicans — which, considering that we have more registered voters, should be the rule, not the exception — the centrists still running the DNC need to step aside and share power at the top of the party leadership with the new progressive wing," he writes. "How does one reconcile centrism that sucks up to corporations and has fully embraced aggressive militarism with progressivism, which is violently opposed to those things?" he asks. "It may not be possible." 
Perhaps not: Revolutionaries pose a direct threat to the ruling class. In the Day of Affirmation address, Kennedy, two years to the day before his own assassination, said that "human history is shaped each time a man stands up for an ideal or acts to improve the lot of others or strikes out against injustice. He sends forth a tiny ripple of hope, and crossing each other from a million different centers of energy and daring, those ripples build a current that can sweep down the mightiest wall of oppression and resistance." 
"Political Suicide" is Mr. Rall's latest ripple, a plea that the Democratic Party face down its fear and embrace a truly progressive agenda. Given the popularity of policies like Medicare for All, a $15 minimum wage, and a Green New Deal, and the galvanizing impact of officials like Mr. Sanders and Representative Alexandria Ocasio-Cortez, he may be on to something.