At times, one can enter Keyes Art in Sag Harbor and see a pared-down exhibition, similar to any other buttoned-up gallery in the region. This is not one of those times. 
The gallery's front room is focused on two artists, Jeremy Dennis and Jules Feiffer, but the art tends to overflow from the walls to the floor, creating a cascade of abundance. The informal but bountiful display suggests the casualness of this period and the general preference for a lack of fuss. It's refreshing, and it doesn't stop there.
Deeper into the gallery, more frames of artwork are found stacked along the walls, along with sculpture that spills out of the space and into the back garden. In the brick-lined basement, a cave in the best sense, even more paintings, prints, drawings, and sculptures find their home. 
The whole space is playful and welcoming, and the staff exudes warmth as well. It provides a relaxed retreat off Main Street during a downtown stroll or before or after a meal next door at the American Hotel. At the same time, it's a smart space that showcases Mr. Feiffer and Mr. Dennis in a way that allows focused viewing. 
Mr. Feiffer, a Pulitzer Prize-winning illustrator who lives on Shelter Island, has new and recent drawings in a show called "Graphic Times" that captures in cartoonish and dramatic fashion the reality of life during a pandemic. Most of the drawings concentrate on single figures per sheet, some looking like castoffs from the set of "Cabaret," Busby Berkeley, or the Folies Bergere.
    
He also offers a couple multipanel "strips," one devoted to Norman Rockwell's depiction of Thanksgiving and another with a dancer choreographing a response to her perception of Donald Trump's America and a glad farewell.
The single figures are mostly dancers. Mr. Feiffer seems to have imagined a world populated by people alone in their houses dressing up and finding some means of expression. The vibe is older and dated, like the top hat, tails, spats, and cane adorning one man who leaps in the air. The women, too, seem from the past, with their flouncy skirts, calf-high boots, and headpieces. 
    
With all the death in our midst over the past year, these figures can seem like spirits or even viruses, dancing on the page and deep into our thoughts. Could they be long-ago memories we don't want to face, coming to the surface after months of solitude? 
In the more literal works, the titles give the game away and the words and dialogue on the page are emphatic. In "Corona Crazy," a man dressed in a yellow suit appears to be fleeing something as words dance around him: a field of "No"s with a few "Yes"s placed dangerously close to his body, one pleading "Please," and one "Yes, I Mean No, I Mean Yes." It's easy to empathize. 
 Another dancing figure says he's "All Alone and Just Fine" a few too many times to be convincing. The title, "Corona Cool," underlines the subterfuge. A well-dressed "Corona Crackpot" raises her hand in protest and shouts, "IT'S A HOAX!"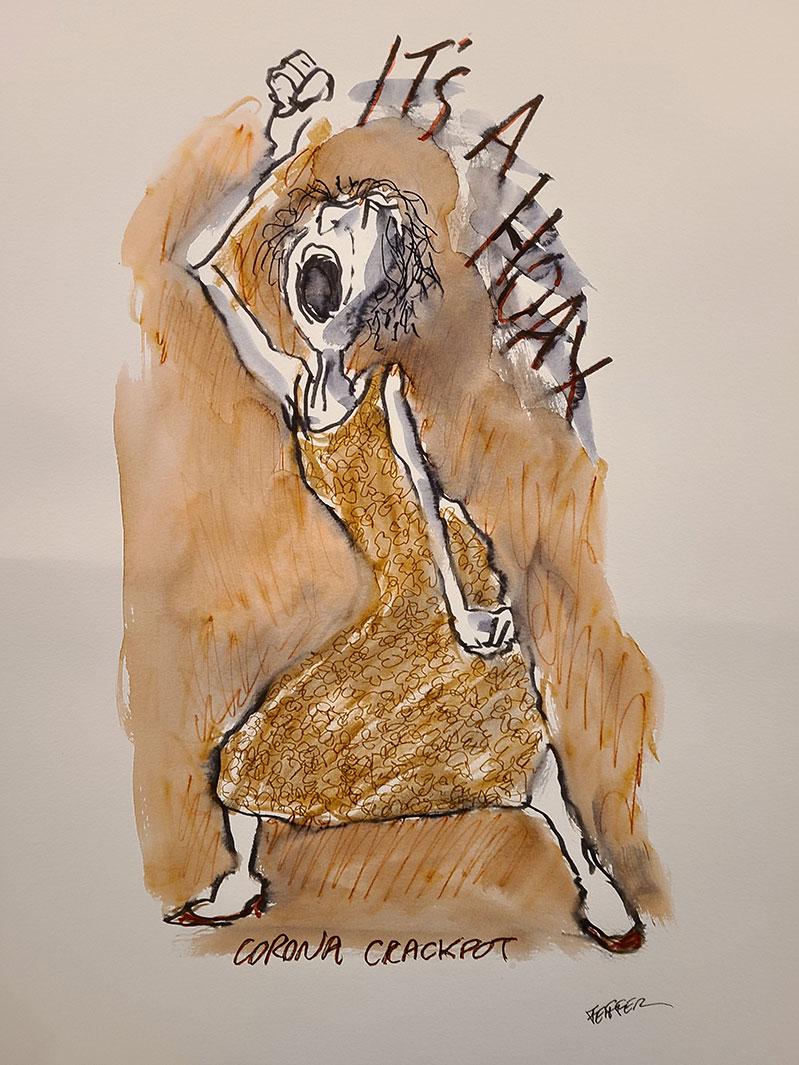 True to form, the artist also supplies at least one knowing laugh with his "Corona Couple." No longer single figures, the two have morphed into one inextricable unit with a Janus head. Under a banner caption that says "Alone!" the female side says, "At last!" The male side, however, says, "Oh, my God!" 
    
The otherworldliness of Mr. Dennis's photographic images on the opposite wall are a suitable foil to the satire and pathos of Mr. Feiffer's images. "Having Never Left" includes 17 works from two of the artist's series: "Rise" and "Nothing Happened Here." 
    
For much of his career, Mr. Dennis has staged his images to look like real experiences incorporating Native American legends, yet they always maintain an air of dreamlike Surrealism. A tribal member of the Shinnecock Indian Nation in Southampton, his scenes are often set in and around the reservation and the region.
    
Many images have a recognizable element, typically buildings or some kind of identifying landscape feature that helps ground them. After that, things go a little haywire, with figures both real and less so interacting in the picture plane. In "American Hurdle," a modern man running is followed by Native American ancestors. The image uses light and shadow in a way that is reminiscent of 19th-century American artists like George Caleb Bingham, but further recognition stops there.
    
"Could Have Sworn" depicts a female refugee from a Hamptons benefit drifting into the courtyard of the Southampton Arts Center to grab a selfie with the cast Roman busts. Yet as she snaps, a ghostly apparition appears. In soft focus, he is clad in some kind of traditional Native American attire. Is he a protector or pursuer, real or imagined? It's not clear. Adding the ghost-like figure into the scene imbues the woman with an aura of depth and complexity that might otherwise be missing. 
     
Questions begin: Who is she? What is her background? What does it mean to her? At first it is an easy image to gloss over without much thought, but the longer it is viewed, the more interest it creates. 
    
The same gambit works in much the same way in Mr. Dennis's subject matter, where the quotidian meets the uncanny. As the artist contemplates his identity in his work, the wider range of tribal custom and myths come into sharper focus. As he questions stereotypes, he creates an opportunity to re-examine post-colonial depictions of Native Americans and reclaim those narratives.
    
The wider significance of tribal culture becomes evident with the more complex visual stories he relates through the traditional means of narrative films. By setting a stage and populating it with props and subjects in costume, he remakes the form in his own image to present stories that can be uncomfortable and sometimes painful to witness.
    
In the artist's own words, "Despite four hundred years of colonization, we remain anchored to our land by our ancient stories. The indigenous mythology that influences my photography grants me access to the minds of my ancestors, including the value they placed on our sacred lands." For anyone paying attention, this has been the distillation of his work to date.
    
The exhibitions will be on view through next weekend.