The former church and firehouse on Corwith Avenue in Bridgehampton, once known as the Dan Flavin Art Institute, has reopened with a new name and an exhibition by the Amagansett artist Jill Magid.
Dia Bridgehampton still devotes its upstairs to the artwork of Flavin, who died in 1996. The artist worked with the Dia Art Foundation to make his fluorescent light sculptures, dating from the years 1963 to 1981, a permanent installation.
Each year a different artist is invited to devise an installation on the ground floor to reflect on and relate to the artwork on the second floor. The last two exhibitions, by Jacqueline Humphries and Keith Sonnier (who died this year), involved total darkness and fluorescent colors activated by black light. Both were playful, conceptual throwbacks to a 1970s aesthetic.
This year, Ms. Magid's series "Homage CMYK (2019)" turns the lights back on and even allows a single window to cast some natural illumination. It is strategic -- a welcome and mostly colorful brightness after a tragic and dreary spring.
The beguiling and intriguing exhibition of 11 four-channel screen prints on linen form an installation that is a meditation on authorship, legal limitations and their interference with the creative urge, and the power of the individual to circumvent or override them.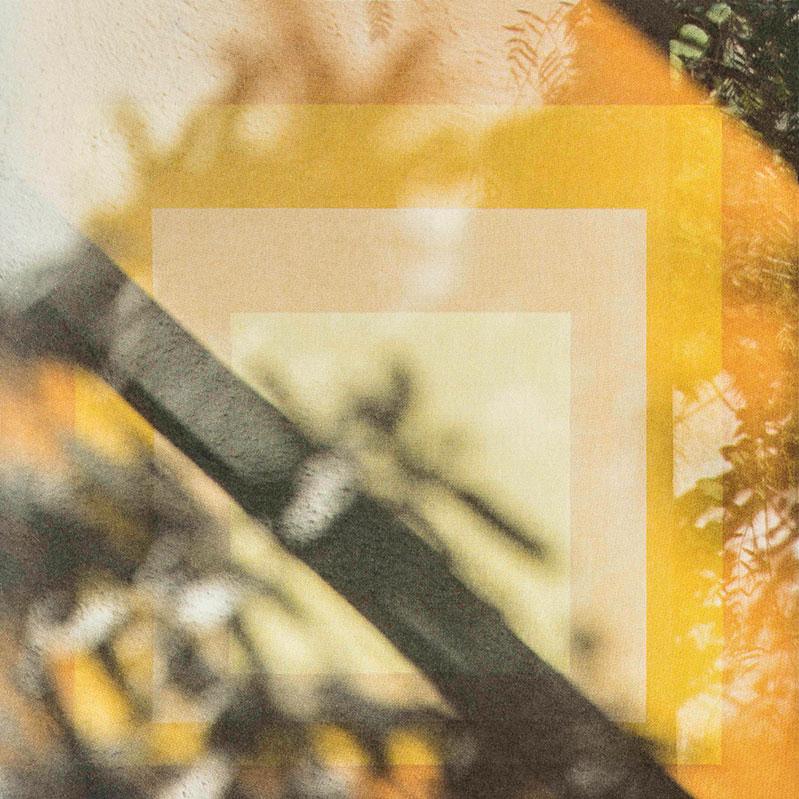 Anyone who has had to work within the confines of copyright or restrictions involving artists and artworks can relate to the circumstances that served as her inspiration. For several years, she has been engaged with the work of Luis Barragán and a central player in trying to repatriate his professional archives from the possession of a private individual in Switzerland.
These efforts have been the subject of her own art projects and even a documentary. Those who wish to see the film, called "The Proposal," may not want to know the lengths to which she and several of his relatives went to get the archives back. Let's just say it's both brilliant and macabre.
This series centers on two screen prints on linen in the collection of Barragán, a Mexican architect who was inspired by European Modernist design. He was known for mixing bright color with the tenets of Minimalism, and his house in Mexico City, Casa Barragán, helped serve as an incubator for his ideas.
The screen prints were unlicensed copies taken from the Josef Albers series "Homage to the Square," which the artist worked on from 1950 to 1975. The series was an outgrowth of Albers's theory of the relative nature of color. His ideas were instrumental in educating generations of artists, in classes, then a book published in 1963, and more recently with an app for iPads.
According to the exhibition essay, Albers and Barragán had great respect for each other, and the artist was pleased the architect used the forged prints in his house. Casa Barragán's use of color, as well as light and shadow, makes it a fitting context for the theories of the artist, even in a counterfeit form.
Where Ms. Magid enters the frame is her examination of the differences between what qualifies as protection of an artist's legacy and the thornier and sometimes arbitrary issues of control when it comes to access, representation, and reproduction.
Attracted by the story of comity between the two creators, she found a way "to insert herself into their relationship, weaving an interrogation of intellectual property rights into her textured works," the essay notes.
Ms. Magid once trained as a spy and has made a career out of constructing performative pieces based on individual agency in situations where organizations and laws designed to protect may hinder or negate their own original intent. She has succeeded by finding loopholes in structures of authority that allow her access to those within those institutions to attain what she seeks.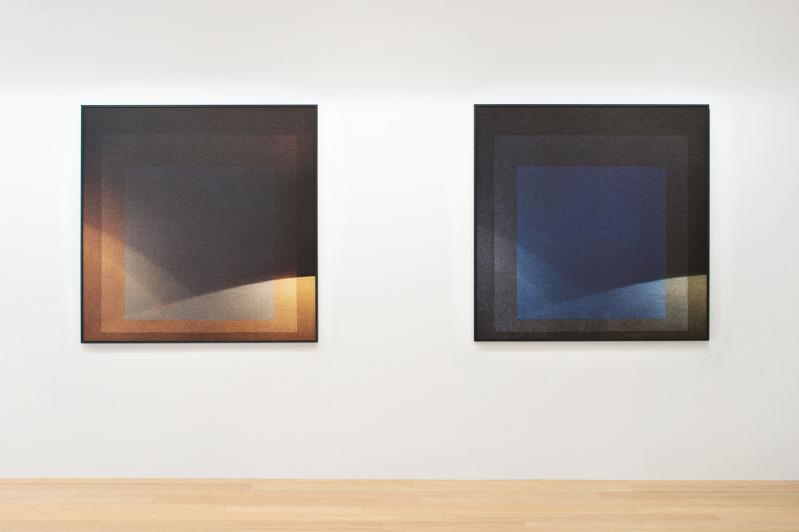 Barragán and Albers share similar restrictions on representations of their work. For Barragán, that includes his house, where Ms. Magid wanted to photograph the Albers counterfeits. Instead, she found her loophole, a rich history of publications that featured the house and photographs of the rooms where the Albers prints were placed. In the living room, an orange version of Albers's subject matter of concentric squares in different colors that help illustrate his theories, hangs by a window, which casts shadows and reflections onto the works in the photographs used. In the library, a blue "Homage" is bathed in artificial light emanating from a table lamp.
From the reproductions she sourced, Ms. Magid "scanned the photographic reproductions, cropped the scans, and manipulated them back into their intended square format, finally printing them again in their original size and support -- now layered with multiple reproduction processes, including commercial printing, photography, publication, and Photoshop," according to Dia.
The results are these rather similar but entirely different depictions of the same subject matter that play with color much as the original inspirations did, but highlight how disparate and deceiving photographs can be. There are many complex layers of meaning, theory, and visual depth on display in this one room. The expert installation elaborates on those themes and contributes its own significance, enhancing the experience even more.
The exhibition is rich with interplay as similarities play off discrepancies and perception is challenged and rewarded, continuously refreshed with new associations, references, and discoveries. In retrospect, it seems impossible that only 11 works are involved. It could take a whole day and multiple visits to mine all the substance.
At the same time, they vibrate with the kind of conceptual intensity and relationship to light that Flavin exercises upstairs, making them perfect foils for his work.
The show opened in late July and will be on view through June 6 of next year.