In a year defined by the overturning of long-established norms and expectations, doesn't it naturally follow that erotic needlepoint art would be exhibited inside a hot pink shed in East Hampton Village on July Fourth weekend?
Of course it does, and on Saturday and Sunday Hadley Vogel and Abby Lloyd launched East Hampton Shed on Wheels, their new mobile gallery, with the exhibition "Sal Salandra's Thread Art Paintings." The shed, atop a trailer towed by a pickup truck, was parked on Newtown Lane from noon to 2 p.m. on both days, its creators and curators enticing passers-by to have a look inside. Mr. Salandra, who once studied for the priesthood, was also on hand to discuss his provocative-yet-playful, sometimes explicit depictions inspired by "his life experiences, religion, and pornography," according to a press release.
East Hampton Shed on Wheels is a re-imagining of Ms. Vogel's East Hampton Shed exhibition space, which began in a structure on her parents' property. The concept, she said, was influenced by the Suburban, a cinderblock gallery on a residential property outside Chicago, and Gerardo Contreras's Preteen Gallery in Mexico City. Ms. Lloyd is among the artists who exhibited at East Hampton Shed.
Necessity being the mother of invention, Ms. Vogel and Ms. Lloyd, who have known each other since their high school years, partnered to conceive the guerrilla project that is East Hampton Shed on Wheels. "With the current climate -- and also [East Hampton Shed] had been around for nine years, it had sort of exhausted its time at that physical location -- it's been reimagined," said Ms. Vogel, who is also a bookbinder. "That's where Abby comes in."
"It's a fascinating experience," Ms. Lloyd said on Sunday, observing a quieter-than-usual holiday weekend on Newtown Lane, just outside Herrick Park. "In my childhood, the Fourth of July was really chaotic in town. You'd never want to go in for anything, so we avoided it all of our childhoods, all of our lives. Now we're here and it's like, 'Wait a minute!' "
The public response has been terrific, she said. "Generally, when the Shed was in the backyard, maybe there'd be two or three waves of people who would come, whereas in town it's a constant stream. The consistency is great, except you don't ever have the feeling of 'the brimming crowd' that you do when it's crammed into a backyard." East Hampton Shed on Wheels is "a guerrilla project, and it's coming off without a hitch."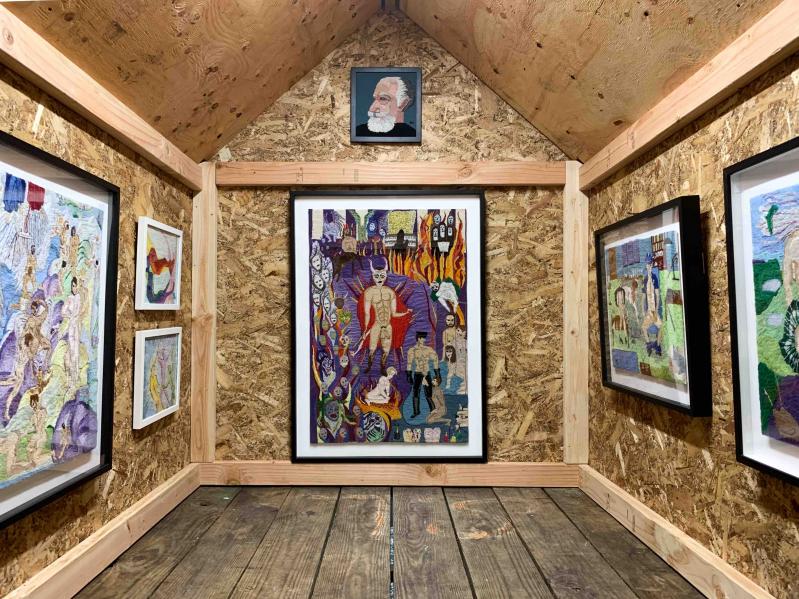 "It's had a great reception," said Mr. Salandra, who has also exhibited at Ashawagh Hall in Springs and the Outsider Art Fair in Manhattan. "People who come and see it are all very excited about it and they leave taking something with them. They seem to be happy that they did stop and see it."
Ms. Lloyd, who lives in Brooklyn and East Hampton, explained that the creation of East Hampton Shed on Wheels was partly motivated by a cold reality. "We don't have the capital" to rent exhibition space, she said, "but as an artist, I have shown in alternative spaces for years." Last year's "The Scarecrow Show," for example, was held at the Green Thumb Organic Farm in Water Mill.
"We're both creative people," Ms. Vogel said, "and come up with other solutions."
Recently, Ms. Lloyd also put together "Artists and Recipes," a free cookbook in PDF format comprising more than 40 original recipes, anecdotes, and work by emerging and established artists. It is at artistsandrecipes.com, which also has links to charitable organizations and a Spotify playlist called "play w/your food."
"When quarantine started," she said in an email, "I wanted to curate an online show, but I wanted to do something more personal than a picture gallery. I was inspired to make this digital cookbook after I came across a school cookbook of mine from 1998. The book is a beat-up, laminated collection of printed-out recipes submitted by classmates. I wanted to recreate its quirky communal charm with 'Artists and Recipes.' And I figured now is a good time to release a cookbook because, well, everyone is actually cooking."
The cookbook's design is influenced by early computer graphics, she said. "I sourced and repurposed graphics and textures from '80s and '90s editing software, and manipulated each artist's work to achieve a retro, 8-bit look."
Ms. Lloyd and Ms. Vogel will return East Hampton Shed on Wheels to a public place tomorrow and Saturday. This time, however, Mr. Salandra's work will be exhibited from 6 to 8 p.m. "When the light is on and it's nighttime, it's so stunning, it almost looks extraterrestrial," Ms. Lloyd said of the Shed on Wheels. "It's another element altogether that makes it even more cinematic. It's a lot of fun."
Live updates as to the mobile gallery's whereabouts will be posted on Instagram (@EastHamptonShed). More information is at easthamptonshed.com.
Ten percent of sales from the show will be donated to the Emergency Release Fund, an organization that helps release medically vulnerable LGBTQ+ people from jail and detention.
East Hampton Shed on Wheels will stage a group show, "Red Shoes," next month. Its title, Ms. Vogel said, is "a reference Abby got from Little Edie [Bouvier Beale], from ÔGrey Gardens.' "
"Everything is done in the spirit of celebration, really," Ms. Lloyd said of her joint venture with Ms. Vogel, "and to be inspired and see a new artist's work that is just becoming well known."
"It's a labor of love," Ms. Vogel said. "A passion project."
It has also become something of a family affair. The pickup truck and trailer that transport East Hampton Shed on Wheels belongs to Ms. Lloyd's father, Steve Lloyd, who is a carpenter and builder. The original project, and now its mobile evolution, "has become its own living, breathing entity that both my family has lived with for years and now Abby's family will also live with," Ms. Vogel said. "That's also part of what makes it fun and passionate: You feel like there's support, people behind you and rooting for you."
"In a sea of knotted sweaters and blue-chip galleries, we're here," she said. "There's so many pop-ups with galleries from the city, but a truly alternative space doesn't really exist out here anymore."