On a side street in Montauk just off the Plaza, Amalia Dayan and Adam Lindemann have conjured something different from the Manhattan-based galleries setting up in storefronts on the South Fork. Their space, South Etna, is a manifestation of place as much as it is a merger of the independent curatorial approaches they have honed over years of directing their own New York galleries.
Luxembourg and Dayan, the gallery Ms. Dayan co-founded with Daniella Luxembourg, is a mostly buttoned-up space with an emphasis on historical exhibitions in a stately brick townhouse in the East 70s. Another location is in London. Mr. Lindemann's Venus Over Manhattan is on Madison and 76th, named for the aluminum statue that is mounted over the entrance of the building. Its essence is more iconoclastic, with an eye for the lesser-known works of established artists and overlooked historical and contemporary artists.
Married since 2006, they have lived part time in Montauk for more than a decade and full time since March. As established residents and members of the art community here, they appreciate Montauk and what it represents.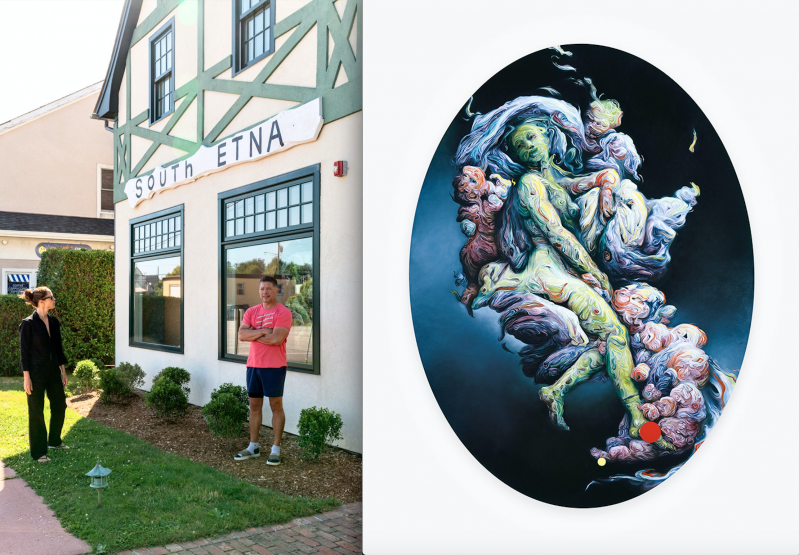 The building at 6 South Etna Avenue looks like a tiny chalet and sports a freshly painted sign by their Montauk neighbor, Julian Schnabel. When they approached him to make the sign, he asked them to find the wood. They did, and then watched him paint it. With the uneven quality of driftwood, the sign is painted white with a mixture of lower and uppercase letters in black that grow and shrink slightly in response to the variable dimensions of their support. It is the gallery's logo as well.
"I love this building repurposed as a gallery," Mr. Lindemann said. "The fake Tudor style harkens back to the original Carl Fisher concept for Montauk." The building and the sign seem to him a "creative creation in itself, not some shoe store where we hung a few paintings on the wall." 
Most windows have become opportunities for hanging art, a gallery you can experience indoors and out. "Next to an ice cream store and a party motel," he sees it as "a retreat from town, closed in with our own little garden space. . . . It's like Sweden." They plan to add outdoor sculpture as well. Their gallery's front desk is a picnic table outside, manned by Jane Hewitt, a Montauk native who studied art history and manages the gallery.
When asked what it was like working together for the first time on a project like this, Mr. Lindemann said, "It's been very nice. She does everything and I don't do anything myself."
Ms. Dayan laughed. "It's good that came from him," she replied. "He chimes in on big subjects, but it's interesting. We work very differently."
As collectors, "We are used to looking at art together and analyzing and discussing it," she said. "That's not foreign to our dynamic."
They recruited Alison M. Gingeras, a curator Ms. Dayan has worked with previously, for "Painting Is Painting's Favorite Food: Art History as Muse." The theme was inspired by a quote by Asger Jorn, the late Danish artist, which implies the "voracious cultural consumption required of the creative act," and the "vital role that art history plays in most artists' practice."
Adding Ms. Gingeras "elevates the conversation, because she brings in new elements: artists we don't know about, ways of installing we wouldn't think about." Pointing to "Piss and Sex," a painting by Jane Kaplowitz inspired by an exhibition opening invitation that was hanging in a side window, she said, "I love it. I would never think about hanging something like that."
"And I was against it," Mr. Lindemann said. "It's okay, it's a fun thing to do, but I wouldn't do it."
"It layers the experience," she responded.
"I want to be able to see into the window from the outside," he said. Other artists with works in the windows are Glenn Brown and Betty Tompkins.
Bringing in a third party made it so "it's not personalized to either one of us," Mr. Lindemann noted. "Half of the artists in the show I've never heard of before. I like that." Later, he added, "I think we'll sell a few things, too."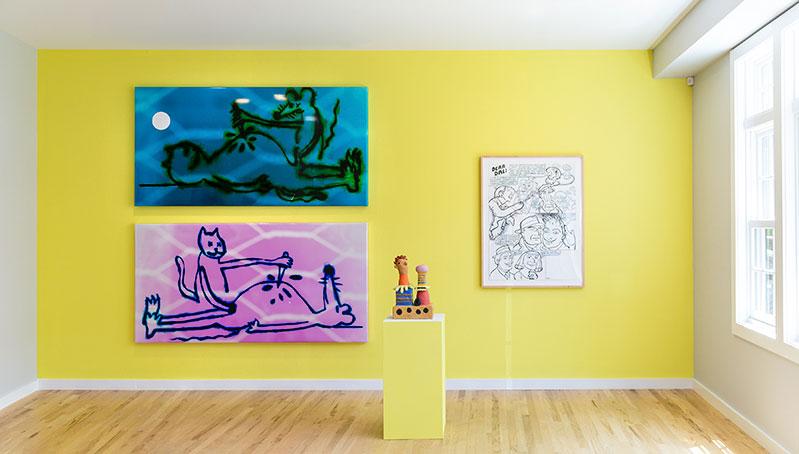 The show does include artists from each gallery's roster. Derrick Adams, for example, has shown at Luxembourg Dayan. Peter Saul, an artist Mr. Lindemann represents, is a staple of his Instagram feed (including a close-up from the work in the show that he had posted that day).
Mr. Saul's black-and-white graphic and cartoonish meditation on Salvador Dali indirectly references Willem de Kooning, art critics, and perhaps the essential conflicts of 20th-century art. Sally Saul, a sculptor and Mr. Saul's wife, contributes the colorful clay piece "High and Low," another free-associative work that has a Surrealist bent.
Mr. Adams has two works on paper from a series called "Four Women I, Aunt Sarah." They are spare portrait busts of different women in their bras. There is something very early Renaissance about the flat frontality, which predated the illusionism and modeling with light and shadow that would come with artists such as Leonardo.
The many singular moments in the show make the cohesion of the whole surprising. 
An appealing wall in the front room has a work by Sam McKinniss inspired by Henri Fantin-Latour, a 19th-century French artist known for his floral paintings. "Roses in a Stemmed Glass (After Fantin-Latour)" was painted this year and has the unapologetic beauty of the referenced artist along with its strange poignancy. A postmodernist, Mr. McKinniss copies these paintings the way he copies the celebrity photos he sees on the internet, but gleans from Fantin-Latour "how things are built inside the rectangle," as he told the Ssence newsletter.
He is joined by Karen Kilimnik's sticky-sweet interpretation of a painting by the 19th-century German artist Franz Xaver Winterhalter. John Curran and Piotr Uklanski's figures represent a more abject and, in the case of Mr. Curran, absurdist view of traditional figurative painting, as he magnifies the sexualization of the female form under the male gaze to the level of farce. 
The Curran oil painting, freshly made in his studio, along with two plaster masks from Rachel Feinstein, his wife, were borrowed directly from the artists' studio in Orient, where the gallerists and curator traveled by small boat from Montauk to collect them. 
"We literally came back with a painting under an arm and with Rachel's masks," Ms. Dayan recalled. "It was a different experience of doing things than in an Upper East Side gallery. Everything was insured, but that was the only thing similar" at a time when art shippers with white gloves are in short supply.
A nearby crocheted sculpture by Luis Flores catapults the section back into the 20th century and the birds of Constantin Brancusi. There is much more going on in the room, including more figurative paintings by Andrew Lamar Hopkins (a New Orleans artist who sent his work via FedEx and bubble wrap), Dennis Kardon, Maryan, Lynette Yiadom Boakye, and Chris Oh, who contributes "Citrus," a mixed-media work embellishing an acrylic painting of a Madonna with fake fruit. 
One of the few abstract works, Doreen Garner's "After Her Flag," conjures viscerally the effects of torture and enslavement on Black bodies. While the experience it evokes is much different, its visual qualities share DNA with feminist artists such as Judy Chicago.
In the back room, the gravestone rubbings of Scott Covert, including those of Stuart Davis, Andy Warhol, Larry Rivers, and Edith Bouvier Beale, take up a whole wall.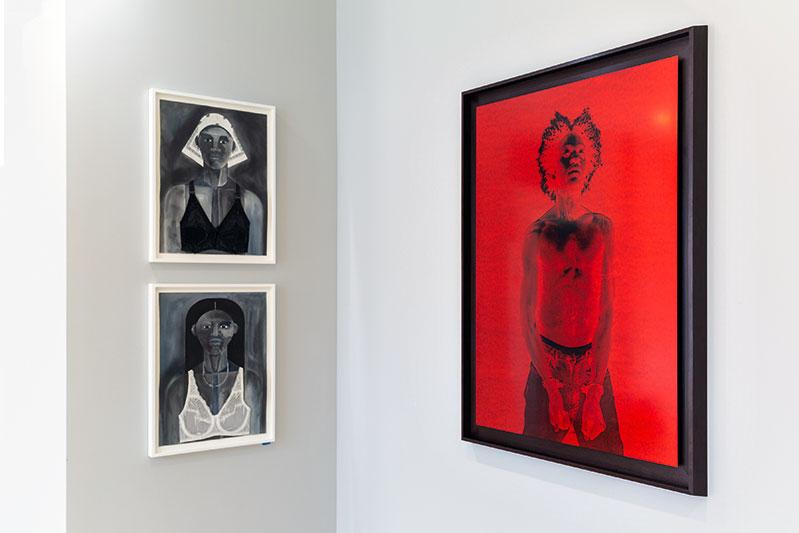 Other works in the show by Jesse Edwards, Clarity Haynes, Lyle Ashton Harris, and Borna Sammak deserve their own examination, but will be left to the viewer's discovery. Mr. Sammak's collages of iron-on patches, layered all over the surface of a canvas, merge Abstract Expressionist composition with the materials of Pop Art. A fan of 7-Eleven stores, the artist ran into friends at the Montauk outpost the day he brought out his work.
Hadi Fallahpisheh draws on light-sensitive paper, demonstrating shifting power dynamics with cartoonish figures. In the two panels here, a cat and mouse trade dominance as one gives a shiv to the other. The titles of both, "Untitled (Artist Critic)," speak volumes about the age-old tensions between those who can and those who write about it, while relating well to Mr. Saul's work.
"I didn't really get this in the beginning, but now I really like it," Mr. Lindemann said. "Often when I don't like something in the beginning and then over time I see something in it, I like that work better."
As a collector, gallerist, and writer, "I've seen a lot of things. Sometimes I have a reaction, but it doesn't mean it's correct," he said. "Better to let something develop. Clearly the artist spent a long time thinking about it. It's not about instant gratification, but does it hold up to the test of time?"
Reflecting for a moment, he said, "The more I've learned, the more I'm quiet. Especially in this Covid thing, everything I've learned has just shut me up. People ask me, 'What do you think? You always have so much to say.' "
"I have nothing to say, other than who would have imagined we'd end up here? This is crazy."