The arc of Eric Haze's career in art, graphic design, and fashion began in Elaine de Kooning's cold-water loft near Union Square when he was 10 years old. Almost 50 years later it has come full circle: Since December, he has been an artist-in-residence at the Elaine de Kooning House in East Hampton's Northwest Woods.
In 1971, a friend of Mr. Haze's father arranged for de Kooning to paint a portrait of Eric and his younger sister. "We alternated sitting for her. While my sister sat, Elaine gave me oil paints and stuff to play with," Mr. Haze said, as he brought out a two-foot-square abstract painting he created during one of those visits.
The portrait of him and his sister has also been in Mr. Haze's family ever since, and it is now perched on an easel in the East Hampton studio where de Kooning lived until her death in 1989. Not long after that 1971 sitting, Mr. Haze moved on from abstraction to "bubble letter and bubble gum pop graffiti on canvas board. Graffiti simply cleared everything out of its path at that point."
At the same time, he started tagging the walls and subways of New York City with the name "SE3" before adopting the identity of "Haze." "Graffiti came above ground in the late '70s and early '80s, and a group of us who were childhood friends as graffiti artists reconnected under the name of our original crew, which was the Soul Artists."
Founded by ALI, the Soul Artists also included Futura, Fab 5 Freddy, and IZ the WIZ, and in 1979 they set up a storefront on West 107th Street. "It all snowballed very fast. In 1980, Richard Goldstein wrote a cover article for the Village Voice featuring the Soul Artists."
The publicity attracted downtown artists to the group's meetings, among them Keith Haring, Lee Quiñones, and Jean-Michel Basquiat. "Keith invited us to be in a drawing show at the Mudd Club in 1980. Fast forward a year later and we were all featured in Diego Cortez's 'New York/New Wave' show at P.S.1. We had sort of arrived."
By the early 1980s the street artists were enjoying success in the art world. In part because he viewed the work of his closest friends as "true powerful genius," and in part because of his passion for graphics and typography, Mr. Haze began to question whether he was meant to be a painter.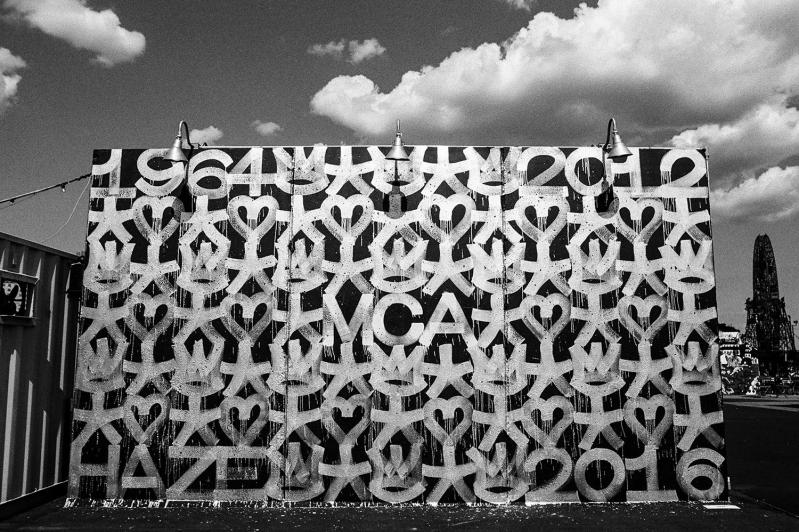 "There was a fork in the road for me when I decided I'm not a storyteller like Jean and Keith and Lee, maybe I'm more in love with form than pigment. I was also very clear that I had a lot of very different people inside me, a lot of different styles, and a lot of different ambitions."
He enrolled in the School of Visual Arts and graduated with honors in 1985 with a degree in graphic design. "Graphic design seemed to suit my skill set and my passion for lettering. But also there was this transitional period when our underground scene from the East Village grew up. Then it went boom or bust, you either became Keith or Jean or you went back to your bike messenger job."
"In the early 1980s, fine art was the hot medium. But to my mind, by the late '80s the art world lost its heat. When Keith and Jean passed away, those were road signs that period was over and I was looking for how to apply my skills and make a living. I saw that hip-hop and music were becoming the hot mediums at that point."
Mr. Haze opened his own design studio in 1986. One of the first visual artists to define the look and graphic language of hip-hop, he created album covers, logos, and identity design for such clients as the Beastie Boys, Tommy Boy Records, Public Enemy, and LL Cool J. But as more designers started to crowd that field, Mr. Haze decided in 1991 to relocate his design studio to Los Angeles.
"Fashion and street wear came along and eclipsed music. I started Haze, my eponymous clothing brand, in Japan, and I had a pretty amazing run. The clothing business took me around the world, and by the end I had three stores in Tokyo and I had partners and a staff."
"Then, in the late '90s, I had a revelation: The world didn't need Eric Haze to make more cargo pants." He cut back on the clothing business, and, after participating in a painting show at Agnes B in Manhattan with Futura, Mr. Quiñones, Doze Green, and Phase 2, he decided to move back to New York.
While he set up a studio in Williamsburg, Brooklyn, and has continued his design work, he also decided "to pick up a brush again, to earn my seat at a table I helped build."
In 2008 he was invited to have a solo show at the Museum of Contemporary Art in Hong Kong. He continued to paint and exhibit for the next decade, with exhibitions in New York, Paris, and Los Angeles, and in 2016 he painted a large mural as part of the dealer Jeffrey Deitch's Coney Art Walls project on Coney Island.
Until recently, his paintings, including a series of flags, displayed the flat abstract quality of graphic design. After the 2016 election he had the idea of deconstructing a flag, "just as they're deconstructing democracy before our eyes." He began to add depth to one of the flag paintings with layers of paint and by scaling the grays, "and some magic happened with that flag."
"I wondered what would happen if I took that layering and stylization and turned it back on reality?" The result is a large painting recognizable as the Domino Sugar Refinery in Williamsburg, but the structure seems to explode in planes and facets of white shading into gray and patterned abstraction.
Most of his paintings created at the de Kooning house take either the studio itself, or de Kooning's paintings, including the portrait of him and his sister, as their subject matter.
Since December he has completed 20 black-and-white paintings of the studio, including the huge north-facing window wall, the ladders, and the walls lined with his paintings in progress, all executed in a crisp black-and-white style that reflects his interest in architecture as well as design.
Another series in progress focuses on his engagement with de Kooning and her art, specifically, two images. One is a photograph by Alfred Eisenstaedt of de Kooning on a ladder in her studio in 1963, at work on and surrounded by drawings, sketches, and paintings of John F. Kennedy for a portrait commissioned by the Truman Library.
In Mr. Haze's large-scale interpretation of that image, which is not yet completed, he has added the portrait of him and his sister to the studio wall along with the Kennedy portraits.
He is also working on a series of paintings based on the portrait of him and his sister, inserting older versions of himself in some of them. "I fell in love with the self-portrait thing," he said. "I'm working mine up in scale and complexity."
For the grand finale of his residency he is reinterpreting, to scale, a monumental painting that is one of de Kooning's masterpieces, but he was reluctant to provide any more details, intending to unveil it as the centerpiece of a reception that will be held at the de Kooning house next month.
Meanwhile, he has been traveling back and forth between East Hampton and Clinton Hill, Brooklyn, where he lives with his wife, the actress Rosie Perez. They were married in 2013.
Seeing how productive he has been in East Hampton, covering the walls of the vast studio with finished paintings and works in progress, it's hard to imagine how he keeps up with his design work. But he does. "I just designed a new jersey for the Brooklyn Nets," he said. "It has been a huge New York moment for me."