Kenny Schachter has built a career on being the ultimate art world insider/outsider. He oscillates between being a dealer, lecturer, and art market chronicler, a position that has made him a celebrity in some circles, predominantly for his writing for Artnet News from a home base in London.
An isolated child on Long Island who fashioned collages out of cutouts from National Geographic and car magazines, he went on to study political science, philosophy, and the law. Yet, throughout his life he has been a frustrated artist, keeping much of his work to himself or presenting it as cheeky visuals for his articles.
A retrospective of his work — with a significant volume of his writings blown up and printed on vinyl wallpaper, early to current videos, sculpture, and prints made from the illustrations he has devised for his columns — is now on view at Rental Gallery in East Hampton.
It is a dual curatorial project between Mr. Schachter and Joel Mesler, the gallery's proprietor and an artist as well. Their show demonstrates a kindred view of both art and the people who populate the places where creative output becomes commodity and collectors are recast in Mr. Schachter's words as "spec-u-lectors."
For the past 20 years or so, as auction and private sales have drifted into the stratosphere, such figures as Larry Gagosian, Loic Gouzer, Richard Prince, and Jerry Saltz have become boldface names to an ever-widening group of cognoscenti. Still, the subjects of Mr. Schachter's Artnet prose tend to be known primarily among a select few.
This means that his articles and artwork may not be readily accessible to a casual gallery viewer. Yet, his down-to-earth descriptions of dealers outwitting other dealers, auction houses' cutthroat competition for consignments, the quantity over quality at art fairs, are easily digested, even if the more obscure players are not recognizable.
Mr. Schachter clearly understands this. Coming upon him on a bench outside the gallery recently, he reflected, in what appears to be characteristic modesty, "I'm really just a writer for a trade publication." Further, he said his art dealings are wholly to other dealers or those who describe themselves as such (even if dentist is their day job), admitting that he could never develop the kind of relationships among artists and collectors that retail sales require. If his art is inspired by these writings, it raises the question, who is this show for? Arguably, it is for everybody.
Those in his columns are presented with their foibles and sins, egos writ large, and checkbooks even larger. Striking a good deal is an amuse bouche in this crowd, the entree being total annihilation, the victors vanquishing their rivals for an ultimate "win." These are old, even classic, stories, based in the worst of human nature and magnified in a titanic way.
The text on the upper-floor gallery is daunting, coming from every eave and recess in the four walls, ceiling, and floors, but with stories you want to read to the end. At least one guest at the opening was the subject of a couple of his columns, one of which included a description of the writer being dressed down by this subject. This caused some apprehension for the artist, who made peace with the person that night.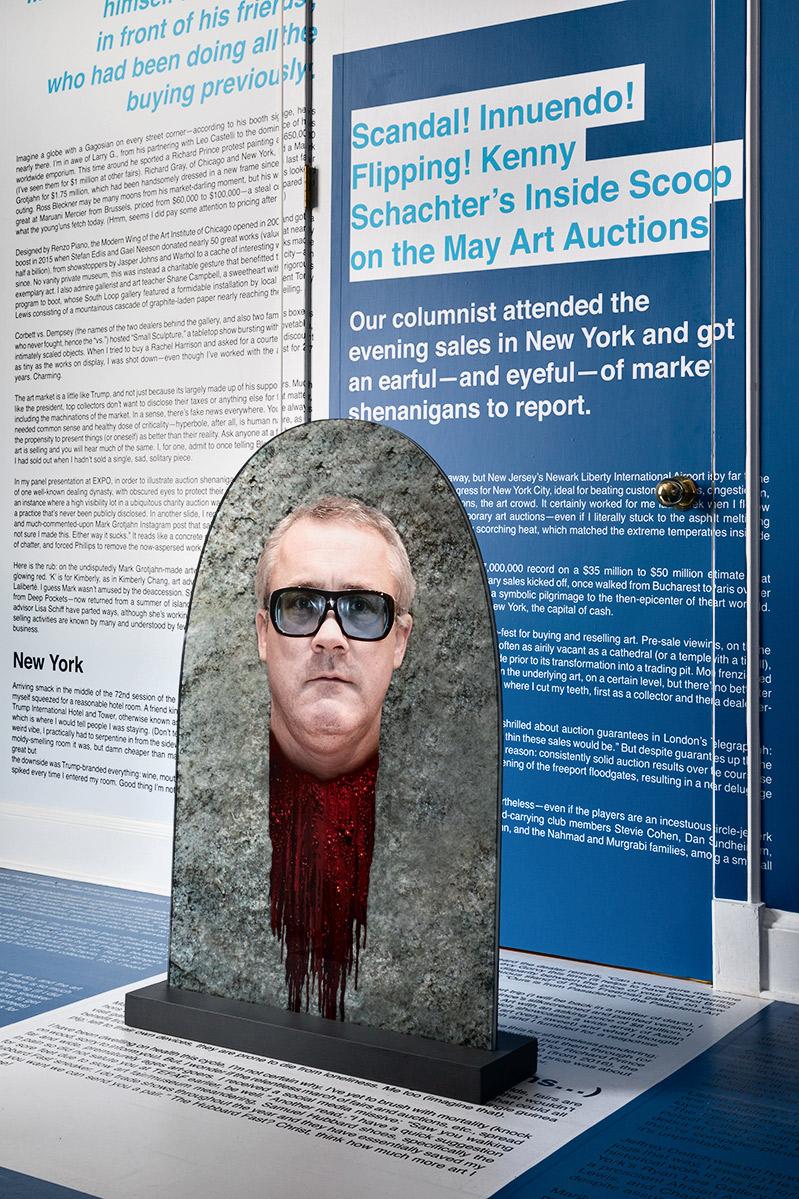 It is the kind of thing that happens when you throw spitballs from the back of a classroom filled with masters of the universe. Yet, he only speaks the truth as he sees it, recording his highly personal reactions to the circus atmosphere of a typical art fair week and many auction rooms. Mr. Schachter is aware that holding up a mirror to this world may not make him many friends, and he said he was wary of putting himself on the line for the reaction and detraction it might bring.
Even to those less inculcated with these machinations, the show is stunningly rendered, full of color and the kind of incisive and inclusive wit that allows anyone to understand what he is getting at in his prints and videos. And if you find yourself in a gallery, odds are you probably already have some awareness of his subjects.
When he depicts Mr. Gouzer, Christie's co-chairman of postwar and contemporary art, as the vampire in the old television series "Dark Shadows," someone who might not recognize him will still understand the intention through the context. If you were to further learn that the subject was behind the auction of a controversial Leonardo painting for $450 million during a contemporary sale it would make even more sense, although Mr. Schachter made this piece two years ago, well before the auction this year. He depicted Mr. Gouzer's rival at Sotheby's, Amy Cappellazzo, as a military general during the same year. Damien Hirst's decapitated head is placed on a shield Medusa-style. And the Leonardo painting itself, "Salvator Mundi," is superimposed in an "Antiques Road Show" segment still with its surprised owner gaping at her good fortune.
The overall theme of the show is the feigned death of Mr. Schachter. His passing is a recurring motif in his work, whether he is shot at an art fair in one video or spontaneously combusts in another. The show is accompanied by a small old-fashioned remembrance book, with his works used as illustrations, and Mr. Schachter as the writer of his own obituary. There is also a "merch room" with T-shirts, prints, and smaller souvenir sculptures available at reduced but still lofty prices.
Even with all of the irreverence, there is seriousness in his castigation of the art market. To this end, he is an adjunct professor at the University of Zurich's executive masters in art market studies program, which "fosters an ethical approach to the art market."
He is just as eager to extol the greatness of some artworks he sees in the marketplace as he is to condemn the ugliness of commercialism there. In Mr. Mesler's letter to "The Board" who might grant his entry into heaven, he asks: "Who else will check and balance our no good, greedy unethical art world if not for Kenny?"
In previous decades, artists could wear many hats: dealer, curator, writer, and critic. Now, they mostly stay in their lanes. Mr. Schachter is clearly incapable of that, traveling the globe to visit fairs and auctions, lecturing in Zurich, buying and selling art wherever he can, and writing about all of it. This show gives us an understanding how someone so enmeshed in this world might channel its demons. It remains on view with the work of Mindy Shapero, a Los Angeles artist, through Oct. 31.