Yung Jake: From the Screen to the Wall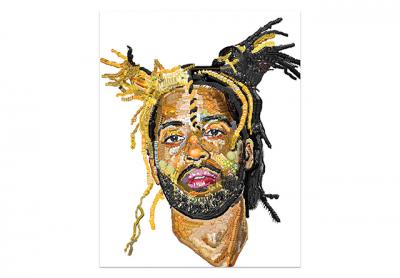 Yung Jake/Tripoli Gallery
Yung Jake's Instagram posts come to life in three dimensions
Last week in the back room of the Tripoli Gallery in Southampton, a discussion was taking place between brothers. How, Tripoli Patterson asked his younger brother, Jake Patterson, were they going to describe his artworks that will be on view in the gallery starting tomorrow.
The answer' "digital paintings," is certainly accurate and straightforward. Yet it is lacking as a complete description for the hybrid form born of a digital application called emoji.ink, which can be used to draw or paint images made completely out of emojis. The app was created by Vince McKelvie, Jake's friend and business partner in a design company called Tig.ht Corp.
The artist is mostly known as Yung Jake, an identity "established on the internet in 2011," according to a biography on the website of Steve Turner, his Los Angeles dealer. "I wasn't an emoji guy," Yung Jake said in "LeBron in the Paint," a video he made for the Intel Corporation that was posted on YouTube in May. "I have a background in painting, but I knew it was something to run with."
As he described it, he started making celebrity portraits with emojis, and it "blew up on social media'" with thousands of "likes" and hundreds of comments in several languages (including emoji), commissions, articles, and his recognition as an Instagram star.
His goal in this medium was to make iconic images, and indeed they have the import of a classical imperial portrait bust meshed with the small chaotic visual information found in a Chuck Close portrait that allows the eyes and the mind to perceive it as a coherent whole. With 15,000 to 20,000 emojis per portrait, "it's like this mess of information, but then in the end it comes together as one idea," he said in the video.
He starts with an underpainting of emojis, chosen by color, just like he would if he were prepping a canvas. Then he chooses emojis appropriate to the subject. For LeBron James, he used images such as basketballs, crowns, and lions to connote his primacy in basketball. In a portrait of Taylor Swift for Valentine's Day two years ago, her face was made of things like hearts, CDs, bunnies, and trademark symbols. 
The emoji portraits are known primarily through Instagram but have also appeared sporadically in print or as art prints — a 10-foot print of his portrait of Blake Griffin now adorns the Staples Center in Los Angeles, commissioned by the L.A. Clippers. Tripoli's new show, "Emoji Portraits'" will be the first grouping of large-format versions of them in a gallery. The paintings will be printed on Dibond — two ultra-thin aluminum sheets mounted to a polyethylene core. They will measure in the range of seven to eight feet.
The complex medium is fitting for someone described as a creator in the Tripoli Gallery's press release. This umbrella term captures Mr. Patterson's creative output from his youth through his postgraduate years, a multistage, multifaceted, and multihyphenate period of work often co-existing simultaneously.
He began painting at a young age. His first group show was at the Bridgehampton Historical Society in 2008 when he was a senior at Bridgehampton High School. At the time, this author said his paintings "suggest a knowledge of complicated art theory far beyond his years, which he adopts organically, almost as a given." Klaus Kertess, an influential curator who died last year, chose Mr. Patterson soon after for a group show he organized at the Fireplace Project in Springs. 
He then studied at the California Institute of the Arts in Valencia, where he received a Bachelor of Fine Arts degree in 2012 after eschewing painting for other mediums such as performance, video, and conceptual art. Although painting has regained respectability as a contemporary medium, there was little love for it at CalArts. Classmates and instructors were critical of his paintings, suggesting, as a diss, that he study animation instead of fine art.
Here is where it gets complicated, because CalArts does have a world-class animation program, and Jake was inspired by the cartoons he watched as a child, at one time aspiring to attend the school for that purpose. But he did take the gibes as an insult and expanded his practice. 
With showings of his conceptual work, such as "E.m-bed.de/d" and other projects at the Sundance Institute, L.A.'s Museum of Contemporary Art, and the Museum of Modern Art, and several solo shows with his brother here and in Los Angeles at the Steve Turner gallery, it is fair to say he has had the last laugh. Given that many of his conceptual projects read as, if not complete satire, then at least cultural commentary, we can laugh with his work too.
The Patterson children moved around a lot growing up — living in places like Sag Harbor, Bali, Geneva, California, and Costa Rica. They became used to moving constantly, and their domiciles varied wildly. Neither brother could remember living anywhere for more than a couple of years. When a place had a television, Jake said, he would plant himself in front of it and watch cartoons obsessively. He is now working in the Cartoon Network's creative department as his day job. His other commercial work includes directing commercials for products like Pepsi. 
The videos he directs for himself and for groups such as Rae Sremmurd, a hip-hop duo, fall on the art side of the spectrum for him, more so than the emoji digital paintings, which he categorizes as things he needs to do to keep his other art projects going. Among these are a few different series of vinyl image-wrapped found metal objects distinct in their themes, the latest including images from animation — Woody from "Toy Story" and a slightly altered Bart Simpson. "Doing the emoji paintings is more like design to me. I tend to distance myself from it."
Although he posted a rap video in March on his Twitter feed, he is moving away from that form of expression. The piece is a dry comment on the medium, delivered earnestly and tweeted with a disclaimer that the views expressed in the video don't necessarily reflect his views or opinions. The lyrics include references to various illegal substances and crude language about sexual exploits, as well as ordering pizza from Domino's, Coachella, ill-fitting pants, and low SAT scores.
He's not calling out the hip-hop community as poseurs, but he did note that in rap "you talk about things because it suits the medium," not necessarily because it is true. "Like you might make a love song, but not necessarily be in love at the moment."
"Emoji Portraits" will be on view tomorrow through Aug. 14, with a reception on Saturday from 7 to 9 p.m.