WLNG Radio to Be Sold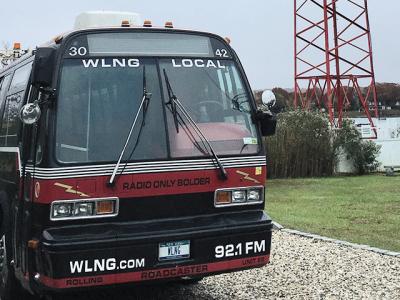 Johnette Howard
WLNG 92.1 FM, the quirky Sag Harbor radio station that became famous for its reverb sound and oldies music, its stubborn defiance of consultants' bleak view of its unique format, and for surviving a battering from Hurricane Sandy to keep airing live reports, seems poised to hurdle yet another challenge.
The family trust that has overseen WLNG and its parent company, Main Street Broadcasting, since the 2009 death of the owner Robert King has agreed to sell the station to Sandra Foschi, a Sag Harbor resident and owner of Health SOS, a chain of physical therapy businesses in New York, Long Island, and Connecticut. 
But loyal listeners concerned about the fate of the 55-year-old station need not worry. No sweeping changes are planned to WLNG's mix of hyperlocal content, music playlists, and longtime on-air personalities like Gary Sapiane, Brian (the Cannon) Bannon, and the overnight host Big Tom Lawler. It's an idiosyncratic combination that prompted Edison Research to call WLNG "one of the oddest success stories around" when 22 stations in the local market were first measured in 2005 and WLNG impressively finished number three. 
"We're holding off on doing interviews until the closing becomes official, which should be by mid-December — and I think it's going to be fine," said Mr. Sapiane, who multitasks as the station's president and general manager in addition to hosting the 6 to 9 a.m. weekday show and the 10 a.m. "Swap and Shop Hour," which on Monday featured calls like this: 
"Hello, Gary . . . I'm looking for comic books to buy. And also, some man cave beer signs that light up."
"Good morning, Gary. I have two scallop dredgers to sell. I'm in Aquebogue."
The $3.9 million purchase of WLNG will be made by Ms. Foschi under her limited liability company Bark Out Loud Dogs Media, according to the trade website radioinsight.com. The sale includes $3.2 million for the station's waterfront site on Redwood Road in Sag Harbor, $525,000 for WLNG's license and assets, and $125,000 for the station's Millstone Road tower (which station employees sometimes refer to as "Mount Sidney," a fond nod to the longtime station president and on-air personality Paul Sidney).
Ms. Foschi has no direct background in broadcasting. But her husband, Bill Evans, is a longtime meteorologist for WABC-TV in New York who has consistently worked in radio since getting his start at age 13 at WDAL, a station in his hometown of Meridian, Mo. 
One of WLNG's many signature moments over the years came during Hurricane Sandy in 2012. The station continued to broadcast and stream online using generator power even after its low-slung waterfront offices that hug the shoreline of Sag Harbor's Morris Cove were flooded with ankle-deep water. Staffers eventually noticed a burning smell that persuaded them to briefly stop and check whether they should continue — which they did. The station was hailed for providing an important service to the community with its weather updates and live reports from staffers who worked by flashlight inside the office and ventured out in the storm's aftermath.
In addition to hometown touches like community news, birthday shout-outs, and airing local residents' funeral arrangements, WLNG is also famous for playing hits from the 1950s to the '70s and its library of jingles, another throwback favored by Mr. Sidney that continues today, along with the reverb (or echo chamber) sound.
WLNG's nightly programming currently features shows such as "Doo Wop Stop" with Cool Bobby B., "This Is the 60s" with J.J. Wilson, and "Sock Hop Saturday Night" with Mark Edwards.
One of the station's jingles crows about how its signal reaches from "Mastic to Montauk," but it can also be heard as far away as Connecticut and Rhode Island. The staff does hundreds of remote broadcasts a year as well from its boldly painted "Rolling Roadcoaster and Motor House" that is liable to turn up anywhere something is going on — a Memorial Day sale on Route 27, a food festival in Montauk, a parade in Southampton. 
Mr. Sidney, who was inducted into the New York State Radio Hall of Fame two years before his death in 2009, was particularly known for making as many as 250 stops a year when he served as an on-air host in addition to station president and general manager.
Over the years, WLNG's style has also caught the attention of everyone from The New Yorker magazine to the recording star Billy Joel, a Sag Harbor homeowner who has twice in recent appearances on "The Tonight Show Starring Jimmy Fallon" joked with Mr. Fallon, a Sagaponack homeowner, about making a surprise visit to WLNG and "crashing" the broadcast of a live show. 
"We gotta go at night," Mr. Joel said. "When they least expect it."
With WLNG's future apparently set, Mr. Joel and Mr. Fallon still have the chance.