Watercolors in the Trenches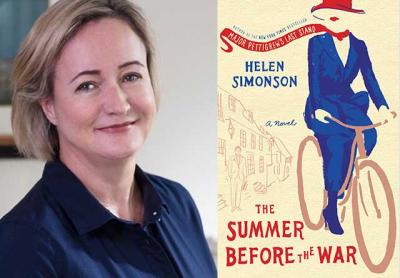 Nina Subin
By Alexandra Shelley
"The Summer  
Before the War"
Helen Simonson
Random House, $28
In high school American history class, we spent so much time on the American Revolution and the Civil War that as the school year drew to a close, World Wars I and II were hurriedly crammed in, a hodgepodge of battles and treaties. I only recently learned that the Veterans Day celebrated this week in the U.S. originated as Armistice Day, proclaimed by President Woodrow Wilson to mark the end of World War I. So I'm grateful for novels that not only incorporate this era, but bring it to life on an intimate scale — history writ small. That's what Helen Simonson has done masterfully in her novel "The Summer Before the War."
Set in the English village of Rye, the novel's action begins in 1914 with the arrival of the local school's new Latin teacher, Beatrice Nash. She has been sponsored by one of the more illustrious citizens, Agatha Kent, who, upon learning that Beatrice is younger and prettier than she imagined, is a little anxious about the experiment of hiring a woman to teach such a serious subject (though apparently at a bargain price compared to a man).
Agatha has put her reputation on the line in hiring a female Latin teacher, but she is no suffragette, as she makes clear upon her first meeting with Beatrice:
"Mrs. Kent, am I to suppose that you support the cause of women?" said Beatrice. 
"Good heavens, no!" said Agatha. "Such hysteria in the streets is impossibly damaging. It is only through such sober activities as school boards and good works, done under the guidance of our most respected and educated gentlemen, that we will prove our worth in the eyes of God and our fellow man. Don't you agree, Miss Nash?"
Beatrice was not at all sure she did agree. She rather thought she might like to vote and to have been admitted to a university degree at Oxford, her father's alma mater.
Now throw into the mix at the Kent manor Agatha's two attractive nephews: Hugh Grange, in training as a brain surgeon, and Daniel Bookham, a poet and gadabout. But where would a Jane Austen scenario be without the impediments to romance? Hugh is courting the daughter of the pre-eminent surgeon with whom he's interning; Daniel refers quite frequently to his close male friend, Craigsmore, and following the recent death of her adored father, an academic with whom she traveled the world, Beatrice has declared herself a spinster. As she explains to the young maid at her rented lodgings:
"I think you'll find most women in pursuit of a husband share an interest in appearing less educated than they really are," said Beatrice. "It is why I have a low opinion of them."
"Of women, miss?" said Abigail. 
"No, of husbands," said Beatrice.
One of the delights of this novel is Beatrice's wit and her complexity as an early-20th-century woman. She is caught between respectability and liberation, an independent woman (with a small trust), finally free of her father's influence (but still hoping to tend his reputation by bringing forth a collection of his writings), determined not to marry (yet clearly falling for Hugh Grange), and mocking various proprieties (yet ultimately obedient to them).
The novel's setting, however, is unchanging. The village of Rye as depicted in "The Summer Before the War" may be familiar to residents of the East End's hamlets despite the remove of over 100 years and 3,000 miles. A coastal town with a fishing fleet, it's also home to writers and artists attracted by the salt air and the salt of the earth. 
In reality, Rye's famous residents included Henry James, E.F. Benson (whose "Mapp and Lucia" novels are set in the village), and Paul McCartney. Helen Simonson herself lived in Rye as a teenager, and now spends time on the South Fork. In fact, you might have run into her finishing the novel at the library in Southampton. "I believe the whole world can be explained in a small town," Ms. Simonson said in an interview with BookPage. 
Fans of her first novel, "Major Pettigrew's Last Stand" (which, despite the title, had nothing to do with war, unless you count class war), will find in this one the same scenes of village life and skewering of the small-minded, balanced by compassionate portrayals. In Ms. Simonson's depiction, Rye is aswirl with civic duty, committee meetings, and gossip. It is also enlivened by uncomfortable brushes between locals and newcomers — not only Beatrice, but also Alice Finch, a photographer recently moved from London to live with Minnie Buttles, the vicar's daughter (an arrangement that no one comments on openly). Alice is criticized by Agatha under her breath for speaking at a town meeting — ". . . a little forward for such a newcomer," Agatha whispers to Beatrice, who observes to herself: 
"The smaller the town, the more decades one was likely to be viewed as a newcomer; though in a town like Rye, newcomer was considered a step up from being a summer visitor and totally disregarded by all."
After a few chapters, I could have been relaxing into the comforting rhythms of a BBC mini-series featuring cobbled lanes, a vicar, and tempests in a teapot were it not for the novel's title. The heart of the book is Rye in the early months of the war, as the Germans invade Belgium and the British prepare to enter the conflict, but it follows a number of the main characters to the battlefields of Flanders, and then the survivors to 1920. "The Summer Before the War, the War, the Postwar" isn't as catchy a title, nor would it capture the predominant spirit of the book, which is anticipation. This slowly anneals into dread as the realities of the war creep in, brought in part by a group of Belgian refugees that the village shelters.
Wars are like hem lengths in literature. These days World Wars I and II are in. Martha Hall Kelly's "Lilac Girls," a World War II book I edited, has been riding that fashion. But another author with whom I work whose book is set in 1970 was rejected by a prospective agent because, she said, the Vietnam War wasn't selling well. 
But whatever the war, the tendency is to read these as parables of our own times, and any illumination is welcome in this era of constant nebulous warfare. "The Summer Before the War" includes other themes that still resonate a century later: The arrival of refugees trailing the horrors they've undergone; barriers faced by ambitious women; discrimination against minorities and gay people, including in the military. But this isn't just a morality play. It's leavened by humor and a satisfyingly tortuous love story, as well as three fascinating father-daughter relationships in which the fathers subsume their daughters (and with which Freud would have had a field day).
Ms. Simonson's depictions of the preparations for war in this one small town are detailed, entertaining, and, ultimately, chilling. First there's the general conviction that the saber-rattling in the wake of the archduke's assassination in June will blow over "before everyone's summer holiday," as Aunt Agatha says, quoting her husband, John, who works in the Foreign Office. 
Then, once the inevitability sets in, the inhabitants of Rye respond with a mixture of innocent enthusiasm and purblind fervor. Among a certain set, the impending entry into the war is seen chiefly as an excuse for a patriotic extravaganza; for others, it's a career opportunity.
Hugh is convinced by his surgeon boss to enlist to further his training thanks to "an unlimited supply of wounded offering us the opportunity to catalog every possible type and severity of brain injury!" Daniel enlists in a drunken stupor after being rebuffed by Craigsmore, joining the Artists Rifles, whose mission will be, as he puts it, "to limn new forms of bravery and construct, with sonnet and brush, a new brotherhood of artist-soldiers."
One of the most endearing characters in the book, the half-Gypsy schoolboy Richard Sidley, is motivated to enlist by that ancient poet of war, Virgil. He has just overheard the school's headmaster telling Beatrice that though he is her star Latin pupil, he can't compete for a scholarship because "such a boy could never adequately represent our school." He vows to prove them wrong: "He would turn soldier, and like the wandering Trojan warriors of the 'Aeneid,' he would seek his destiny on a grand adventure in foreign parts."
The village organizes itself to support the war effort and host Belgian refugees following Germany's invasion. In reality, Britain's harboring of refugees is a largely forgotten chapter of World War I that Ms. Simonson has said she only discovered as she researched Henry James, who was involved in relief work. "Britain took in 250,000 Belgian refugees and hosted them, fed them, clothed them, and took care of them for four years, entirely through private charitable efforts in multiple cities and towns across the country. It was one of Britain's finest hours," she said in an interview on "The Diane Rehm Show."
But her admiration doesn't stop Ms. Simonson from gently lampooning the flurry of meetings and fund-raising activities, led largely by the women of Rye. Of the first planning meeting at Town Hall, Agatha comments: 
"I assume that the good burghers of small German towns are at this very moment holding similar hot and crowded meetings. . . . Apparently, we must attempt to create more committees and official titles than the enemy."
The efforts of the Belgian Relief Committee to raise money culminate in a Grand Fete and Parade that "had grown into an undertaking not unlike a small war of its own." It is only slightly marred when the mayor's wife, playing Britannia attended by young women representing Scotland, Wales, Ireland, and Belgium in the parade, unleashes a fake German horde to attack their float, which causes the actual Belgian refugee, Celeste, to become hysterical. As the tone of the novel turns darker, the atrocity that Celeste suffered during the German invasion is revealed and then compounded by the reactions of the villagers to the taint this has left on the teenage girl.
One other sobering note in the parade is the appearance of the local Colonel Wheaton's clearly unprepared unit, a description that echoes an earlier one of boys in the schoolyard playing war with sticks for rifles:
The men straggled somewhat, some limping in boots that looked hastily gathered. They carried wooden models of rifles, as official ones had yet to arrive. 
"Don't Daddy's men look marvelous?" asked Eleanor Wheaton. "Quite the real soldiers."
Meanwhile, Daniel and his fellow Artists Rifles soldiers have built a cozy model trench that is so far from what we now know they would encounter that the description alone is heartbreaking. It's furnished with poetry books, a vase of wild poppies, and a Rifles officer smoking a pipe and painting on a watercolor pad.
Oddly, it's the American living among them, Tillingham, the writer character based on Henry James, who has a premonition of what's to come. When Beatrice encounters him on the promenade staring toward the sea, he recalls the Civil War, "the great American conflict of my youth":
"Most of all I remember that what begins with drums and fife, flags and bunting, becomes too swiftly a long and gray winter of the spirit."
"It is hard to imagine war on such a glorious day," said Beatrice. 
"Yet it is ablaze just beyond the rim of the horizon there," said Mr. Tillingham, gesturing with his stick.
Ms. Simonson, who took this observation from Henry James's essays, has noted that "This war was taking place across the Channel, 12 miles from the shores of Sussex. And I think that proximity brought the war home to everybody."
Toward the end, the novel moves to the battlefields of Flanders. You would think that amid the carnage and chaos of the war, the niceties of the British class system would fall away, but in Ms. Simonson's depiction, they're merely relocated. She intersects the lives of her Rye soldiers as Colonel Wheaton's regiment, not far from the front lines, is preparing for the gala regimental dinner (which is to be followed by a firing squad), a macabre echo of the village fete. When the bomb falls, however, it makes no distinction between the earl and the Gypsy boy.
The book ends with the summer after the war. The surviving central characters, including Beatrice, Aunt Agatha, and Mr. Tillingham, have traveled to visit a cemetery on the Continent where the British war dead are buried. "It was all the rage to visit the dead. . . . In London, as in Rye, the talk was of new guidebooks and of finding just the perfect little pension, from which to tour the battlefields."
In a way, the book ends on an apologetic note about itself, the limits of the enterprise of writing a novel exposing the toll inflicted by war. Beatrice observes the writer Mr. Tillingham as he watches Aunt Agatha's grief: 
His face was as greedy as that of a glutton before the feast. She knew then he was thinking of how to use Agatha's secret tragedy, imagining a famous story to gild his reputation and surround himself with a new aura of exquisite compassion. . . .
She walked away from him to stand and mourn alone, in a scene she knew no writer would ever capture well enough that men might cease to war. . . .
"The Summer Before the War" ends with Ms. Simonson's potent mix of comedy, romance, and tragedy. Life begins anew with marriage and birth, and those symbolic red poppies "nodded again in fields of wheat." If the happy ending is tarnished, it's with the irony provided by a 21st-century reader's hindsight. These fictional characters mistake what turns out to be the interwar period for an enduring peace following the war to end all wars — the same hope implied in President Wilson's declaration of "Armistice Day," as if it would be the last. 
Alexandra Shelley is an independent book editor and professor of fiction writing at the New School. She spends summers in Sag Harbor.
Helen Simonson has a house in Westhampton Beach.