Wampum Resurfaces as Bitcoin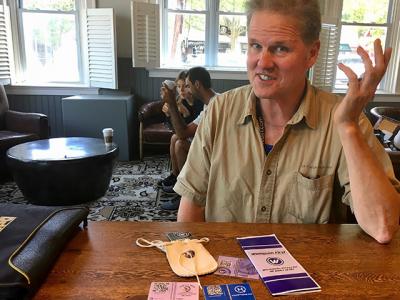 Judy D'Mello
The past few months have been mercurial for cryptocurrency, once used largely in the digital black market. Valued at less than a dime in the years following its invention in 2008, bitcoin's worth has skyrocketed to over $19,000 in recent months. To put the currency's dramatic rise into perspective, Business Insider recently stated that 10,000  — the amount needed to buy a couple of pizzas in 2010 — would now be more than enough to buy a couple of pizza franchises. Recently, a Lake Tahoe, Calif., estate sold for 2,739 bitcoin — the equivalent of $1.6 million at the time.
It follows, naturally, that bitcoin owners can also buy laptops, space flights, pay for  Uber rides, and purchase whatever they fancy from Overstock, the first major retailer to accept bitcoin. 
And now, the world of digital currency has landed in the Hamptons. Wampum First, a peer-to-peer cryptocurrency exchange, has launched a cryptocurrency "wallet" to sell memberships in a new archery range on Old Point Road in Southampton, opened by Edward Gumbs, a member of the Shinnecock Nation. Membership in the Straight Arrow Archery Club costs $1,000 for the year or $60 for a day pass. 
"If you have bitcoin then the transaction is seamless with no banks involved. If you don't have bitcoin, then you can also pay cash, and we'll do the conversion," said Scott Lewis, a Southampton resident, who wanted to be known only as a "colleague" in Wampum First's hierarchy. "We're all colleagues because that's the new norm in organizations. There's been a real paradigm shift. We're all just compatriots." 
In reality, his is one of two names on the patent pending for Wampum First's technology, known as the Super Duper Smart Crypto Deposit Card, making him a key player and co-developer of the digital wallet.
The $1,000 annual archery range membership, he said, is roughly the equivalent of 67 bitcoin today, although its value fluctuates, as does flat currency.
Wampum First, which launched its Straight Arrow Archery card last weekend at the U.S. Open golf tournament, also has Hamptons Fit, an on-demand training and fitness service, under its umbrella. Using existing cryptocurrency, or cash that can be converted, anyone can book tennis lessons, personal trainers, or swimming instructors, the same way you would with a credit card. 
Mr. Lewis's goal is to attract more East End companies into the Wampum First network. For him, the future of cryptocurrency is clear; he is convinced cryptocurrencies are anything but speculative bubbles and that they will actually transform our financial system. "Once you get bitcoin proficient, you won't want to go back," he said. "Paper money is governed by politics. Bitcoin currency is governed by algorithms."
At its core, bitcoin and other cryptocurrencies are a digital asset not tied to a bank or government, created through a combination of encryption and peer-to-peer networking. People can use it to buy things from each other or businesses and a network of computers tracks and verifies the transactions.
Bitcoin advocates, like Mr. Lewis, will point to a number of possible advantages, which are for the most part met with skepticism or a lack of understanding by those not versed in financial tech. But the biggest advantage, and the only one everyone agrees on, is that bitcoin is decentralized and therefore extremely resistant to manipulation.
In this new financial norm, Mr. Lewis would like to be a cryptocurrency "miner," that is, someone who provides the computing power to verify, control, and add transactions to the public ledger, known as the blockchain, the means through which new bitcoin are released. But this is not a possibility, he said, because of the high electricity rates on the South Fork.
"China charges the equivalent of 8 cents a minute for electricity while Long Islanders have to pay 21 cents a minute," Mr. Scott said, making it prohibitive for him to mine in the bitcoin industry.
Mr. Lewis had actually sued Gov. Andrew M. Cuomo for "permitting the sale of critical infrastructure (i.e. telephone, electric, and gas companies) to none other than the Queen of England" he wrote in a paper titled "Dark Age Charter," which he published in Dan's Papers in 2017. "My [Dutch] ancestors kicked the British out of Port Washington to land at Conscience Point to prevent a land grab and taxation without representation. It is our turn to take back our utilities from the British."
To this end, Mr. Lewis, who has worked for IBM and in technology with the Metropolitan Transportation Authority — "I've been connecting computers forever" — has declared his candidacy for a trustee on the board of the Long Island Power Authority. The election will take place in January 2019.
In another collaboration of sorts, he has helped develop what he calls a Quantum Electromechanical Generator, which, once approved, he promises will increase the quality of life tenfold because it does not require fuel.
"We will live in a universe of abundant energy," he said. His goal is to make it freely available to those who wish to mine it for all it's worth.
Until then, he is happy with the initial success of Wampum First, which he said he named after the original currency in North America. His various digital currency cards are all stored in a soft leather pouch, stitched in Native American style with a wampum shell in the middle. The pouches will soon be available for $35 dollars or .0052 bitcoin.