Vaccaro's 1953 Visit to Springs at Pollock-Krasner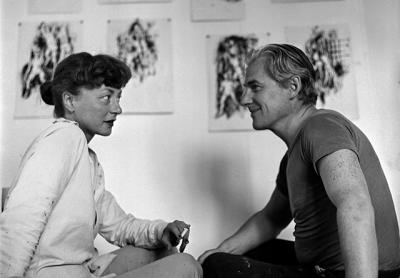 A new show at the Pollock-Krasner House in Springs includes 21 photographs, some of the Pollocks but many others of their neighbors
Back in 2010, Tony Vaccaro had a show of photographs at the Pollock-Krasner House. Called "Jackson and Lee, August 1953," it offered a unique domestic view of the couple and their life in Springs from a photographer known more for his fashion and war coverage.
On assignment for Look magazine, he was there to capture not just Pollock and Krasner, but the art colony that grew up around them in East Hampton and Springs.
Pollock was already known from photographs by Martha Holmes in Life magazine and by Hans Namuth in Art News, which took on a legendary life of their own. Only a couple of years after those shoots, Mr. Vaccaro arrived in Springs to document an artist who had begun a downward slide.
Already wary of photographers from his dust-ups with Namuth, Pollock could be an intimidating presence verging on explosive, depending on his mood. Mr. Vaccaro, who is now 94, told The New York Times in 2010 that Pollock "was a bomb waiting for someone to push a button and then blow up."
Fortunately for Mr. Vaccaro, Pollock ended up being in a good mood that day, offering espresso and a "relaxed attitude."
The Look story never ran, and then many of the negatives and contact sheets from Vaccaro's visit disappeared. Enough of the images of the Pollocks at home survived to present the 2010 show, but the other images' some color and some black-and-white' were considered lost for good. Then, after six decades, they resurfaced during a recent move.
And what a treat they are. A new show at the Pollock-Krasner House in Springs includes 21 photographs, some of the Pollocks but many others of their neighbors. There is an image of Elaine and Willem de Kooning, looking like a young married couple even though they had been together for several years and presumably had already experienced some of the tumult that marked their marriage. They sit across from each other, on a bed with her drawings in the background, as serious equals, demonstrating both mutual respect and physical attraction. It's a surprisingly intimate photo, more so because other official portraits of the couple look much more formal and determined.
De Kooning is the subject of several photos here. He is shown at dinner with a large group of fellow artists; hanging out at Leo Castelli's house in East Hampton; dancing with Hedda Sterne at a nightspot, and in his studio at the Castelli residence among his drawings and paintings. The amount of attention he received in this photo shoot is clear evidence that the world had come to see de Kooning and Pollock as the twin titans of East Hampton and New York School Abstract Expressionism, an estimation that continues to outlive both of them.
Other surprises include a rakish Alfonso Ossorio, in his 30s at the time, on what looks like a porch at the Creeks, his immense estate on Georgica Pond (now owned by Ronald Perelman). Smoking a cigarette out of a holder, the Art Brut/Abstract Expressionist looks serious and a bit silly in his pensive artist pose. In its composition, his arms and crossed leg form almost a perfect diamond or double-pyramid shape. It lends the photo a classical gravitas that dignifies its otherwise casual summertime mood.
Wilfrid Zogbaum and his son Rufus are another revelation. Working in painting and photography, Zogbaum was transitioning to sculpture alone, at the time of this photograph. His own photos of Krasner and Pollock are part of their collection of papers in the Archives of American Art. As he sits on what looks like a bed in a converted barn, his son scampers up into a high window, looking down into some other room. The lighthearted spirit forwards Vaccaro's goal, to show artists in their down time' examining their roles as parts of couples and families' not just how they worked.
There are also photos of Harold Rosenberg, Fairfield Porter, John Graham, Castelli, and some group shots of artists drinking and dining together. Larry Rivers can be seen playing piano as part of a combo in two of the photos. There is a real sense of community that belies the trope of the pensive artist alone in the studio that we have all come to expect. 
These photos are a gift, one that helps reconsider received history and gives these icons some room to breathe, like a sea breeze cutting through the stuffiness of a summer's day. "East End Art World, August 1953: Photographs by Tony Vaccaro" will remain on view through July 29.