There's Always an Ocean Breeze at the Topping Riding Club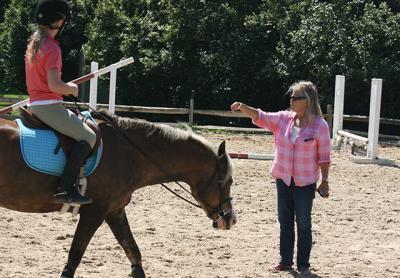 Jack Graves
"When I pointed out to her that her horse's stall had an ocean view, she relented."
You can't beat the Topping Riding Club in Sagaponack, where a popular B-rated horse show is to be held Wednesday, when it comes to its setting.
"I remember a celebrity complaining once that her stall was in the old portion of the stables," Emily Aspinall, one of its former managers, said during a conversation there the other day with the club's founder, Tinka Topping, and Mercedes Mann, the club's lessee and manager. "When I pointed out to her that her horse's stall had an ocean view, she relented."
Topping, who oversaw the riding club with her late husband, Bud, for years, said, when questioned, that it had evolved "from a defunct potato farm."
The inside riding ring, in fact, lies within what once used to be a potato barn, "a beautifully constructed one, according to architects who've seen it," said Mann, who has been at Topping's, first as a pony rider, at her sister, Alexandra's, suggestion, and later as a riding instructor and manager, for some 40 years.
There used to be three Sagaponack Horse Shows at Topping's, now there are two. It's the only rated show other than the Hampton Classic out here at the moment. "Our shows used to go until 9 p.m.," Mann said. "Lit up by headlights."
"When George Morris [a pre-eminent rider and trainer] was asked at one of those shows how he could possibly see the jumpers in the dark," said Aspinall, "he said, 'I don't have to see — I can hear whether they jump well or not.' "
"My daughter Kathy's friend Leslie has never forgotten when George Morris threw a clod of dirt at her at a clinic — he couldn't abide people not listening," Topping said.
Actually, the gestation of the riding club was owing to Kathy, she continued, "when someone asked her if she could teach him to ride."
The rest is local history, and the riding club has played a big part in it, first with its own shows, then with a revived Southampton Horse Show there, and, ultimately, at the suggestion of Christophe de Menil, with the Hampton Classic's birth as a three-day show in 1976 at Abe Katz's Dune Alpin Farm in East Hampton.
Tony Hitchcock, who, with his wife, Jean Lindgren, was to oversee the Classic at its Bridgehampton showgrounds for many years, sold lemonade that year, Topping said. "Tony was a teacher at the Hampton Day School, which I helped to found, and we began doing the show here as a fund-raiser for the Day School. I asked Tony to M.C. it. We raised about 10 dollars," she said with a smile.
The 1976 Classic was the first and only time Mann, who in subsequent years has trained numerous Classic competitors, rode as one herself, in children's equitation. "I got there at 6, and my class didn't go off until 4," she said. "I think I drank my first glass of wine that day."
She and her sister, she said, have ridden from an early age. She recalls her sister, Alexandra, riding her bike from their house on Highway Behind the Pond in East Hampton Village to Pheasant Run Stables in Springs at 6 a.m., and "feeling very safe."
Eventually, she said, they persuaded their parents to help underwrite their training, at various stables on the South Fork, including Alvin and Patsy Topping's Swan Creek Farms.
"Patsy would have us file by," said Mann, "and after you did, she'd ask the other riders what struck them about your riding. They always said that what struck them about my riding was my long blond hair."
While she thinks the interest in equestrian sports remains strong, Mann said, "This year has been strange. Usually we get calls about pony camps beginning in February, but the phone hasn't been ringing off the hook until just recently. . . . All the pony camps out here have been down."
As to why that was, no one was quite sure. 
"Maybe ticks and the traffic, and the world in general," said Topping. "They're going elsewhere."
"Jackson Hole I hear is the place this year, because of the eclipse," Mann said.
While there used to be around 300 competitors in their B-rated shows, there probably would be about 200 this year, she said.
"Some people are going to upstate shows. . . ."
"There are ticks there too," said Aspinall, whose late sister, Anne, after whom Hunter Ring 1 at the Classic is named, became Topping's first chief riding instructor in the early 1970s, having left a job in New York City and weekend riding at Topping's to sign on full time.
"First there was Gordon Wright," said Topping, "who taught George Morris. George Morris taught Anne, and Anne taught everyone else."
As for the Classic, when asked if she had created "a monster," Topping demurred. Celebrity gawking and V.I.P. tents aside, it was still the number-one horse show, she said.
Aspinall, who is the Classic's vice president, said it was indeed the best show in North America, with the possible exception of Spruce Meadows, outside Calgary.
Asked what it was she loved about riding, Mann said, "Number one, I love the wide-open spaces. Years ago, we all used to take our ponies to the beach. There were no houses between us and the beach then. Nine of us would ride to the Sagg Store, dismount, and get coffee. There was no traffic, no manicured lawns, nobody complaining about manure because our neighbors were farmers. You could see the sea from here. You can't anymore. I miss that."
Alexandra Mann, whom her sister has taken on as an instructor, said in a separate conversation, "It still has a very good family vibe."
"It can be 90 degrees and you wouldn't know it here," Mercedes Mann said. "The pony campers all would love it if we put bunk beds in the stable."