Strangemen Inhabit Guild Hall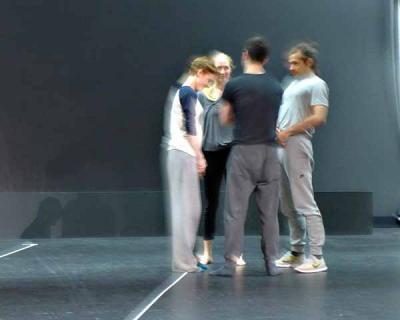 Mark Segal
The group was founded in 2010 by Jason Ralph, Frank Winters, and James Ortiz, graduates of the SUNY Purchase Acting Conservatory for Theatre Arts and Film
Guild Hall will present "The Thirteen Clocks," a theatrical piece inspired by James Thurber's novel and adapted by Strangemen & Co., on Saturday at 7 p.m. The free performance will conclude the group's weeklong residency at the John Drew Theater. A reception with the performers will follow in the Minikes Garden.
The group was founded in 2010 by Jason Ralph, Frank Winters, and James Ortiz, graduates of the SUNY Purchase Acting Conservatory for Theatre Arts and Film, "to simply honor what is truthful — one story at a time," according to its mission statement. The troupe now has more than two dozen members, all based in New York City.
Often inspired by existing stories — their previous program, "The Woodsman," evolved from the character in "The Wizard of Oz" — the company uses such elements as mime, puppets, choral speech, and shadow play to tell its stories.
Will Gallagher, who is adapting Thurber's novel, discussed the group's development while some of the actors exercised onstage. "We now have a lot of people with different mind-sets and mentalities," he said. "When you have such amazing tools as the bodies and minds and spirits of artists like these, you're compelled to use them. And they're all here to help me write this story."
Thurber's book is a modern take on a classic fairy tale, featuring a wicked duke, his beautiful niece, and a handsome prince in disguise. "It was written for kids," Mr. Gallagher said, "but it has a lot of potent images, a lot of wonderful phraseology that I think is fun to access."
The process at Guild Hall involves determining what is universal about the story and expressing it physically. "This group is very physically oriented, which makes my job much easier. Right now we're drawing a lot from the teachings of Jacques Lecoq, who had his own school in Paris and literally wrote the book on physical acting."
To illustrate one of the group's techniques, Mr. Gallagher picked up what he called "a neutral mask. When you put it on, it shuts off the actor's most communicative tool. So what you're left with is the pure physical form of whatever you're trying to express. It's very difficult, but it's rewarding to find a story that can be universally understood."