Steve Joester's Library of Superstars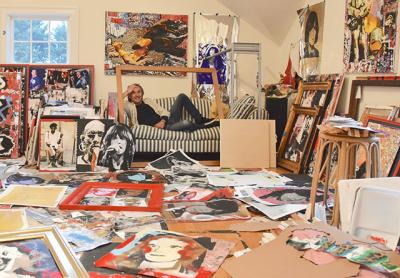 Jennifer Landes
"I got a camera, went down to London, and just started shooting things."
A first-time visitor would have no problem finding Steve Joester's Water Mill studio on his rambling property. The music playing, a steady mix of classic rock, is the first thing that beckons from a small building across from the house on the other side of the pool. Then there is the potent odor of paints and solvents and, once inside, a trail of graphic and brightly highlighted images that lead to his upper-level studio.
On the first really cold day in November, the windows were closed and the heat on. The chemical haze made for a heady interview, perfect for the scene created by the canvases of mashed-up images of rock stars from photos he took in the mid-1970s to the mid-1980s, inspired by Michelangelo Antonioni's 1966 film, "Blow-Up."
"David Hemmings made it look so cool," Mr. Joester said of the actor in the film, the plot of which centered on a fashion photographer who may have captured a murder in one of his photos. The movie is loosely based on the life of David Bailey, the photographer who caught London as it was awash in 1960s hipness and youth culture. "I thought, 'Wow, you can make a living doing that.' "
Although Mr. Bailey worked primarily in fashion and portraits, Mr. Joester found that his own interest lay in music. "I got a camera, went down to London, and just started shooting things." At that time, London's music scene was still contained. "It was very small; there weren't a lot of places to put the photos." Melody Maker and New Music Express were the key publications. "If you could get your photo in one of those papers, everybody saw it."
Things happened quickly. He spent the next decade in the studio, on tour, and on location, capturing images, making friends, and living the rock 'n' roll life and all that came with it. "It was weird. You had 20 hours of boredom and four of real craziness, a dangerous combination. With access to anything you wanted, it could really lead to trouble."
During those years, he amassed an astounding library of superstars caught in their prime. Some of the faces looking out from repurposed mixed-media compositions, prints, and silkscreens include Neil Young, Bob Marley, Freddie Mercury, Sting, Deborah Harry, Mick Jagger, Keith Richards and the rest of the Rolling Stones, the members of KISS, Thin Lizzy, the Sex Pistols, AC/DC, and Judas Priest.
But after 10 years, he was done. "That small community grew pretty quickly," he recalled. "Merchandising came in, and the value of the image became very different. Then, the contracts came, saying you have to give up copyright. That's when I quit." Having retained the rights to his images up to that point, he wasn't ready to sign them over in exchange for the choice of only a couple of photos to publish or hold back for other purposes. With no extra money coming  for the rights to the rest of those images, Mr. Joester walked away. "It became a whole different business."
He then landed in advertising. Back then, he said, there was "still a lot of fun and creativity, great campaigns that were irreverent and with shock value." He stayed there for another decade or so, but lost interest after the messages started repeating themselves in watered-down versions. "After about 12 years of it, that was enough."
It wasn't long after that he returned to his archives. "I went back into my boxes. I realized I was sitting on something," he said. Having never sold his rights, he had carte blanche to use them. "I just needed to figure out how."
He came up with a mixture of Pop Art and Street Art, borrowing from icons such as Andy Warhol and Keith Haring. He has constructed several silkscreens from some of his favorite images, easily recognizable portraits of Mick Jagger, Sid Vicious, Sting, and even Warhol, whom he met for the first time backstage at a Judas Priest concert.
"Andy's head popped in backstage, and I said, 'Hey, come in. I want to take a couple of shots with you.' " He borrowed the lead singer Rob Halford's handcuffs to handcuff the artist to Mr. Halford and then to the radiator. "Andy loved it; he thought it was cool. But I was thinking, 'What the hell is he doing at a Judas Priest concert?' "
Mr. Joester saves his more portrait-like images for the silkscreens and uses the images of the bands playing live in his multimedia works, where the prints vie with paint and other applied surfaces to form a coherent composition. Sometimes, he uses just one very large print, but often he adds smaller ones or contact strips.
Even his portraits are mostly of the performers in concert. "I only like shooting them live, because that's what they do," he said. "When you meet them in a regular setting, they're not that interesting, but when they're out onstage they're mesmerizing."
Back in those days, he was working with film, which required patience and agility. "You would have to chase after them as they were moving around onstage, then change the film, usually missing the best part as you were winding it." Although he eventually got a self-winding camera, he still had no idea what he had until it was developed a couple of days later. An image of Mick Jagger looking right at him from a Stones concert was only a split second among hours of his stage strutting.
He said he tries to recreate some of the intensity of those moments in his compositions. "It was craziness with an order, because you had to be ready, you really had to be there to get it all on film." And it happened even with all of the vertigo and discombobulation of touring. 
"There was no reason to know where you were. Someone would knock on the door when it was time to get on the bus or to the show." He recalled one night out at dinner with KISS. "They took fake blood capsules with them, and we bit into them in the middle of dinner. We were in a Midwestern restaurant with blood coming out of our mouths," he said with a laugh. From this perspective, he said the film "This Is Spinal Tap" did a great job of "summing up the politics and nonsense of touring."
In the studio, he works on a variety of supports, including paper, canvas, and even pallets, which have a shadow box kind of feeling to them. He likes to work collaboratively, bringing in people like LA II (also known as Angel Ortiz), who worked with and inspired Keith Haring, to add their characteristic marks to his canvases. He recently had members of the Tats Cru — Nicer, BIO, and BG-183 — add drawings and tags to compositions he had started with his photographic images. 
Recently, he has added erotic subject matter to his oeuvre, which helped inspire "Sex, Drugs, and Rock 'n' Roll," a show coming up in December at the White Room Gallery in Bridgehampton. His work is also on view in New York City at John Allen, a men's grooming club on Wall Street.