Springs' Own Beats Apple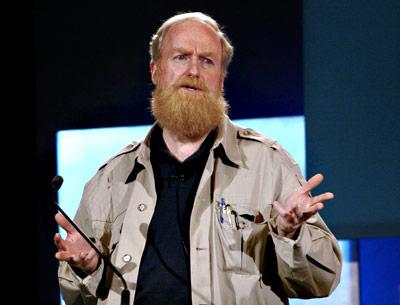 Kris Kurg
'Pinch to zoom' patent goes to Bran Ferren
    After a prolonged controversy, Bran Ferren, an East Hampton High School graduate who is the co-chairman and co-founder of Applied Minds, a California corporation, has won the rights to a patent that Apple Inc. had claimed to own.
    On July 29, the United States Patent and Trademark Office rejected Apple's claim to have patented "pinch to zoom," the two-finger gesture used on millions of smartphones and tablets, and awarded the concept to Mr. Ferren and his business partner, Danny Hills. The pair's patent, filed in 2005, essentially predicted the idea of surface computing and gesturing on a touchscreen.
    The patent office ruled that their patent anticipated Apple's. Theirs was No. 7,724,242; Apple's was No. 7,844,915.
    Mr. Ferren, interviewed at his house in Springs, said he was bound to confidentiality and could not speak about the decision, but stressed his company's "early pioneering in that field."
    Apple's claim played a key role in its headline-grabbing victory over Samsung last August, when a jury found that 21 of 24 electronic Samsung devices infringed on Apple's putative patent. The South Korean company was ordered to pay $1.05 billion in damages, a figure that has since been reduced by $450 million.
    Apple has until the end of September to appeal last month's ruling to the patent office's trial and appeal board. With so much at stake, the company would almost certainly take the case to the U.S. Court of Appeals for the District of Columbia if that challenge proves unsuccessful.
     How did Mr. Ferren become a principal in one of the largest patent battles ever? "I've been inventing things for a long time," he said. He was just 13 when, after his family moved from New York City to the East End, he stunned an audience of middle school parents with a remote-controlled tricycle that wheeled across the stage and shot an exploding dummy. By his senior year in high school he held two patents for fast-recycling strobe lights.
    The young inventor attended the Massachusetts Institute of Technology for a year before dropping out to start his own company, Associates & Ferren, in the East Hampton Town Industrial Park off Wainscott-Northwest Road. The company, which produced special effects for the movie industry, was instrumental in such hits as "Star Trek V: The Final Frontier," "Altered States," "Little Shop of Horrors," and "The Manhattan Project."
    After 1993, Associates & Ferren, which had been a consultant to Walt Disney Productions, became a subsidiary of Walt Disney Imagineering, the branch responsible for creating and expanding Disney's theme parks. "It's nice to be part of a company that's the best at what they do," Mr. Ferren told The Star that year.
    He was president of research and development at Walt Disney Productions until 2000, when, he said, he and Mr. Hills "decided it would be a good time to move on." They named their new venture Applied Minds.
     "The little Big Idea company," as it calls itself, "invents, designs, and prototypes products and services for both industry and government," according to its Web site. Projects "range from toys to cancer treatments, from buildings to algorithms, and from off-road vehicles to high-resolution displays," the site says. "Basically, we invent things," Mr. Ferren said, "and each product depends on the client."
    "California has a large talent pool" of prospective employees, he said, and Applied Minds tries to hire "the best and brightest people, to take on challenging tasks." Half the employees are recruited at colleges or through business networks, he estimated, and the rest seek out the company themselves. A young woman named Jananda Hill, for example, was "very interested in the company" after hearing Mr. Ferren speak on technology and entertainment at M.I.T., and spoke with him afterward, he said. She now works for him in project management and computer science.
    Applied Minds, said Mr. Ferren, combines the arts and sciences, working in creative art and design on the one hand and creative engineering on the other. Most of its work is in the United States, with a few international projects for good measure. "We like working on things that might help make the world a better place," said Mr. Ferren, whose title is chief creative officer.
    The inventor, who at this point has over 300 patents to his credit, often visits his house in Springs. "The area is naturally beautiful," he said, "and it really brings together an interesting community of people. . . . I might move back here someday, maybe start another company."
With Reporting by Irene Silverman