Solace in Inanimate Objects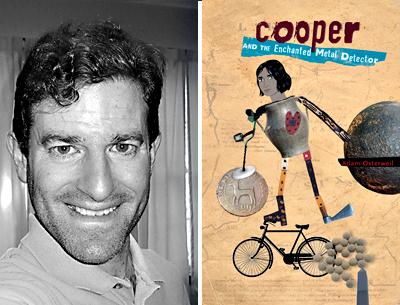 Mr. Osterweil delivers history well, with a passion for storytelling and honesty around the not-so-rosy record of war and the colonial treatment of native people
"Cooper and the
Enchanted Metal
Detector"
Adam Osterweil
Namelos Books, $18.95
   Goodbye school, hello summer reading. "Cooper and the Enchanted Metal Detector" is a novel for middle-grade readers that takes place over the course of a pivotal summer for Cooper, the 10 (or perhaps 11)-year-old protagonist. A complete epoch can occur bookended by June and August, and Adam Osterweil, who has brought young readers "The Comic Book Kid" and "The Amulet of Komondor," among others, seems to know all about the arc of summer.
   If it's hello summer reading, it's a friendly how-do-you-do to the nonrequired, kids-get-to-pick summer list. Welcome, Cooper. Nice to meet you and your blend of history and personality.
    "Cooper and the Enchanted Metal Detector" takes place in upstate New York near the Chemung River Valley. Cooper and his mom live in a run-down house there and operate an antiques business out of the old barn on their property. Cooper adds to the stock in the barn by riding his bike to garage sales and snapping up finds with a well-trained eye. At one garage sale, a lady takes a shine to Cooper and gives him an old metal detector. Her stories, her Iroquois heritage, and her friendship become important elements in the story of Cooper's summer.
    Metal detector in hand, Cooper begins poking around the property where he lives and discovers the site of a historic Revolutionary War battle. This is of much import to one Mr. Shepard of the Elmira Museum, who believes the artifacts belong in the museum for all to learn from and enjoy. Mr. Shepard has the history bug and a talent for storytelling, and it's through his knowledge passed on to Cooper that the reader learns about the Battle of Newtown, its place in American history, and the role of the Iroquois in the conflict.
    Mr. Osterweil delivers history well, with a passion for storytelling and honesty around the not-so-rosy record of war and the colonial treatment of native people. As Mr. Shepard tells Cooper, "Cooper, I know you don't like talking about these things, but you need to know this. George Washington sent that big army up here to destroy the Iroquois civilization."
    As the story progresses, the history of the battle weaves in with Cooper's emotional life so that the elements of the book tie together. And what about Cooper's emotional life? It is turbulent, curious, imaginative, high volume. The reader learns that he has lost a sibling, that his father has long since abandoned the family, and that his home life is far from conventional. Cooper's mom sold the car; they use a neighbor's phone to make calls. Since his mom doesn't have a bank account, Cooper keeps their money in a coffee tin, and takes charge of most things around the house. It's just Cooper and his mom, and she's not in terrific shape for dealing with day-to-day things:
    "The best way to picture Mom is to imagine a rocky cliff riddled with caves next to a pounding ocean. It's nighttime, and dark clouds cover the moon. The smell of seaweed tickles your nose, and howling wind sends sea spray into your eyes. High up in a cavern lit by glowing crystals, in a pool of sparkling blue water, sits a mermaid with a long tail wrapped around a rock. She has yellow hair that casts a strange shadow on the wall. She never combs it, but somehow it could never be prettier. Her eyes glow like the water, and when she stares straight at a human, her perfect beauty makes them fall to their knees and lose the power of their legs. She's lonely in that cave, but the tide went out a long time ago and never came back, stranding her up there."
    All of the writing in the book is not as intense as this excerpt, but Mr. Osterweil gets well inside his main character and spends some time there. "Cooper and the Enchanted Metal Detector" comes right from Cooper's own point of view in stereophonic first-person narration that includes his secrets, his fears, and his conversations with a host of inanimate objects.
   "Put my face right up against the ground," Decto said. "A short beam comes out and that senses metal. The closer I am to the ground, the deeper the beam can go."
   I moved the plastic disc so that it touched the moss. Decto's face scraped against the ground. He started sniffing the moss like a hound.
   "Now move my face left and right in a big arc."
   "In a big what?"
   "A big curve."
   "Oh, I thought you meant one of those things that holds two of every animal."
    Cooper is especially in conversation with his friends Decto the metal detector and Squeaky the bike, but he's also in regular communication with the mailbox, the mop, the mirror, and later in the book the Earth itself as well as the Wind (who answers in rhyme). These conversations have internal consistency and sticking power so that they feel perfectly real, and it is uncertain (in a good way) if this fantasy element is part of Cooper's imagination or part of the actual reality of his world.
    At one point, Decto the metal detector eats an order of McDonald's French fries. This event seems weird but not unbelievable, so you see what kind of Cooper's-world immersion Mr. Osterweil has created.
    Cooper's point of view on things is emotional, sensitive, quirky, zany, even actually odd at times. He's at once very independent and very needy, a contradiction/combination that is certainly — and sometimes painfully — realistic. But if you want to read Cooper's story, you'll have to deal with Cooper's issues. After all, Cooper is.
    By the end of the book, the arc of summer is complete and Cooper has come a long way. Uncovering the battle site has allowed him to uncover some buried psycho-emotional territory, and it looks as if things will be shifting. He even makes a list of changes he'd like to make: "Cooper's New Life," which actually addresses most of the concerns this reader had for Mr. Osterweil's complex boy protagonist. Young readers will likely appreciate Cooper's plan of action, too.
    The enchantment of Decto the metal detector, it turns out, lies in the power to begin a chain of events, to put in motion a cause and effect that breaks the isolated spell of Cooper's home life. And thus Cooper finds fodder for a first-class "What I Did Over My Summer Vacation" essay, and the perspective to write his own history.
   Evan Harris is the author of "The Art of Quitting." She lives in East Hampton with her husband and two sons.
    Adam Osterweil teaches English at the Springs School.