Sagaponack Producer's New Doc in Theaters This Week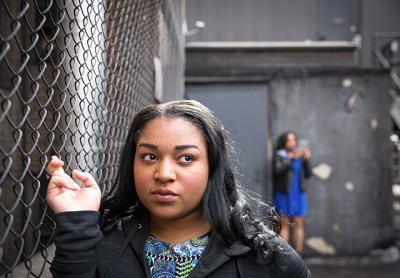 R. Schultz, Courtesy of 50 Eggs
"I Am Jane Doe," a documentary about sex trafficking of under-age girls on Backpage.com
"I Am Jane Doe," a documentary about sex trafficking of under-age girls on Backpage.com, directed by Mary Mazzio and co-produced by Ms. Mazzio and Alec Sokolow, a screenwriter who lives in Sagaponack, will premiere tomorrow at AMC Empire 25 in Manhattan and in five other cities across the country.
The film opens in 2009 in St. Louis, where Kubiiki Pride talks about the abduction of M.A., her 13-year-old daughter, who had been missing for 270 days when she found her photo on the adult section of Backpage.com, a website that accounts for 80 percent of the online sex market. Despite the mother's pleading, Backpage refused to remove M.A.'s photograph. She eventually recovered her daughter and sued Backpage, but to no avail.
The pattern is always the same: Under-age children, often runaways, are abducted and sold online for sex. Besides M.A. and her mother, the filmmaker follows the stories of J.S., a 15-year-old from Seattle, and "Jane Doe" of Boston, through interviews with parents and the girls themselves. Their accounts are harrowing, marked by repeated rapes, drug addiction, guilt, and self-loathing.
The film is driven not only by the stories of the victims, but also by that of Backpage, which, until 2012, was owned by Village Voice Media, the publisher of the country's first alternative weekly newspaper, once a crusader for liberal causes.
In a series of legal challenges in Seattle, Boston, and New York City, and an investigation into Backpage by a Senate subcommittee in Washington, the rights of the company have been repeatedly upheld due to Section 230 of the 1996 Communications Decency Act, which states: "No provider or user of an interactive computer service shall be treated as the publisher or speaker of any information provided by another information content provider." In other words, Backstage could not be held liable for the content posted by others on its website.
The film follows the story to the present day. Last month, the Senate subcommittee subpoenaed Carl Ferrer, the C.E.O. of Backpage, and two controlling shareholders, Michael Lacey and James Larkin, all of whom pleaded the Fifth Amendment. Also last month, the Boston attorney John Montgomery's petition to the U.S. Supreme Court to hear the case was denied. Congress has yet to amend Section 230.
Mr. Sokolow became involved with the project after a chance meeting between his wife and a friend of Ms. Mazzio. He and the filmmaker began to talk, and agreed that if something came up it would be great to work together. "About four or five months later Mary called me and said she had found funding for this new project," he said. She asked him come on as a consultant. 
"As I started working, we realized that more and more I was kind of co-producing with her. I came on at the beginning of the compilation and editing. There were about four and a half hours of footage. I was able to connect some dots and help with the narrative structure."
The many threads — the runaways and their parents, Back page, the lawyers, and the politicians — presented a challenge. "What we tried to do is simplify it. It has a lot of aspects, but it really has to feel like one story we're trying to tell. And that was where most of our efforts went," Mr. Sokolow said.
Ms. Mazzio and Mr. Sokolow also collaborated on a side project: an animated short for prevention and education for high-risk children. It will be released in April and used as part of a curriculum for youths.
"For me, walking into the room to work with these kids was one of the scariest moments in my career because I just didn't know what to expect," he said. "As it turned out, working with them was without a doubt the highlight of my career." 
"I Am Jane Doe" does not have a happy ending, but the parents, M.A., J.S., and Jane Doe all express their determination to keep fighting for an amendment to Section 230 and their belief that they are giving a voice to all those victimized by their pimps.
"The state of California has filed charges for pimping," said Mr. Sokolow, "and we hope there will be other attorneys general who will follow suit and change the law and push this entire trade into the dark web. You're never going to completely put a stop to under-age sex trafficking, but it will make it much harder for the average man — and they are mostly men — to access it so conveniently."