The Right Place, the Right Time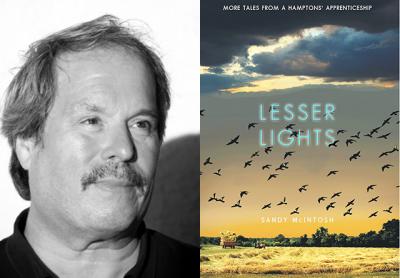 Anne Hall
By Dan Giancola
"Lesser Lights"
Sandy McIntosh
Marsh Hawk Press, $15
With "Lesser Lights," Sandy McIntosh continues his "Hamptons Apprenticeship" memoirs. Here we meet pugilistic novelists, an oversexed sculptor, and an impecunious painter, among others. Mr. McIntosh has crafted a collection of vignettes and a few longer pieces that focus our attention on a Hamptons barely recognizable today. With this collection's longest piece, "Robert, in Twelve Episodes," he also appears to challenge the notion of what constitutes the meaning of "memoir" today.
Most of "Lesser Lights" concerns itself with life on Long Island's East End, including Southampton College, where Mr. McIntosh studied in the early 1970s. The vignettes — most of them brief but entertaining — evoke a time when artists and writers constituted a more visible part of the Hamptons' year-round community, when it wasn't unusual to see Willem de Kooning wavering down narrow roads on his bike in Springs or Jean Stafford in her housecoat and slippers at the end of her driveway checking her mail.
The book's first piece is a hilarious recounting of the making of two small indie films, Norman Mailer's "Maidstone" and an untitled short directed by the painter Ilya Bolotowsky, who also happened to be teaching Mr. McIntosh's class of freshmen English at the college. In this piece, titled "Taking Reality Through Its Paces," Mr. McIntosh vacillates between descriptions of both directors' filmmaking and antics. 
We glimpse Mailer's chaotic meetings at a long-gone restaurant longtime Star readers may recall, the Hilltop House, located somewhere between Noyac and Sag Harbor. Mailer's stable of actors included Robert David Lion Gardiner, Alfonso Ossorio, Ultra Violet, Rip Torn, and D.A. Pennebaker. With such a motley cast, what could go wrong? But Bolotowsky's crew included Mr. McIntosh, several Southampton coeds ready to disrobe at a moment's notice, and an exhibitionistic sculptor friend. You get the gist. 
Both directors were intent on making "pure" films, which I believe meant on the cheap as well as unscripted. The effect of moving readers between the two projects is itself wonderfully cinematographic, and Mr. McIntosh shows us he's had as much fun writing about this as he did living the adventure.
Other pieces are equally successful but briefer. We watch as Mr. McIntosh attempts to meet the English novelist P.G. Wodehouse, then living in Remsenburg, or Truman Capote reacting to Mr. McIntosh's first book of poems blocking Capote's own book in the window of Keene's bookshop in Southampton. He imbues all these vignettes with subtle, often self-deprecatory humor. He appears to occasionally laugh at himself while also reveling in his good fortune to have been in the right place at the right time to hitch his wagon to this caravan of kooks and geniuses. We may be in the company of "lesser lights," but we're never sorry.
The collection's final piece is "Robert, in Twelve Episodes." I confess to having hoped this would concern itself with the sorely missed poet Robert Long (there is a fine take on the sorely missed poet Allen Planz), but this does not appear to be the case. Each of these episodes features the author's classmate Robert, with whom Mr. McIntosh becomes friends while house-sitting Robert's father's house on East Hampton's Springs-Fireplace Road. The piece recounts Robert's various (mis)adventures, especially concerning amorous liaisons with women.
Robert is a comic figure. He would have fit in nicely with any of the casts shooting "pure" movies. Oddly, however, Mr. McIntosh disappears from these scenes. He turns into a narrator who asks a few well-timed questions or reacts with incredulity to what he hears. Some readers might miss the introspection often found in memoirs to balance out the retrospection. As a result, these episodes feel more like reportage — New Journalism style — than memoir. 
I had the feeling while reading them that they may at one time have been written for or appeared in Dan's Papers. In an earlier vignette, in fact, "Hot and Cold Type: Working for Dan's Papers," Mr. McIntosh writes about trying to get published in the paper while working for Dan Rattiner, but always falling, somehow, just short. He writes that Mr. Rattiner's advice for the author during his employment at the paper was "write something funny."
"Robert, in Twelve Episodes" is funny. I'm just not sure I believe a word of it. Is Mr. McIntosh guilty of indulging in the specious memoir? Is there such a thing? When reading a memoir should readers expect truth? Does it even matter any longer in our post-postmodern age of blurred boundaries, gender fluidity, and alternate facts? Did Robert really claim to have fallen in love with half a girl's head in a jar of formaldehyde? Was Robert really deserted by his wife soon after returning from their honeymoon?
I once asked the author John Sanford back in the last century about how, then in his mid-90s and still publishing memoirs, he could recall so clearly dialogue that had occurred 60 or 70 years previously. He wrote, "Not one conversation took place as written; all are written as they must've taken place. A date, a letter, a single remembered phrase . . . I'm not praising myself when I say that's the creative act; it's what any serious writer puts on the page, the product of nothing turned into something."
Do you believe that?
I'll bet Sandy McIntosh does. "Lesser Lights" is a charming memoir written from that place where art and fact commingle to produce a swift, rollicking read that feels like it must be right, parts of which read like trompe l'oeil. But you should read it, and decide for yourself.
Dan Giancola teaches English at Suffolk Community College. His collections of poems include "Songs From the Army of Working Stiffs" and "Part Mirth, Part Murder."
Sandy McIntosh led the H.R. Hays Distinguished Poets series at Guild Hall from 1980 to 2000.