Portraits in Globalism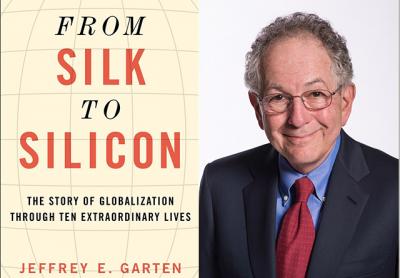 Tony Rinaldo
By Sally Susman
"From Silk to Silicon"
Jeffrey E. Garten
HarperCollins, $29.99
I've attended every Democratic convention since 1980, when, as a high school senior, I navigated the Missouri caucuses to emerge as a Ted Kennedy delegate. This summer — nine conventions later — I was particularly excited to go to Philadelphia to see the first woman ever nominated for president by a major party. It would be smooth sailing, I thought. 
Yet, each night when I stood in the crowded Wells Fargo Center, it was clear that something was amiss. The neatly packaged party narrative was interrupted. Bernie Sanders supporters, activists, and other progressives were making an unusual objection. Theirs wasn't solely an antiwar message or a civil rights protest. This year's political revolution had an antitrade message at its core. Hand-drawn signs with "TPP" written on them and a bold slash through it were everywhere. I heard Buffalo Springfield's refrain in my head, "There's something happening here. What it is ain't exactly clear." 
Hillary Clinton, once an advocate for multilateral trade agreements, was forced to back off her endorsement of the Trans-Pacific Partnership to keep her coalition together. And in Cleveland at the Republican convention one week earlier, the G.O.P. — usually a steadfast proponent of open markets and increased international commerce — nominated a dissident with a distinctly nationalistic message. For globalists and trade enthusiasts, this may truly be the summer of their discontent. 
Swimming against the tide of rhetoric and going far deeper than sound bites, Jeffrey Garten's "From Silk to Silicon: The Story of Globalization Through Ten Extraordinary Lives" explains the complex economic and geopolitical forces beneath the uproar. Like Mr. Garten's previous works, including "The Politics of Fortune" and "A Cold Peace," this book is deeply researched, thoughtful, and enlightening. Mr. Garten reframes the trade dilemma in human terms, profiling 10 individuals who were crucial to the rise of globalism. In doing so, he helps the lay reader understand why globalization is causing such a ruckus.
Some of the profiles are of people we know — or think we know — well: Genghis Khan, John D. Rockefeller, Margaret Thatcher, and Deng Xiaoping. Others were new to me: the British Empire builder Robert Clive, the early technology entrepreneur Cyrus Field, and the European diplomat Jean Monnet. According to Mr. Garten, each "made the world smaller and more interconnected." The framework, the author further explains, is essential because "understanding the central personalities of our past constitutes the flesh and blood of history."
Mr. Garten gets right to the heart of the tension in the opening chapter, on Genghis Khan, the brutal conqueror who opened the trade routes across China, the Middle East, and the Indian Ocean to establish what became known as the Silk Road. Mr. Garten notes, "His life reflects the two sides of globalization — the dislocation and destruction that it can inflict and the peace, modernization, and prosperity that it can create."
John D. Rockefeller also personified the complexities associated with global expansion and economic inequality. Mr. Garten describes Rockefeller as a hard-driving "pioneer and predator." He built Standard Oil and manipulated the railroads in pursuit of his monopoly. The tables turned on Rockefeller in the 1890s when the Progressives won a big victory with the passage of the Sherman Antitrust Act to punish the trusts that controlled tobacco, steel, sugar, and other industries. Standard Oil and Rockefeller himself became targets of public anger. 
Shortly thereafter, Rockefeller started to give away his money, becoming one of the world's most generous philanthropists. "One can be forgiven for thinking that John was two men, one obsessed with making money, the other with giving it away; one the master of rapacious corporate tactics to slay competitors, the other dedicated to improving conditions for humanity."
In the chapter on Margaret Thatcher, the author brings the Iron Lady to life. Mr. Garten claims Thatcher's greatest achievement was not being the first woman to become prime minister of Great Britain, but that she "exceeded this distinction by becoming the world's most important advocate for freeing trade and investment from government control, selling off state-owned companies to the private sector, weakening labor unions, and in general allowing markets to link with one another to cross borders and build a web of connections that became — and remains — the major force of globalization." 
I wonder what Prime Minister Thatcher would make of the recent vote by the British public to exit the European Union. And I shudder to think what the Iron Lady would think of the recently elected second female prime minister, Theresa May — a fellow Conservative with a populist tone and antibusiness rhetoric. There are several moments in "From Silk to Silicon" when the past echoes in the present as the arguments for and against globalization continue to reverberate.
The final portrait is of Deng Xiaoping and his tumultuous journey through modern Chinese history. Deng lived and worked in the shadow of Mao Zedong, at times in Mao's favor and other moments in exile. Deng was a veteran of the Long March and the Chinese Revolution, but wound up under house arrest during the Cultural Revolution. Deng orchestrated an amazing comeback late in life, rising to top positions in the government and ultimately becoming Communist Party leader, China's most powerful figure, from the 1970s through 1997. 
Mr. Garten identifies Deng as a pivotal figure. "Deng was obsessed with science, technology, and education. . . . He supported increased budgets and better working conditions for researchers. In a sharp departure from Mao, he encouraged more Chinese students to study abroad, and more contact between Chinese and Western scientists. To make his modernization priorities clear, Deng built trips to the West around visits to companies such as Boeing and IBM."
Throughout the book, one marvels at Mr. Garten's objectivity, though suspects he is a globalization proponent. That perspective does not prevent him from laying bare globalization's most horrific elements: "It started slowly enough with the kidnapping of a few African natives, then progressed to bartering with tribal leaders, exchanging Portuguese linen, silver, and wheat for African men, women, and children. On the morning of August 8, 1444, the first cargo of 235 Africans, taken from what is now Senegal, were delivered to the Portuguese port of Lagos. Historians say this is when modern slavery began." 
One cannot help but notice that Mr. Garten's history of international commercial activity was — as the elite business world is today — largely the purview of men. Nine of the 10 individuals he profiles are men. All blurbs of praise on the book jacket are from men. There are few female voices.
Male-dominated voices aside, there is little to criticize in "From Silk to Silicon" and much to praise — especially the way in which Mr. Garten is a natural teacher. He educates his reader about economic and foreign policy, bringing us along without an ounce of condescension. You can almost hear the excitement in his voice as he describes each scene with enthusiasm, as if he were discovering these details for the first time.
"From Silk to Silicon" was 10 years in the making, and yet the timing is perfect. The conflict between economic growth and growing inequality makes this book absolutely of the moment. The profiles through history offer current insights into other contemporary quagmires, from environmental pressures to immigration and refugee upheaval. 
In the final chapter, Mr. Garten reviews some common traits among his 10 subjects. "Each had missionary-like faith in what they were attempting to do," he writes. These leaders also "swam with the stream rather than against it." They capitalized on the moment. And Mr. Garten expresses surprise at "just how deep in the nitty-gritty most of my subjects waded." 
Fortitude, good timing, and command of the details could be equally good descriptors for Mr. Garten himself.
Jeffrey E. Garten is dean emeritus at the Yale School of Management. He lives part time in East Hampton.
Sally Susman is a regular book reviewer for The Star. She lives in Manhattan and Sag Harbor.