Oh Goody, Witchy Woman of 1657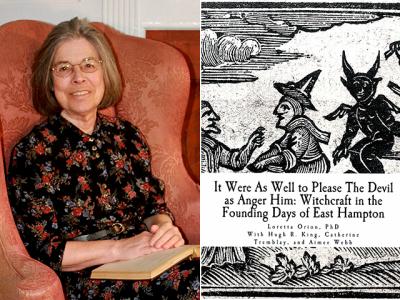 Loretta Orion puts in appearance at the East Hampton Library with her new book
The arresting title "It Were as Well to Please the Devil as Anger Him: Witchcraft in the Founding Days of East Hampton" dates to Loretta Orion's 1998 lecture for East Hampton's 350th anniversary celebration. Put together with her husband, Hugh King, the town crier, its 16 pages are readily found on the East Hampton Library's website. 
Now, after intervening years of research and writing and the gathering of historical paintings, engravings, and lithographs, she has applied that title to a new book, and she'll be returning to the library on Feb. 2 for a talk and book signing, joined by Mr. King and her other collaborators, Catherine Tremblay and Aimee Webb.  
The famous 1657 case of Goody Garlick, who was tried in Connecticut by John Winthrop Jr., the governor of that colony, after being accused of witchcraft by a daughter of Lion Gardiner, is the crux of the matter. And it remains pertinent, Ms. Orion writes, "because this story and the other witchcraft cases mentioned in my book highlight how the act of dehumanizing people can lead society to inflict awful treatment on those individuals because they are not considered 'human' and therefore must be evil."
The Age of Enlightenment was a wave that broke slowly across the American colonies. East Hamptoners of the second half of the 17th century still held their share of medieval beliefs when it came to crime, punishment, and superstition. Just ask Goody. Or, that is, her intermediary, Ms. Orion, starting at 2 p.m.