NORA KLEPS: Working By Isabel Carmichael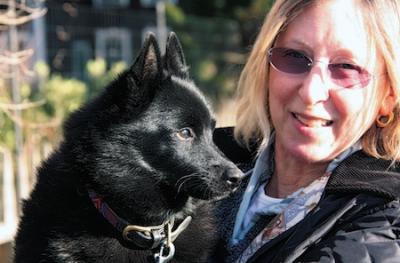 Durell Godfrey
G­rowing up in Farmingdale with her parents and two brothers, Nora Kleps had the usual assortment of household pets — cats, dogs, parakeets, turtles — "anything you could buy at Woolworth's," she said. She also liked riding horses, but despite being drawn to animals she followed another path before eventually returning to school to become a veterinarian. It was only after becoming fluent in French, Italian, and Farsi that she became fluent in animal medicine.
    In college, she majored in foreign languages and literature, then worked as a translator and consecutive interpreter in Philadelphia, sometimes on medical cases.
    After living in Iran for three years, she returned to the United States determined to pursue veterinary medicine.
    "It felt like it was something I hadn't done that I had always wanted to do," she said. She enrolled at Columbia University in a general studies program designed for older pre-med and pre-vet students that enables them to get the requisite number of science credits. She did that for four years at night while working at an Italian bank in the city, then earned her veterinary degree from the Cornell University College of Veterinary Medicine.
    It was her love of horses that made her decide to be a mixed-practice veterinarian, which means that she can treat both small animals and large ones, like horses. She doesn't treat pet birds or reptiles, although she will treat turkeys, ducks, and geese.
    A job with an East Hampton veterinarian brought her to Springs in 1993, and not long after she landed a job at the Mattituck-Laurel Veterinary Hospital, on the North Fork, where she still works. Since the mid-1990s, she has also run her own mobile practice, and is one of the only veterinarians on the South Fork who makes house calls. She treats mainly small animals and horses, although she has treated an emu a few times, too. Going to people's houses to see animals, she is able to offer any treatment involving local anesthesia or small surgeries, she said.
    "The most wonderful thing about being a vet is being around the animals, trying to figure out what is wrong without their being able to tell me." Knowing what to do takes experience, she said, and a lot of hard knocks, but Dr. Kleps made it sound as if figuring it out was a kind of puzzle, just as it sometimes is with young children, who also cannot always communicate exactly what is wrong.
    For a sick house pet, a successful outcome often hinges on how soon an animal is seen after symptoms appear, she said. Not long ago in Mattituck, a woman took a 12-week-old kitten to her after he had been sick for 12 to 16 hours. The kitten was lethargic, not eating, and had kidney failure. The child in the family was weeping.
     Dr. Kleps had one antifreeze test left in the fridge and decided to test the kitten, even though the family did not know if he had eaten antifreeze. The test was positive and, after five intravenous treatments with 95-percent alcohol over two days, the kitten was well enough to go home. The owner had chosen the window of opportunity in which such a test will come back positive if the creature has ingested the antifreeze. Had Dr. Kleps tested the cat after more than 16 hours, the test would not have shown the antifreeze, even though it was there.