News for Foodies: 01.09.14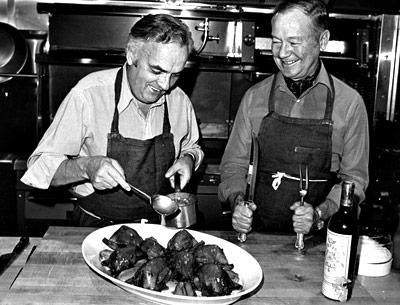 Pierrefraney.com
Local Food News
Artists, Writers, Food
    Almond restaurant in Bridgehampton will hold its next Artists and Writers Night on Wednesday, featuring a family style three-course meal and an appearance by Christine Sciulli, a light and video installation artist whose work is currently in a show at the Parrish Art Museum. The evening begins at 7 and costs $40 in advance, or $45 at the door. In addition to the meal, the price includes a glass of local wine or craft beer, tax, and gratuity. Reservations are a must.
Bonac Farms Herbs
    Bonac Farms, which sells produce in season from a stand at the Springs General Store, has dried and cured organically grown, non-genetically modified herbs and spices for sale online, at $2 an ounce or $20 a pound. Among the choices are several types of basil, and dill seed and coriander, available whole or milled fresh to order at a specified coarseness. Tea blends are available as well. Bonacfarms.com is the website.
Of Pierre Franey
    The children of the late Pierre Franey, the renowned chef, New York Times columnist, and cookbook author who lived in Springs, have created a website in tribute to him: pierre­franey.com. The site includes a biography, bibliography with links to purchase books, videos of several cooking show episodes, and monthly new and ar­chived recipes, including potential wine pairings selected by Mr. Franey's son, Jacques Franey, the owner of the Domaine Franey wine and liquor store in East Hampton. It also includes photographs, among them several of Mr. Franey with Craig Claiborne, a chef friend and collaborator who also lived in East Hampton, and of the chef serving his crepes from a booth at the Springs Fisherman's Fair, which he did for a number of years.
Lunch Special
    The Living Room restaurant a c/o the Maidstone inn in East Hampton has announced a lunch special: soup and salad for $19. A glass of local wine can be added for an additional $8.
At Pierre's
    At Pierre's in Bridgehampton, which is open daily for breakfast, lunch, and dinner, a two-course  prix fixe is now offered for $28. Three courses cost $34. The special is served nightly, though just until 6:30 p.m. on weekends. Chicken Oriental soup has recently returned to Pierre's menu.