New Rabbi Celebrates a New Year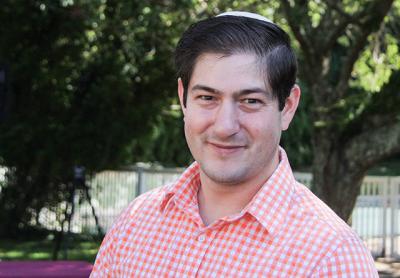 Durell Godfrey
At Jewish Center of the Hamptons, Joshua Franklin hopes for long tenure
It has been a whirlwind of a year for Joshua Franklin, who was officially installed as the new rabbi of the Jewish Center of the Hamptons on Sept. 2, less than three weeks before today's beginning of the High Holidays.
The synagogue's soaring sanctuary was full to overflowing on that sunny morning with congregants, friends and rabbinical college classmates, members of the East Hampton Clericus, and a large contingent of the young rabbi's proud family members. Rabbi Franklin, who comes to East Hampton from Wellesley, Mass., where he was associate rabbi for four years at Temple Beth Elohim, will address an even larger sea of faces over the holidays, especially on Sept. 30 when, for the first time in a while, Yom Kippur falls on a Saturday, bringing with it the center's sizable contingent of weekenders.
After several months, during which he was interviewed twice on Skype and once on-site, Rabbi Franklin received the call from the Jewish Center's search committee: He had been chosen from over 40 final candidates, men and women, young and old, to lead the synagogue into the future.
"When I told my senior rabbi in Wellesley, he said, 'They're not looking for you, they're looking for a celebrity rabbi.' And when I got here, I found they were looking for me — a young, creative rabbi who would be different," he said, then hastened to add, "They weren't looking for a rabbi to replace their wonderful rabbi," speaking of Rabbi Sheldon Zimmerman, a noted scholar and well-loved clergyman who retired this year at the age of 78 after 10 years on the job.
Speaking at Rabbi Franklin's installation earlier this month, Rabbi Joshua Stanton, his classmate and best friend at Hebrew Union College in New York, where they were ordained, called him "one of the great rabbis of a rising, innovative generation of leaders." (Another friend and classmate was Rabbi Daniel Geffen of Temple Adas Israel in Sag Harbor; the two sometimes study together.)
"More importantly for you and me," Rabbi Stanton went on, "he is a loving husband, doting father, caring brother, honorable son, devoted friend, keen scholar, respectful colleague, and someone who finds what is holy in every person he meets. . . . Rabbi Franklin believes that in every single person there is something good and sacred — and sets out to find it."
"No matter how sad or low or broken by life you feel, Rabbi Franklin will find a way to raise you up."
In the short time he has been here, the new rabbi has already had a number of people come to him seeking faith-based help with "depression, anxiety, behavior disorders, and more," he said last week, adding that mental health may be the topic of his sermon this morning. "Society is still not fully comfortable" with the subject, he said.
With his wife, Stephanie Whitehorn, and their 2-year-old daughter, Leila, Rabbi Franklin arrived in East Hampton on May 9. He has been working almost nonstop since, teaching adult classes three days a week, presiding over the center's Friday-night services on Main Beach, a great favorite with young families; bringing in well-known scholars, musicians, and authors to speak or perform, and, of course, getting to know his congregants and community. "We try to integrate where we are with who we are," he said.
It has been said that the Jewish Center's "understated exterior conceals an exalted interior," an observation confirmed by the sanctuary's numerous architectural awards and fully appreciated by Rabbi Franklin. "The space allows us to connect with nature, the community, and God," he said. "Our prayer is elevated higher than it would be. Our amazing space and the convergence of a vibrant community enables us to find God in the intimacy of community, the relationships we have with each other."
Two years ago, he said, he was teaching a course in Jewish architecture, "and, from photos, I talked about the Jewish Center of the Hamptons. The light wood, the windows — how space affects the prayer experience and has its own theology. At Temple Emanu-El in New York City, for example, your sense of God is connecting to a distant God and feeling small. Here, it's through nature and each other."
Rabbi Franklin's father was also a rabbi, at the Riverdale Temple in the Bronx. Growing up in Yonkers, N.Y., he said, "I wasn't interested in the 'family business.' I'd gone to Jewish summer camp in Great Barrington, Mass. I felt strongly Jewish, but didn't know where Judaism as a religion was in my life. But I took a class in Introduction to the Hebrew Bible," at Clark University in Worcester, Mass., where he graduated magna cum laude, "and became intrigued, and took many classes in Jewish studies after that. I realized it was important that I help people find meaning in Judaism in their lives — music, literature, history — however."
"However" may also include golf, cycling, snowboarding, wine-tasting, beer-brewing, technology, cooking, and photography, all of which Rabbi Franklin enjoys. His Facebook page had a stunning photo last week captioned "A beautiful moon rising tonight over the Jewish Center of the Hamptons."
The rabbi laughed heartily to hear that a congregant had been overheard to predict he would not stay long in East Hampton but would take over his father's position at the Riverdale Temple when he retired (which he did quite a while ago). 
"Once you have a place like the Jewish Center, you have a place where you make your career," Rabbi Franklin said.
--
Correction: Due to a production error, the final two paragraphs were dropped from the print version of this article and an earlier online version.