'The Miracle Worker' at the Cultural Center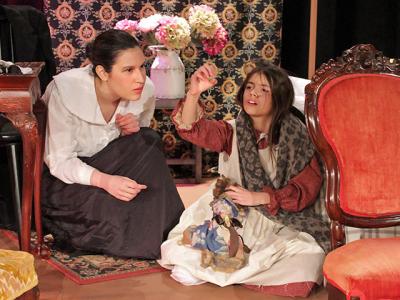 Tom Kochie
Bonnie Grice's Boots on the Ground Theater Company will stage William Gibson's multiple Tony Award-winning play
When asked what inspired her to produce "The Miracle Worker," Bonnie Grice had a one-word answer: "Bancroft." Ms. Grice interviewed Anne Bancroft for her WPPB 88.3 FM radio show shortly before the actress's death in 2005, when the station was at Southampton College and Bancroft and her husband, Mel Brooks, were part of the writers program there. 
"She came in, she was all bundled up, she was battling cancer, and I spent 25 minutes talking with her. I said, 'I know you're best known for Mrs. Robinson, but I loved you as Annie Sullivan.' She said it was her favorite role too. That movie has haunted me, and I've wanted to do it onstage ever since I saw it." 
Ms. Grice's dream will be realized this weekend at the Southampton Cultural Center, where her Boots on the Ground Theater Company will stage William Gibson's multiple Tony Award-winning play tomorrow and Saturday at 7 p.m. and Sunday afternoon at 2. 
The play tells the story of Helen Keller, who at 19 months contracted a fever that left her deaf, blind, and mute. Unable to manage Helen's violent outbreaks of frustration, her parents hired as a teacher Ms. Sullivan, herself half blind. 
The "water miracle" has remained one of the most famous scenes in American theater, and Patti Duke, who originated the role of Helen, went on to a six-decade career in film and television. Bancroft won a best actress Tony Award for her performance.
While Ms. Grice has long been a fixture on the East End as a D.J. and interviewer on WPPB, where she currently hosts "Bonnie in the Morning," she has become increasingly involved in theater during the past decade. She produced "A Christmas Carol: A Live Radio Play" for the station in 2011 and, in 2015, produced and directed "It's a Wonderful Life: A Live Radio Play" at the Suffolk Theater in Riverhead.
She launched Boots on the Ground in 2016 with a full production of "Deep Down in Brooklyn" as part of Guild Hall's JDT Lab series. The one-man show was written and performed by Ed German. She cited as one inspiration for starting the company a production of "An Iliad" held in a junkyard behind Reid Brothers auto repair in Sag Harbor. 
"It was freaking awesome," she said. "I'm looking at other alternatives myself. I'm thinking 'inside the box' as well as 'outside the box.' I'm interested in doing a production in a nontheatrical setting if the right project comes along."
Directed by Joan Lyons, "The Miracle Worker" stars 10-year-old Emma Suhr as Helen Keller and Tina Marie Realmuto as Annie Sullivan. The cast also includes Daniel Becker, Deyo Trowbridge, Gerri Wilson, Josephine Wallace, and Ms. Grice, who also sewed all the costumes.
Tickets are $20, $5 for children 12 and under.