Migrateful Over the Holidays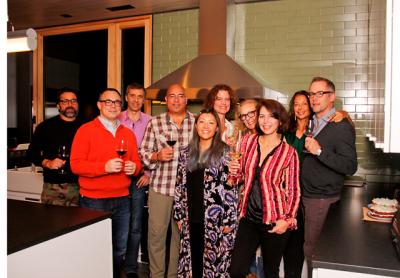 Food is a tangible, physical reminder of who we are
So farewell then, multiculturalism. It seems you've been dumped, alongside pet rocks and fondue sets, as yet another 1970s fad. 
"Shall we kill it off?" somebody had probably asked. 
"Yes, let's do that," the orange-haired man who sits in the Oval Office had probably replied. "Who needs multiculturalism when we can make America more insular, less vibrant, and downright uncongenial."
We are indeed at an unprecedented juncture in America. If there was ever a time for people to bridge their differences, not just to bond over their similarities, it is now. So, on a recent blustery Saturday evening, in an Amagansett house that is owned by a Thai and Indian couple, and was designed by an Iranian architect, 10 peripatetic East End friends from India, Thailand, Iran, Denmark, Japan, South Africa, Colombia, Staten Island, and Connecticut — came together to taste one another's foods, tell their stories, and to recognize that diversity is part of the reason America is still a great place to live. In this strange disembodied age, food is a tangible, physical reminder of who we are.
Anne Kothari, the host on this occasion, was born in Bangkok, Thailand. Once the first runner up of the Miss Thailand beauty pageant, which launched her acting career in that country, she met her husband, Afsheen, there in 1995. Mr. Kothari was born in India and raised in Hong Kong. For over 20 years, the couple have lived full time in New York, where Mr. Kothari runs his family's gemstone business. They have been coming to Amagansett since 1999, when they built a traditional house in the woods. Their sons, one a junior in college and the other a high school senior, grew up spending summers here. 
In 2016, the Kotharis decided to go modern and hired Maziar Behrooz, the Iranian-born architect who owns MB Architecture, with offices in East Hampton and Chelsea, to design their minimalist home on an Amagansett lane.
"I'll tell you why I chose Maz," said Mr. Kothari, in charming British English diction with a postcolonial lilt. "He's simply the best architect out here."
Mr. Behrooz came to the United States in 1976, when he applied, unbeknownst to his parents, to a boarding school in Massachusetts, and was accepted. 
"I showed my parents the acceptance letter and told them that I wanted to go because the school had tennis and skiing!" he said with a laugh.
He went on to study at Tulane University and then Cornell. In 1996, he opened his architecture firm in East Hampton, which he jokingly called, at first, a "nonprofit business." Although trained in modern architecture. Mr. Behrooz said that in the '90s, there was virtually no demand for modern structures here. 
"Even I was too afraid then to build modern," he said, describing his first house on Georgica Pond as a hybrid: shingled exterior, Shaker touches, and modern on the inside.
Mr. Behrooz has not returned to Iran since 2001; his parents now live in New York and his sister in Frankfurt, Germany. His last trip back to his birthplace was bittersweet, he said, with smells and tastes reminding him of his childhood and the place he left behind. 
For our multicultural feast, he made a steaming dish of javaher polow, an aromatic treasure of basmati rice, saffron, cranberries, and blanched almonds. It is also aptly known as jeweled rice, as it arrives on a table golden and glistening, dotted with those gem-colored fruits, and laced with butter, which produces a crisp "tah dig," or crust, at the bottom of the pan.
Ask any international transplant about the "tastes of home'" and it is clear that it's always something physical — to be felt, consumed, and savored — something visceral, which reminds them where they came from.
There was Ms. Kothari's sticky rice and spicy Larb Moo, one of the most popular Thai street foods. It's a wonderful combination of minced pork, lime juice, chili flakes, fish sauce, and herbs to give it a refreshing touch. 
Nikki Butler, a South African married to a Chilean, who lives full-time in East Hampton, brought her mother's "tried and tested" gammon recipe. This is a smoked hind leg of pig, which comes into its own with a sweet, spicy marinade of ginger beer, anise, and cloves, is cooked in a cast- iron pan, and then wrapped in a duvet overnight, where it continues to develop. She also produced a plate of Afrikaner koeksister, a deep-fried dessert, similar to a doughnut 
Gitte Pedersen-Botero is a Danish cancer researcher who lives in Montauk, where she and her husband Jack Botero, of Colombian heritage, have raised three children. She arrived in New York in 1992 and said she doesn't miss Denmark. "I never miss anything as long as I'm around people I love."
For the feast, her husband paid tribute to his Latino roots with a Colombian-style Pernil Asado, a big pork leg marinated in onion, garlic, scallions, and spices, then slow roasted for hours. His wife made Aebleskiver - a Danish dessert, like small doughnut holes, cooked in a cast-iron pan and served with powdered sugar.
Japanese home-style food was offered by Shino Moffitt, who has spent a life yo-yo-ing around the globe. Born in Japan, she arrived in America with her family when she was 3 months old, returned to Japan for high school, came back to America for college (she attended the University of Michigan), then headed back to Tokyo to work for Goldman Sachs, where she met her husband, Al, who is from Staten Island. They married in 2003 at the Wolffer Estate Vineyard in Sagaponack, and although they continued hopscotching around the world, Mr. Moffitt presented his wife with a house in Amagansett as a first anniversary gift. 
"The job can take us anywhere," Ms. Moffitt said, "but this house is our home. We come here year round, we're here all summer long, and always celebrate the holidays here."
Nimono, or eggplant stewed and braised in soy sauce, sake, mirin, dashi, sugar, and salt, was accompanied by Goma ae, green beans in a sesame sauce, and a sweet, stewed pumpkin dish. 
I, like Mr. Kothari, was born in India (but raised in London) and my contribution that night was Lamb Raan, a spiced leg of lamb marinated for two days, then roasted and sprinkled with rose water at the very end. Also, from my childhood kitchen, a spicy cabbage and kale dish, cooked with turmeric, cumin, mustard seeds, and fragrant curry leaves. As if to underscore the point of this dinner, the vegetables came from Three Sons Farms in Amagansett, owned and operated by Steven Marzo, who splits his year between Hong Kong and Amagansett.
And so we sat like culinary magpies that evening, our appetites open-minded, and our plates ever happy to receive something new. Each platter was one person's allegorical attempt to remake and restore, to remind each other of things that make us happy, to feed our frustrations of the current times, to satiate, to soothe, to make it bread-and-butter better.
And for us to remember that, wherever we came from, America was always our Ithaca: a place we all hoped would be our journey's end.