Mechele Flaum, 67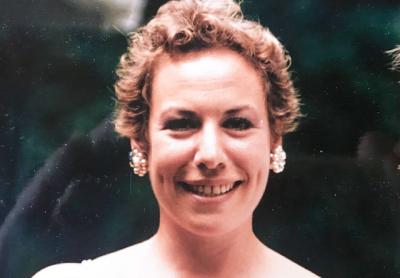 Aug. 8, 1950-Nov. 10, 2017
Mechele Flaum of Water Mill and New York City died at home in Manhattan on Nov. 10, with her family by her side. She was 67 and had been diagnosed with cancer in 2009. 
Ms. Flaum was born in Manhattan on Aug. 8, 1950, one of two daughters of the former Clara Storper and George Plotkin. She grew up in the East Village, went to the Brooklyn Friends School, and earned a B.A. cum laude from American University in Washington, D.C. She went on to obtain an M.A. in American folklore at the University of Pennsylvania, followed by an M.B.A. at Columbia University. Seagram and Sons recruited Ms. Flaum as a brand manager, and after that she joined the Thompson Medical Company as the brand director for Slim-Fast.
In 1990 she married Sander A. Flaum, who survives, and began working for her sister, Faith Popcorn, becoming the president of BrainReserve, described as a "future-focused consultancy serving the Fortune 500." Later on, Ms. Flaum formed her own trend-analysis company, Marketing Fire, and spoke nationally and internationally about consumer trends. She also found time to run her family's real estate company, Fame, a combination of the first two letters of her and her sister's names.
Ms. Flaum and her husband held an annual Fourth of July picnic at their house on Kellis Pond and also invited Fresh Air children to stay with them in the summer. She enjoyed shopping for Art Deco earrings at the Ladies Village Improvement Society Bargain Box and took her nieces to the L.V.I.S. fair every July.
In addition to her husband and sister, Ms. Flaum's stepdaughter, Pamela Weinberg of New York City and Sagaponack, and stepson, Jonathan Flaum of Ashville, N.C., and their families survive, as do two nieces and several cousins and their children. She was close to her stepchildren and their families, her family said. They added that she had "hundreds of wonderful friends who will miss her terribly," some of whom she had known since grade school.
In addition, her family mentioned how indebted they felt to Ms. Flaum's nurses, Jo Barr and Holly Hesse, "who serenaded her with her favorite Beatles song, "Michelle, Ma Belle." They also praised her doctors, Andre Goy of East Hampton and Hackensack Hospital and Bernard Kruger of Bridgehampton and Lenox Hill Hospital, who "did all they could humanly do for her."
When she came to visit Ms. Popcorn in Amagansett one summer in the 1970s, Ms. Flaum took a job at a diner on Montauk Highway and said that "the potato farmers were the best tippers, a dollar on a well-served cup of coffee." Her family added that "she was a gracious and giving person . . . fun-loving and optimistic" and could often be seen on the East End driving her "perfectly restored 1971 white convertible Ford Torino."
Ms. Flaum was a member of Central Synagogue in Midtown Manhattan and also served on the boards of the Women's Campaign International, Women's Executive Circle of the United Jewish Federation, the Global Organization for Organ Donation, the Doe Fund, and the Brooklyn Friends School.
Rabbi Angela W. Buchdahl presided at a funeral service at Central Synagogue on Nov. 12. Ms. Flaum was buried at Beth David Cemetery in Elmont. The family has suggested memorial donations for Hackensack U.M.C., the Clara Goy Foundation, at hackensackumc.org.