McDermott Leads Off Fridays at Five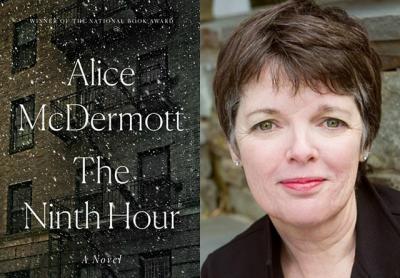 Jamie Schoenberger
The Fridays at Five series of author readings at the Hampton Library in Bridgehampton
The solstice is past. That means it's high time for another Fridays at Five series of author readings at the Hampton Library in Bridgehampton, the grande dame of such series, of which, let's be honest, there are many. But this one's out of doors, don't you know. And it serves wine.
The summer's lineup begins tomorrow, not with Hamptons celebrity schlock, but with heart — with Alice McDermott. She'll settle in at the lectern with her latest, "The Ninth Hour," which came out in September from Farrar, Straus and Giroux. A finalist for a National Book Critics Circle Award, it's a historical novel involving nuns in the Little Nursing Sisters of the Sick Poor convent who serve a Brooklyn neighborhood in the early 20th century. The tale tells of their interactions with one another and with the put-upon locals. (The title refers to the time of afternoon prayers, the biblical hour of Christ's death.) 
Ms. McDermott has been a summertime visitor to East Hampton since she was a child. Tickets to hear her read, followed by questions and answers, cost $25. Passes to eight readings in the series can be had for $175.
And now, forthwith, for posting by refrigerator magnet, or thumbing into your iPhone calendar, or mental notation with a 50-50 chance of recall, the remaining Fridays at Five laundry list.
Friday, July 6: Lauren Weisberger talking about "When Life Gives You Lululemons" with Bonnie Grice of WPPB radio. July 13: Meryl Gordon and "Bunny Mellon: The Life of an American Style Legend." July 20: Maureen Sherry and her novel "Opening Belle." July 27: James Patterson reading from "The President Is Missing," written with Bill Clinton. Aug. 3: Ken Auletta, a part-time resident of Bridgehampton who writes about the media for The New Yorker, with "Frenemies: The Epic Disruption of the Ad Business (and Everything Else)." Aug. 10: Martin London, defense lawyer to bigwigs, and "The Client Decides." 
And then on Aug. 17, Walter Isaacson will read from "Leonardo da Vinci," with the series concluding on Aug. 24 as Min Jin Lee discusses her novel "Pachinko" with Bill McCuddy, an entertainment reporter.