Looking for Signs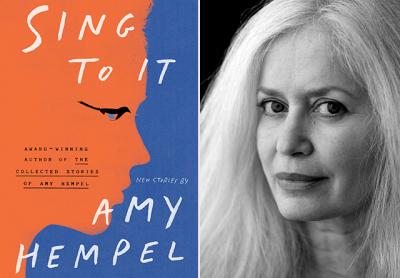 Vicki Topaz
"Sing to It"
Amy Hempel
Scribner, $25
The newly published short-story volume "Sing to It" represents Amy Hem­pel's sixth book of stories (including "The Collected Stories of Amy Hem­pel"); her work has been widely published in journals and magazines and frequently anthologized over the course of a decades-long career. Ms. Hempel has long inhabited the short-story form, and with the new volume she creates new room for herself there, building and defining fresh arenas out of the strange, the intense, the ethereal, the elliptical, the staggeringly concrete, and plenty of white space on the physical page. 
The first 14 pieces in "Sing to It" range in length, from half-page flash fictions and one and two-page short short stories to several longer works, though these are also compact. "The Orphan Lamb," just four paragraphs in total, is an account of a revealing memory, the relationship between teller and listener complex and perhaps menacing. "Fort Bedd," a page and a half, is the account of a darkened experience, the who and why obscure, and a reach toward breathing space.
Ms. Hempel is making artifact-like texts that need fear no spoiler: They cannot be easily summarized (see wide of the mark — or possibly too narrow — attempts above), and certainly not paraphrased. Their plots are tied to language so that it is impossible to comprehend them outside the thrall of Ms. Hempel's meticulous choice of every single word. These micro and brief lengths are individually and collectively absorbing, challenging in their brevity. Prepare to connect the dots.
The standout here is "A Full-Service Shelter," one of the several longer stories in the first half of the collection. This piece originally appeared in Tin House and was chosen for "The Pushcart Prize XXXVIII" (gratifying to those who appreciate local muscle). Here is a soulful ode to overnight volunteers at a city dog shelter, a song to the compassion and humanity, sacrifice (not regarded as such), and compulsion that steer and sustain those who do this work. 
The piece is built around a haunting refrain, "They knew me as one," sometimes shifted to "They knew us as the ones" (the phrase is excised from a killer sentence — "They knew me as one who shot reeking crap out of cages with a hose," from Leonard Michaels's 1975 hard-hitting litany of a short story "In the Fifties"). The refrain becomes a driving engine to the agonizing specificity, one expression after another, of what is known: the acts of kindness, fierce attachment, and sense of mission of the volunteers on behalf of the dogs, some of whom are slated to be killed by lethal injection. 
"They knew me as one who decoded the civic boast of a 'full-service' shelter, that it means the place kills animals, that the 'full service' offered is death."
Ms. Hempel develops and sustains a sense of urgency around what it is to connect and to love. Every sentence says it all. Combined, they say that you can never cover everything, never do enough, and that we are all in it together. There's mastery here.
The second half of the volume is occupied by "Cloudland," a long story, almost a novella. This piece is put together in short, fragmentary sections, and unfolds in a seeking first-person narration. The fragmentary structure and feel of singular observation, along with a sense of both lurking and impending loss, offer reminiscence of Renata Adler's experimental novel of voice "Speedboat" (1976), though Ms. Adler's protagonist runs at a much higher burn than Ms. Hempel's narrator, unnamed as in her other works. 
The reader finds the narrator of "Cloudland" working as a home health aide in Florida, having left her 20-year teaching career in New York: "I had gone off the tracks." The facts and shape of her past and her present situation come out as she winds among memory and observation, her tone simultaneously engaged and detached. She asks interesting questions that turn into wise statements; she is articulate, points out ironies. She tells you all kinds of things but still seems mysterious.
"What if you are the last one standing when others have left the concert, the theater, the crime-addled city, the busted love affair? What if you look for a sign and a sign doesn't come. Or a sign comes but you miss it. What if you have to make a decision on your own and it feels like a body blow, falling back on yourself."
The evocative cover art for "Sing to It" is apt: the face of a woman in simplified profile, with the silhouette of a songbird settled to serve as the woman's delicately lidded eye. A bird's-eye view, yet observing from the home of the self.
Evan Harris is the author of "The Quit." She lives in East Hampton.
Amy Hempel lives in Hampton Bays. She teaches in the M.F.A. program in creative writing and literature at Stony Brook Southampton, where she will read from her new book on Wednesday at 7 p.m.