A Legislative 'Leap' on Carbon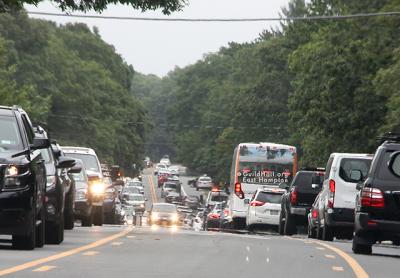 Durell Godfrey
Energy Innovation Act would put fees on emissions and boost alternatives
Amid increasingly ominous warnings about catastrophic climate change, President Trump's dismissal of his own government's conclusions, and his administration's moves to expand the extraction and use of fossil fuels, a bipartisan group of congressmen has introduced legislation that would apply a nationwide price on carbon emissions and return the revenue to households each month. 
The Energy Innovation and Carbon Dividend Act offers "a monumental leap forward in the way America responds to the real threat of climate change," according to its lead sponsor, Representative Ted Deutch of Florida's 22nd District, and is intended to lower carbon dioxide and other greenhouse gas emissions by at least 40 percent below 2015 levels in the first 12 years and by 90 percent by 2050. It would assess a fee on all oil, gas, and coal used in the United States based on the greenhouse gas emissions they produce, boosting alternative energy sources such as solar, wind, and nuclear energy. The fee would start at $15 per ton of carbon dioxide, or CO2, and increase at $10 per ton annually. 
Money raised by the fee would be allocated equally and returned to people as a monthly "carbon dividend." Proponents say such an approach would create more than two million new jobs, lower health care costs, spur energy innovation, and encourage consumer spending. Economists and climate scientists alike advocate this approach to climate change, according to Citizens Climate Lobby, a nonpartisan advocacy group that for several years has pushed the federal government to enact such a plan. 
The Energy Innovation and Carbon Dividend Act was introduced against the backdrop of the Fourth National Climate Assessment, the impact of which the Trump administration sought to minimize, releasing it in the afternoon on the day after Thanksgiving, or Black Friday. Its conclusions are grim: more frequent and intense extreme weather events including drought and heavy downpours, declines in surface water quality, stress on water supplies, health risks from wildfire and ground-level ozone pollution, increased exposure to water and food-borne diseases, more heat-related deaths, increased severity of allergic illnesses, an altered geographic range and distribution of disease-carrying insects and pests including ticks and mosquitoes, declining crop yields, and growing losses to infrastructure and property. 
Of particular relevance to the South Fork are rising ocean temperatures and ocean acidification and their impact on fisheries, sea level rise, coastal erosion, and higher storm surge. 
The act also comes on the heels of Hurricane Florence, which left an estimated $22 billion in damage in the Carolinas in September, and California's worst-ever wildfire season. Worse, global carbon emissions are expected to reach an all-time high in 2018, rising around 2.7 percent over 2017, which itself saw a 1.6-percent increase over the previous year. 
In introducing the legislation, Mr. Deutch, whose district spans from Boca Raton to Fort Lauderdale on his state's Atlantic coastline, was joined by Representatives Francis Rooney and Charlie Crist, also of Florida, Representative Brian Fitzpatrick of Pennsylvania, and Representative John Delaney of Maryland. Representative Dave Trott of Michigan later joined as a co-sponsor. 
In a conference call with journalists last Thursday, Mr. Deutch said that the Energy Innovation and Carbon Dividend Act "offers the perfect response" to rising emissions by putting a price on them. "If we don't act now, we are nearing a point of no return with the environment, health, the economy," he said. Climate change is a complex and difficult challenge, he said, "but we cannot be the generation that allows climate change to simply become a runaway train that we refuse to do anything about. We've got to put on the brakes. That's what this legislation will start to do." 
The legislation was introduced at the end of the 115th Congress, Mr. Deutch said, "to show going into what will be a newly bipartisan Congress with a Democratic House and Republican Senate . . . that this is the direction we need to go. . . . The reason we wanted to do this now, as this Congress wraps, was to show that even in a highly partisan Congress, there is bipartisan support, and we intend to build on that in the new Congress." He said he had spoken with Senator Sheldon Whitehouse, Democrat of Rhode Island, about building support in that chamber. 
Investments in alternative energy should happen concurrent with a fee on carbon emissions, Mr. Deutch said. "These are all really important and need to be part of a broader approach." 
A spokeswoman for Representative Lee Zeldin of New York's First Congressional District said in an email on Monday that the congressman is reviewing the legislation, its specific effect on the district, and the input of relevant stakeholders. "In the past, the congressman has supported the extensions of both the renewable energy production tax credit and investment tax credit, both of which promote the development of solar and wind energy on Long Island and nationwide," she said. Mr. Zeldin, a member of the bipartisan Climate Solutions Caucus, has voted to extend the renewable energy production tax credit through the end of 2019, and the investment tax credit through 2019 for qualifying solar projects, she said. 
Mr. Deutch said the bill could succeed despite voters' recent rejection, for the second time, of similar legislation in Washington State. "My understanding from conversations I've had with colleagues from Washington is that there was growing support for that until the last days before the election, when some of the largest polluters spent massive amounts of money to convince people to oppose it," he told The Star. "One of the reasons it's so important to have bipartisan support, and support around the country, is to push back against false ads, the lies that we fully expect to come from those who wish to continue polluting as they have done." 
In fact, he said, large segments of the business community support a fee on CO2 emissions. "I know from my South Florida experience, where sea level rise is such a critical concern, the business community understands this is an issue we have to tackle, and we have to do it together."