Legacy of a Woodworking Master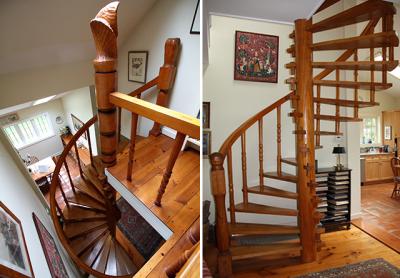 His spiral staircase is a work of art
The work of Hans Hokanson, the Swedish-born sculptor who lived in East Hampton from 1961 until his death in 1997, is in many notable public and private collections, but a massive work that would be at home in a museum or a sculpture park such as the Storm King Art Center, where his other work is represented, has remained out of view in a secluded East Hampton house for 45 years.
Mr. Hokanson's first sculpture dates from 1961, and his work was exhibited regularly in New York City and on the East End. In 1989, he began creating functional art — chairs, benches, beds, and tables. What links his sculpture and furniture is his mastery of wood and his gift for chiseling, gouging, blackening, or even burning the material. 
The massive work that has been seen only by the family who own the house it is in and their friends for the last 45 years is a spiral staircase, which straddles the sculptural and functional. Made of oak, some of which came from Pennsylvania, he installed the two-story-tall spiral in a barn in 1970 that was being converted into a residence.
 Confronted with a dilemma about the barn's hayloft, which was accessible only by a ladder, the owners thought a metal spiral would be a terrible mistake in an old barn and decided to take a chance when a friend suggested they commission Mr. Hokanson to create one of wood.
 Although they gave him a photograph of a Shaker staircase as a model, Mr. Hokanson, who told a writer for House Beautiful magazine in 1993, "The wood speaks to me," apparently heard something decidedly un-Shaker-like from the oak he used. The result, shocking at first, eventually pleased them. 
For most of its life, the staircase could only be seen from the living room, where it sat flush against a wall that separated that room from the kitchen. The wall was taken down last Thanksgiving and the staircase is now illuminated by natural light on all sides and can be seen in the round. Mr. Hokanson emigrated from Sweden to the United States in 1951, when he was 26. He settled first in California, where he did a variety of jobs, among them working as a construction carpenter on modern houses cantilevered off the Los Angeles hills.
In 1956 he moved to New York City, where he stretched canvases and built easels for the painter Mark Rothko, as a stage designer at the Living Theater, and as a technician at the Museum of Primitive Art. Five years later he came to East Hampton to do some carpentry for Willem de Kooning.
In a 1967 profile in The East Hampton Star written by the late Arthur Roth, Mr. Hokanson said, "I was with him for a while, but it didn't work out. Then I found a place on Northwest Creek. If it hadn't been for that, I wouldn't have stayed out here. Place is very important to me. I was for six years on Northwest Creek. Beautiful."
Though not quite as old as the spiral staircase, a house Mr. Hokanson later built in Northwest Woods for himself and his wife, Barbara, who died in 2007, was called by House Beautiful "his largest work in progress." He also constructed most of its furniture.
Their son, Bengt Hokanson, and his wife, Trefny Dix, now live in the house. While the younger Hokanson assisted his father with woodwork and carpentry, he discovered glassmaking while a student at Tulane University and has made that his profession instead. Today, he and Ms. Dix operate HokansonDixGlass, and their work is represented in more than 40 galleries, museum shops, and high-end retail shops throughout the United States and abroad.
As for the staircase, because the sculptor used neither nails nor screws in its construction, its joints can expand and contract, and that means, if nothing or no one interfers, it will last as long as the wood does.