Human Trafficking, Hidden in Plain Sight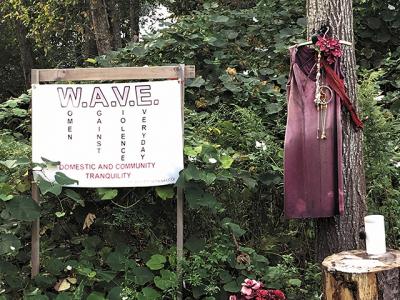 Paula Bess Collins
"It's happening right here, right under our noses."
The Princess Diner at the intersection of Route 27 and Hampton Road in Southampton was once a bustling restaurant, but it now sits forlorn, with crabgrass sprouting from cracks in the empty parking lot.
Just a few miles to the west, on the Shinnecock Reservation, a faded red dress dangles from a hanger on a tree near the Peace Fire tribal members keep, and another weather-beaten red dress is slung over a picket fence outside a private house.
The back stories and symbolism that connect these places may not be obvious at first glance — but they prompted Paula Bess Collins, a longtime officer and activist of the Shinnecock Nation, to act after attending an upstate tribal summit that included a seminar on human trafficking about a year and a half ago. Ms. Collins was determined to spread the message.
"You think you know something about what's going on in Indian country and the country in general," Ms. Collins said last week, "but when I went to that tribal summit and heard some of these people speak, I was just blown away. Most of us think of human trafficking as something that's happening across foreign borders. But it's happening right here, right under our noses — sex trafficking, labor trafficking. I was told this area is supposedly one of the major areas for filming porn. I never knew that."
Ms. Collins said people at the Princess Diner "were not being paid for their work. They were being treated like slaves. Some of them were not here legally, so who were they going to call? The police? And the red-dress movement, that was started [elsewhere] as a way to remember our missing and murdered indigenous women. There are hundreds and hundreds of indigenous women missing, not just Indian women, but Latina women and immigrant women. Often no one is even looking for them or investigating."
"This is 2018," Ms. Collins added, "and this is happening like it's the 1800s or something."
Ms. Collins was motivated to help stage a symposium called "Human Trafficking on Long Island, Identify and Respond" last Thursday and the next day at Stony Brook University in Southampton. The event was hosted by the Shinnecock Nation and 11 other sponsors, including Organizacion Latino-Americano of Eastern Long Island, the Retreat domestic violence agency, the  Substance Abuse Mobilization Project, and four churches.
The lead presenters both days were Jeri Moomaw and Roxanne White, Native American women from Washington State who are trafficking and assault survivors. Ms. Moomaw is now executive director of the Innovations Human Trafficking Collaboration, and Ms. White is the organization's indigenous outreach coordinator.
The two-hour session Thursday night was free and open to the public. Friday's daylong program was more intensive and required registration. It was designed for professionals in law enforcement, social services, advocacy organizations, educators, and medical and mental health workers. Attendees received training and learned strategies for combating human trafficking — a term organizers defined as "modern-day slavery that involves the use of force, fraud, or coercion to obtain some type of labor or commercial sex act." 
According to annual statistics compiled by the National Human Trafficking Resource Center, New York typically ranks among the top states for human trafficking. Experts estimate that globally sex and labor trafficking is a $155 billion industry.
Here in Suffolk County, the Police Department announced on July 30 that a permanent 10-member Human Trafficking Task Force had been established. Before then, the task force had operated as an unannounced pilot program until March, about a month after Richard Bivona, the owner of the Princess Diner, and John Kalogeras, the manager, pleaded guilty to failing to pay 23 restaurant workers and scheming to defraud them of more than $132,000.
County officials said that by the end of July the task force's investigative unit had helped free 37 victims of trafficking and made 19 felony arrests on 47 charges. Nine others were indicted on 50 counts of promoting prostitution and 75 counts of sex trafficking, as well as other crimes. 
"We changed our approach dramatically," Geraldine Hart, the Suffolk police commissioner, said, explaining that law enforcement here views prostitutes as victims rather than criminals if they were coerced into the trade. 
The same philosophy is used for labor trafficking whether or not victims are in this country legally, Christiana McSloy, chief of the Suffolk County district attorney's Enhanced Prosecution Bureau, told the Stony Brook audience Friday. "We will work with victims and witnesses regardless of their legal status to help them get the services they need," Ms. McSloy said.
On Long Island, some trafficking rings are run by organized crime and gangs such as the MC-13s and Bloods, and nobody thinks the problem is close to being solved. A challenge for case workers and victims is that officials may not be trained in trauma-informed engagement techniques or how to recognize telltale signs of human trafficking. A recurring theme at the symposium was that human trafficking remains a hidden crime because victims fear their traffickers, fear law enforcement, fear they won't be believed, or fear they cannot summon the resources to function on their own. Language barriers can also play a role.
 In addition, victims often have no legal documents and may be unwilling to answer even simple questions like where they live. Health-care workers say victims may exhibit shaken self-esteem, extreme timidity, symptoms of anxiety, depression, P.T.S.D., and suicide attempts. They may put off medical or dental care or show up in a hospital emergency room battered and bruised. People who are labor trafficked often tolerate unsafe or inhumane work and living conditions. Sex traffickers and pimps sometimes even brand their captives with tattoos of dollar signs, bar codes, or profane messages.
"I worked with a woman once who had an A.T.M. tattooed on the inside of her thigh," Ms. Moomaw said. "This is big business. Never approach a trafficker yourself."
Victims can be anyone — men and women, girls and boys. Traffickers often target society's weakest targets: runaways, the homeless, people trying to escape unsafe situations, undocumented residents needing work, and people hooked on alcohol or drugs. Many victims also are already survivors of abuse or dysfunctional families. As Ms. White, who grew up on a reservation, said: "Everyone around me seemed hurt. I thought that's just how life is. My mom's dad hung himself in jail. My first memory is being abducted and sexually assaulted at age 4."
On top of all that, said Minerva Perez, executive director of OLA, Latinos and other immigrant groups face an elevated fear of deportation and the breakup of families, especially since the Trump administration took over in 2016. "The message out there right now, especially in the immigrant community, is really, really dark," Ms. Perez said. "And the levels of exploitation right now are very high."
At last week's symposium, it was said that there are undocumented immigrants who need dialysis to stay alive but only surface for emergency room treatment to keep their names out of databases where authorities might find them. There was an account of a Native American woman running a brothel to which she took four of her daughters and one of her nieces. Two of her daughters hanged themselves before she was murdered.
But the Stony Brook attendees also heard stirring stories of lives turned around, victims who sought help, and people who intervened and made a difference.
Like Ms. Moomaw and Ms. White, every symposium speaker stressed that tackling human trafficking requires consistent, determined collaboration across agencies, professions, communities, and across the personal networks of those willing to help. It requires, they said, helping victims trust that real help is available. And they provided the number of the National Human Trafficking Hotline — 888-373-7888.
The human trafficking problem may be hiding in plain sight, but Ms. Perez told the audience antidotes are, too. "Once you identify the victims, the next steps you take are huge," Ms. Perez said. "We have to look at this very locally. On a granular level. It's going to be these local networks and the relationships that you create that are going to save lives. It's how we can get these people the help they need."