How Many Are Here? No One Knows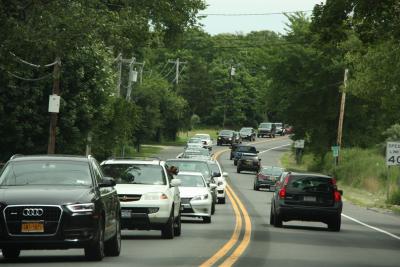 Durell Godfrey
Pop-up urban area but no pop-up urban system
Ask an East Hampton resident how many people were here last weekend, and you will hear a vague response if you get anything at all. If you do, the answer will range from a guess, 100,000, to an honest, if unsatisfying, "I have no idea." The uncertainty extends to government planners, who must work from estimates dating back in most cases more than a decade.
Part of the information gap stems from the United States Census, which sends its enumerators into the field every 10 years in the spring, when the South Fork population is at a low ebb. Based on those counts, it issues regular updates but these do not take seasonal and transient visitors into account.
East Hampton Town, according to the Census's most recent demographic profile, had a population of about 21,457. This is the number of residents cited in a housing assessment released by the town in November, for example.
Looking more closely, the holes in that figure become apparent: The Census counted just over 8,400 occupied households, less than half the total that actually exist, according to the East Hampton Town Planning Department.
Southampton Town, in a 2013 "sustainability" update to its big-picture planning guidelines, pegged its population at just over 54,700, more or less the same as that counted by the Census Bureau three years earlier.
The fact is that on a busy summer weekend, the actual number is much, much higher. The problem is that no one knows for sure just how much higher it really is. Nor has anyone quantified the effect of social media and the new online "sharing" economy on visitors' numbers, be they overnighters or day-trippers.
"We don't fundamentally understand our population, so we don't fundamentally understand our economy," Jeremy Samuelson, the director of Concerned Citizens of Montauk, said. "We need to ask who's really here and what kind of population do they represent."
Officially, according to the Suffolk Planning Commission, peak summertime population, defined as people spending the night between Eastport and Montauk Point, rose from about 200,000 to 262,000 between 1990 and 2010. These estimates, the county planners said in a disclaimer, were based on available data, such as the number of motel rooms, available campsites, and arough guess about houseguests. It predated by several years the rise of online sites such as Airbnb, that have opened up an unknown number of new accommodation options.
About 15 years ago, East Hampton Town estimated its peak population at about 91,000; it was pegged at 94,000 in a county report in 2010. The figure has not been updated since. Even so, it puts the summer populace at well over twice the Census Bureau's urban-area benchmark of 1,000 people per square mile.
"It's a pop-up urban area, but do we have a pop-up urban infrastructure? I don't think so," Robert DeLuca, the president of the Group for the East End, said.
East Hampton Town encompasses approximately 70 square miles; more than 40 percent of the total is parkland, uninhabitable wetlands, or other protected areas, according to the town information technology office. That leaves residents, visitors, workers, and people just passing through jammed together onto no more than 42 square miles.
Mr. Samuelson said that until a clear picture of the residents and visitors was obtained it would be impossible to really know what the appropriate levels of services, infrastructure, and utility supplies would be.
"It's like you were told that some people were coming over for dinner, and you asked, 'Really? How many?' and you didn't get an answer," he said.
The pressure that population growth puts on emergency responders is enormous, with the number of ambulance calls steadily increasing. In the space of less than two years nearly every fire department has added paid paramedics to their otherwise all-volunteer personnel rosters.
Hard numbers are difficult to come by, but one source is the New York State Department of Transportation, which has detailed traffic counts for Route 27, the main road into and out of the area, going back several years. Last year, it said that about 50,000 vehicles a day passed a single point on the road in Southampton Town during the month of August.
Another source, one might think, would be the Long Island Rail Road, but a spokesman said that it only did station-by-station ridership counts once or twice a decade.
"I do think that knowing the population does matter," Mr. DeLuca said. He said that the cumulative impact of more people on the South Fork was not necessarily proportional to their numbers. "At a certain point, things stop behaving in a rational way," he said, citing as an example, drivers swarming onto the back roads, which has both damaged the road surfaces and made the alternate routes sometimes nearly impassible.
Mr. DeLuca said that key areas where better knowledge of the summer crowds are important included transportation, health and public safety, the water supply, and wastewater.
"At times it works as an urban ecosystem, with open lands as the buffer," he said. "The amount of activities that we have put here contributes to the reduction of what that buffer can do."
"It's really a very challenging thing to manage. You have to pat the planners on the back for this," he said.
Behind the seasonal numbers, the Suffolk Planning Commission said that in 2010 there were rooms for about 11,400 motel and hotel guests in East Hampton Town, more than twice the figure for all of Southampton and six times that of Southold Town. East Hampton had camping space for about 1,400 people as well.
Montauk, the county said, sees the most dramatic seasonal population increases because it has more seasonal residences and vastly more motel and other transient rooms than any other community in eastern Suffolk.
Estimates are now made more complicated by the rise of online home-sharing sites, such as Airbnb, which this week listed more than 1,300 private, double-occupancy rooms in owner-occupied houses between Hampton Bays and Montauk. There were more than 5,800 "whole place" rental listings for two guests on the site during the same time period on the South Fork. Airbnb did not respond to a request for further details.
In addition, as Mr. DeLuca said, the number of workers making daily trips to and from the South Fork is essentially unknown, but one indication that he saw was a shift in traffic toward the middle of the week. "Basically on the ground, they're having lunch, they're throwing away garbage, going to the bathroom. They're here," he said.
One of the other growing trends, especially in East Hampton Town, is that a majority of houses were only seasonally occupied. People who think about such things, including Maziar Behrooz, an architect with offices in East Hampton and Manhattan, worry about what would happen if that began to shift and more people began to live in the area year round. Mr. Behrooz hosted a forum for the American Institute of Architects Peconic Chapter at the Parrish Art Museum last month titled, "Fix This Town" with Suffolk Legislator Jay Schneiderman and Felipe Correa, an architect and Harvard associate professor.
During the forum, Mr. Correa cautioned that planning for the numbers might be a mistake. "You should plan for the community you want it to be," he said.