As Homeowners Assess Damage, Insurance Brokers Tally Claims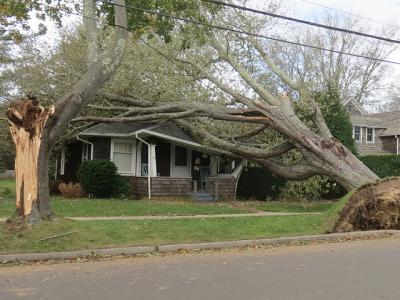 Jackie Lowey
Higher premiums are likely, post Sandy, but policyholders won't need to pay hurricane deductibles
     With Sandy now a memory, people have begun to clean up and assess damages. As the claims pour in to the region's insurance brokers, local brokers are in agreement about two things -- the destruction caused by Sandy could have been far worse, but regardless, it will result in higher -- perhaps much higher -- premiums.
     Along with that bad news, however, comes some more positive news for homeowners from Governor Cuomo's office, which announced on Wednesday that the State Department of Financial Services has "informed the insurance industry that hurricane deductibles should not be triggered" for the storm it did not have "sustained hurricane-force winds when it made land in New York."
     "Many of the insurance companies have a deductible for all perils that they insure under the policy except for hurricanes," said George Yates, president of Dayton, Ritz and Osborne in East Hampton. "Hurricanes typically have a higher deductible, which ranges anywhere from 2 to 5 percent of whatever you're insuring the home for. If you have a $500,000 home, there may be a $25,000 hurricane deductible." In other words, a homeowner could be responsible for the first $25,000 of repairs. "But that is only for hurricane wind," Mr. Yates said.      Flood damage, Mr. Yates said, is an excluded peril on all homeowners insurance policies, covered instead through the Federal Emergency Management Agency's National Flood Insurance Program.
     By Thursday, three days after the hurricane-turned-post-tropical-storm roared across Long Island, many on the South Fork were still without electricity, but crews had already removed many fallen trees and the hamlets and villages of East Hampton Town, in contrast to western Long Island, Lower Manhattan, and the New Jersey coastline, were beginning to resemble their pre-Sandy selves.
     Reports of flooding, downed trees, and damage caused by wind -- such as trees falling on houses or cars or shingles ripped from roofs -- comprise the vast majority of calls to local insurance agencies.
     These reports, said Kim Vaughn of the B.D. Corwin Agency in Sag Harbor, where flooding was significant, are "pretty much in line" with expectations, or "probably less, because we're lucky the storm didn't hit us directly. It's similar to last year, [with] a little more flooding," she said, referring to Irene, which hit Long Island in late August 2011.
     A full assessment will be long in coming, however, given the inability of both brokers and clients to communicate with one another. With transportation an additional challenge, local insurance brokers anticipate a long wait for Sandy-related claims to be made and processed. Many second homeowners were still unaware of what, if any, damage their properties on the South Fork had sustained.
     "We've had some of them calling us asking if we could go check their house and report back to them, because they don't know and are very anxious about it," Timothy Brenneman, managing director of Cook, Hall, and Hyde in East Hampton, said on Thursday afternoon. "We've done that on several occasions today already. My sense is, because of what's going on in the city as well, there will be a long tail on this, where it may be literally weeks before we're able to give a better assessment on the full extent of exactly what our clients have experienced."
     Mr. Brenneman said that by Thursday afternoon his firm had taken 175 claims. "Those are the claims that have come directly to us," he said. "We know some of our customers are going directly to the carriers as well. Because we don't have access to e-mail or fax, we are not getting those acknowledgements. We suspect that that may be another 50 percent, or more, that have gone direct to the insurance companies."
     The agency has approximately 10,000 clients on the East End of Long Island, said Leonard Scioscia, its president and chief executive officer. "We're looking at 3 percent of them having some claim activity, some property damage significant enough to report a claim."
     All things considered, said James Amaden of Amaden Gay Agencies in East Hampton, "we got pretty lucky, if you look at what happened to New Jersey." At his agency, the claims process was underway and functioning smoothly Thursday.
     Claims are being expedited to the extent possible, and insurers' pre-established "catastrophe teams" charged with handling such claims were readied in advance of the storm, said Mr. Brenneman.
     "Under normal circumstances, we would talk to our client, see if there was anything that we could do locally, and on that same call actually warm-transfer the call to the insurance company to make sure that the insurance company and the customer are talking to each other so that their claim is fully reported and expedited," Mr. Brenneman said. "As a result of the communication issues today, we're taking the information from the client and then calling the carrier on a separate call. In some cases, we're asking if the client can help us by calling the company directly to facilitate it as well, because they can tell we're challenged with communication just as they are."
     Roughly 70 percent of the Cook agency's client base is east of Riverhead, Mr. Brenneman said. With such a high percentage of customers in a vulnerable area, the impact on insurers could have been devastating. "Certainly, the fact that the storm took the turn that it did and really minimized the strong winds that we got out here, I would say it was less than what we thought it would be."
     The increase in extreme-weather events around the country has fostered better preparation on the part of insurers. "Insurance companies have a way of spreading risk around," said Mr. Scioscia. "They'll take only the first part of a loss. It could be $10 million, $50 million, $2 billion, depending on how large the carrier is. Then they pass the rest of that loss on to a re-insurer. In essence, the insurance company will buy insurance on itself. So, they've gotten more sophisticated about that. Most insurance companies can withstand these types of losses. It winds up getting spread -- around the world, really, in a global re-insurance mechanism, and they move on."
     But another, contrary, effect of this upswing, said these brokers, will hurt policyholders in the form of higher premiums and, possibly, even a lack of availability.
     Insurance companies, Mr. Yates said, are in the business of predicting future loss, and have to ensure that they properly reserve for such events. "I think that this event in the Northeast will certainly drive insurance rates up, and may drive them up significantly," he said. "We already have an availability problem: Companies just don't want to write any new policies in our area of Long Island. I think this will just exacerbate the situation."
     The release from the Governor's office, posted elsewhere on the Star's Web site, includes advice for homeowners who have experienced property losses and need to make claims to their insurance companies.