The History of Old Kilkare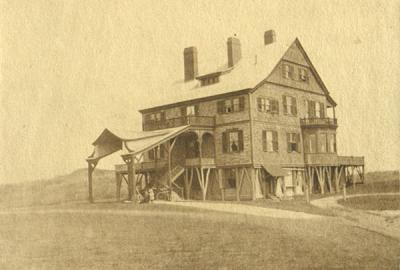 I've come to the realization that houses tend to be much like people, in that each has its own unique story to tell. In fact, the Shingle Style house pictured at right occupies some highly valuable South Fork real estate. Originally built as a summer residence for Walter Edwards Jr., a lawyer, and his wife, Camilla Leonard Edwards, of New York City, Kilkare came to be part of the Georgica Association. 
In 1880, Oliver S. and Ruth E. Osborn sold approximately 50 acres of farmland in Wainscott to William H.S. Wood. Shortly thereafter, Wood sold 23 acres of this parcel to his friends Walter and Camilla Edwards.
The house is situated just steps from the Atlantic Ocean and within view of Georgica Pond, but it appears that not much thought went into designing it. According to "Memorandum on the History of the Georgica Association, 1880-1948" by George W. Pierson, "Camilla Leonard Edwards wanted her house to be 40 feet square [sic]. Aside from that, she had no particular design in mind. So the family called in a dock builder from Brooklyn, gave him a few dimensions and the injunction that the house must be extremely strong — then blithely set off for Europe."
Though this seems careless, the Edwards family long enjoyed the property. After Walter Edwards died in 1895 at the age of 61, Camilla continued to use the house as a summer residence until her death at age 98 in 1936. Her comings and goings were noted frequently in The East Hampton Star. She was described as "always the first to arrive at the summer colony and the last to leave." 
Ownership later fell to her son, William Henry Leonard Edwards (1870-1937), and his wife, Susan Sherman White Edwards (1870-1949), who would die at Kilkare. The house was sold out of family hands in 1975 and went back up for sale in 2017 for $55 million.
Gina Piastuck is the department head of the East Hampton Library's Long Island Collection.