Hansen Family Sues Alleged Drunken Driver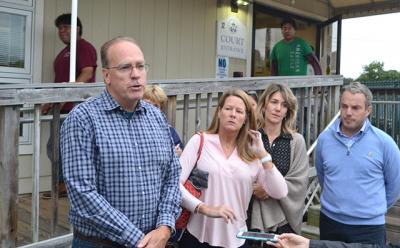 T.E. McMorrow
Civil case targets driver in fatal August crash
The family of Paul G. Hansen, a Noyac resident who died in a car accident in late August, has filed a wrongful death case against the driver, a New York City real estate developer who is being prosecuted for drunken driving.
Catherine G. Hansen, Mr. Hansen's wife and the administrator of his estate, filed the claim against Sean P. Ludwick in State Supreme Court on Oct. 23 on behalf of herself and their 14 and 11-year-old sons, according to court documents. Mr. Ludwick was served with the papers last week.
"The boys lost their father," said Scott Middleton a Bridgehampton attorney and partner in Campolo, Middleton & McCormick, who is representing the Hansens. "He was not only their father, he was a mentor, he was a friend, he was just a great dad. It's my job, my firm's job, that they're made financially secure as a result of Sean Ludwick's actions."
Southampton Town police arrested Mr. Ludwick, a principal in BlackHouse Development, a Manhattan real estate firm, shortly after the crash that left Mr. Hansen, 53, dead on Rolling Hills Court East on Aug. 30 at about 2 a.m. According to police, Mr. Ludwick was driving a 2013 Porsche convertible with Mr. Hansen as his passenger when he drove past Mr. Hansen's driveway into a cul-de-sac at the end of the road, then doubled back, missing the house again. The Porsche hit a curb and crashed into a utility pole, prosecutors have said. Mr. Ludwick drove off in his wrecked car, despite two flat tires, and was found by police less than a quarter-mile away when his car broke down.
A dollar amount the family might seek in punitive damages was not disclosed, as a dollar figure is not required in personal injury matters under New York State law, according to Mr. Middleton. "It's way too soon," he said, adding that factors such as conscious pain and suffering, as well as earning capacity are to be considered.
The claim asserts Mr. Hansen's death was caused by Mr. Ludwick's "carelessness, recklessness, and negligence," and that Mr. Hansen "suffered anguish, pre-impact terror, conscious pain, and suffering," and catastrophic injuries that led to his death.
The criminal case against Mr. Ludwick, 42, is still pending. He was charged with misdemeanor driving while intoxicated and is free on $1 million bond. He is due back in Southampton Town Justice Court on Nov. 24. The Suffolk County District Attorney's office did not respond to a request to comment on the case, but it is believed Mr. Ludwick will be indicted on more serious charges, such as vehicular manslaughter.
Though the law allows for a two-year statute of limitation on wrongful death matters, "We didn't want to wait," Mr. Middleton said, "in an effort to try to get things moving so that this family can put this nightmare behind them."
Still, the civil case will likely take a back seat to the criminal proceedings. The D.A.'s office is "being as cooperative with me as they can be," Mr. Middleton said, adding that it is understand able that prosecutors are "playing it close to the vest," without an indictment yet. "It makes these difficult cases on the civil side because of the lag in getting the information that's normally available."
For instance, the suit claims gross negligence in that Mr. Ludwick reportedly removed Mr. Hansen from the Porsche after the crash and fled in his car without alerting emergency services. Mr. Middleton said he included the allegation based on news reports, though it was never confirmed publicly by police.
Mr. Hansen, his family's main provider, was a real estate salesman with Douglas Elliman in Sag Harbor, and also a developer. His family is having a tough time, the lawyer said. "From all accounts, everybody I've spoken with, Paul was a terrific father. His whole world was really his two boys," Mr. Middleton said.
Benjamin Brafman, Mr. Ludwick's criminal defense attorney, said by email yesterday that he and his client "are not commenting on any of the specific facts relating to this terrible tragedy. Mr Ludwick and his counsel intend to address all issues in both the civil and criminal proceedings in court."