Hamptons Free Ride Grows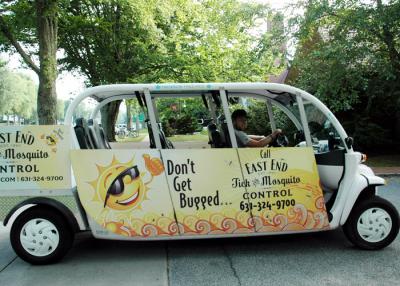 Leah Steans-Gail
By Leah Steans-Gail
   "You guys are our favorite part of East Hampton!" said a satisfied customer of Hamptons Free Ride as she hopped into the back seat of one of the shuttles on its way back to town from the beach. And from the complimentary snacks and giveaways, electric, eco-friendly shuttles, and engaging drivers who open doors for you, all the way to the titular no-charge rides, it's easy to understand why she felt that way.
    The brainchild of James Mirras and Alex Esposito, the shuttle service runs in fixed loops in East Hampton and Montauk, and has recently expanded to Amagansett.
    Mr. Esposito and Mr. Mirras have premised their business on the power of things being free. "People tell us we could charge for rides all the time, but that's just not what we're about," Mr. Mirras said he pulled up to one of the main stops on the East Hampton route and opened the door for a new rider. Above all else, their goal, he said, "is to give our passengers a fun and enjoyable experience."
    This is not to say that Hamptons Free Ride, or HFR, has no interest in profits; the owners have made up for the free rides by compiling an array of sponsors, from Vita Coco to Heineken and even ABC's Hamptons-based TV show "Revenge."
    Hamptons Free Ride is in only its second year of operation but seems to be on the way up. The business has launched two new routes and ideas are being formulated for operations beyond Long Island.