Gurney's Buys The Panoramic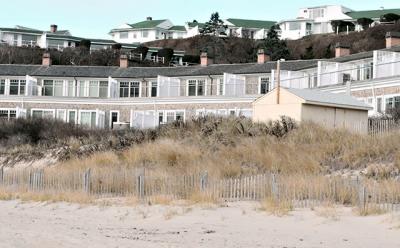 Morgan McGivern
Guests to have another 900 feet of beach to enjoy
The partners who in 2013 purchased Gurney's Inn, since renamed Gurney's Resort and Seawater Spa, have now bought the 12 townhouses, 3 oceanfront cottages, and 50 unsold motel rooms at the Panoramic View Resort, which lies just to the west.
BLDG Management, headed by Lloyd Goldman, and Metrovest, whose president is George Filopoulos, plan to make a number of improvements over the winter and hope to put the units on the market by the spring. "We expect the project to be a one-of-a-kind lifestyle opportunity in that incomparable location," Mr. Filopoulos said this week.
The Panoramic View found itself in hot water in August 2013 when its principals, Brian Callahan, an investment fund manager, and Adam Manson, a real estate developer, were criminally charged in a Ponzi scheme that Loretta Lynch, United States attorney for the Eastern District at the time and now Attorney General of the United States, called "one of the largest investment frauds in Long Island history." The brothers-in-law had purchased the resort in 2006, planning to convert it into co-ops, but the recession came along and the units did not sell as hoped. Mr. Callahan, with Mr. Manson's knowledge, began pulling money from his offshore hedge funds to pay off his bank loans. By the time the fraud was discovered, his investors were said to have lost as much as $96 million.
The federal government seized the Panoramic after charging the two men and put it up for bids. Its value was estimated to be between $52 million and $88 million. BLDG and Metrovest, under the corporate name Panormaic Partners, paid $63.9 million for it at the closing on Dec. 7, about $40.3 million of which will go to repay the victims of the Ponzi scheme. 
Both Mr. Callahan, now 45, and Mr. Manson, 43, pleaded guilty in federal court to a slew of charges. Their sentencing was put off until the Panoramic could be sold, and is now expected to happen before long.
Mr. Filopoulos, who has a house in Montauk and is frequently seen at Gurney's, expects that the improvements to be made at the Panoramic will be well received. The purchase of its 9.1-acre neighbor will give Gurney's guests another 900 feet of beach to enjoy, he noted.
The two businesses will remain separated for the time being. The Panoramic does not offer food services, whereas Gurney's has several areas for formal and informal dining. "We have no plans to fold into Gurney's, although there are natural synergies between the two properties," said Mr. Filopoulos.